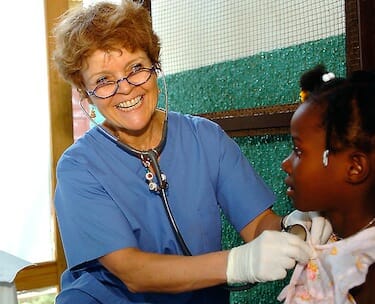 Twenty-five years ago this week President George H. W. Bush gave the first Daily Point of Light Award. Commemorating the silver anniversary of the award program, Points of Light invites you to meet today's honoree, Dr. Patricia Wolff, and to nominate someone you know as a Point of Light.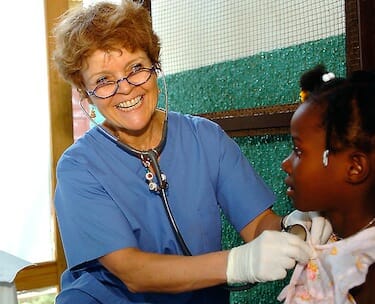 Dr. Patricia Wolff examines a young patient in Haiti.
Her skills in critical demand, Dr. Patricia Wolff traveled Haiti to provide medical care to those in need more than two decades ago.
On subsequent trips, the St. Louis physician kept running into the same issue with the kids she was treating: They were so chronically malnourished that they kept getting sick.
"It was like spitting into the ocean, because they couldn't fight off illness," Wolff recalls.
She got in touch with a colleague in Africa who had been researching a superfood made from peanuts. "Medika Mamba" is Creole for "peanut butter medicine." It is known clinically as a ready-to-use therapeutic food.
The recipe was manageable – a mix of ground peanuts, powdered milk, sugar, oil, vitamins and minerals. Wolff started with a hand-operated grinder stationed in a room at a church. The yield was 100 kilograms a month, enough to feed 10 children.
Today, the effort has evolved into a factory employing more than 40 Haitians who can produce 40,000 kilograms per month, enough to feed 4,000 children.
For nearly 10 years, Wolff has divided her time between St. Louis and Haiti, typically spending three out of every six weeks in Cap Haitien. She gave up her thriving St. Louis practice to dedicate more time to this effort.
Wolff founded the nonprofit Med & Food for Kids in Haiti (MFK Haiti) to treat malnutrition with a multi-pronged approach that includes treatment, jobs, training and agriculture. She has surrounded herself with specialists on food safety, manufacturing, engineering, fundraising and more.
The team she leads is helping transfer knowledge and skills to Haitians so they can sustain the effort to produce Medika Mamba independently.
"It feels good to be a rescuer," says Wolff. "But that is just the beginning. We're working to create jobs and transfer skills so in the future, the people there won't need to be rescued."
Others have taken note of Wolff's success at leading change in Haiti. Encore.org – a nonprofit that promotes making a difference in the second half of life – recognized Wolff as a Purpose Prize fellow in 2013.
The long arc of Wolff's story isn't about manufacturing food: It's about saving lives – more than 120,000 of them. And while she has made progress in 25 years, she knows the work is not done.
Haiti is more advanced today than when Wolff first began volunteering there. She explains that malnutrition has been cut in half. There are better roads. More kids are in school. More people have clean water. A middle class has begun to emerge. MFK Haiti's factory began exporting Medika Mamba to Guatemala, Senegal and Chad, offering sustenance to others in dire need.
"You stay long enough," says Wolf, "and you see the progress being made."
The Daily Point of Light Award, created by President George H. W. Bush in 1989, celebrates the power of individuals to spark change and improve the world. Earlier this year, British Prime Minister David Cameron started the daily award in the UK to recognize outstanding individuals who are voluntarily making change in their communities and inspiring others. Today's UK awardee is Mike Barrett, who has dedicated the last 49 years to conservation and protecting wildlife. He spends much time at his local bird reserve, taking people on guided history walks, working on the reserve and distributing information to visitors. Barrett also studies the fluctuations of bird populations, taking part in the Bird Breeding Survey run by the British Trust for Ornithology and working on various other censuses.
Share this post