Eagle Scout Launches Statewide Initiative to Give Foster Kids Hope and a Bag of Their Own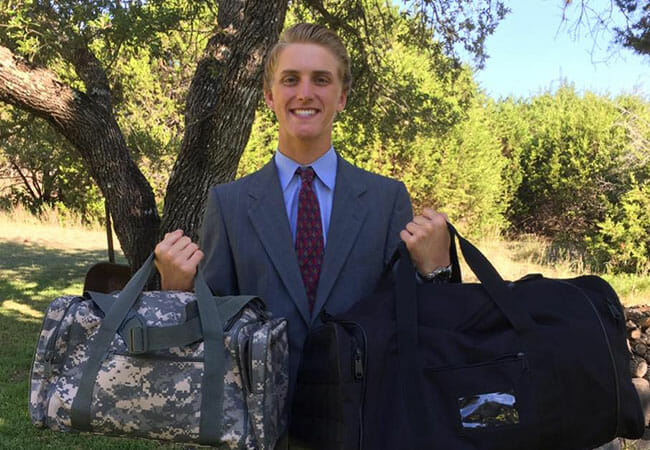 When Hunter Beaton was 8 years old, his grandmother picked him up from baseball practice and took him home to meet his new brother, a cousin who was being placed with his family as a foster child. Just a baby, his new brother had nothing – no toys, no clothes, no stuffed animals. When a second foster brother came to live with them, all he brought was a trash bag holding his meager belongings. It was the same for his foster sister. To Hunter, the idea that his siblings were only worth a plastic garbage bag seemed unjust.
According to Comfort Cases, there are nearly 437,400 children in the foster care system on any given day in the United States. Most youth enter the foster care system carrying little more than the clothes on their back. While Hunter did not know these statics, while brainstorming his Eagle Scout project in 2015 he remembered the sense of injustice he had felt for his siblings. With the support of his parents, Hunter used his Eagle Scout project to make sure foster children felt valued by providing them "Day 1 Bags" – an idea that has grown into a statewide program with national partnerships.
Hunter's goal was ambitious – fill 100 Day 1 Bags. Hunter, then 15 years old, started by fundraising through his church and even set up a website. With the help of his community in Boerne, Texas, Hunter raised more $10,000 worth of donations to buy and fill 100 bags with essentials like toothbrushes, clothing and diapers. He donated the bags to Vault Fostering Community, a local foster family resource center.
Soon after donating the bags, Hunter began receiving calls about how much families appreciated the bags. And when he heard that Vault had delivered four bags in just one day, he started to do the math: they would be out of bags before the year was over. Hunter started to think about how he could grow the project and make it sustainable.
He reached out to Flying Circle, which produces military backpacks and luggage; they were able to offer Hunter high quality military bags at a deep discount. Hunter started talking to county welfare boards and expanded the program from Kendall County into Kerr, Bandera, Gillespie and Bexar counties. A full-time high school student, Hunter realized it was not practical to go county by county by himself. In February 2016, he presented the project to the Texas Council of Child Welfare Boards in Austin, which voted unanimously to implement it statewide. Each county now manages its own program and works with Flying Circle directly to obtain bags. Texas is the first state in the country to implement this policy.
The council was astounded at what Hunter had been able to accomplish as a high school student, but he brushes off the praise. "There was a need and I filled it. You don't need to be a politician or a wise man to do that," said Hunter. "I had the passion and help through the generosity of my church and the support of my parents. With the help of other people, anybody can make a difference."
Since securing statewide support of the Day 1 Bag initiative, Hunter has established national partnerships with Comfort Cases and One Simple Wish. Comfort Case is dedicated to ensuring foster children have a bag of their own, giving them a sense of dignity and hope, and now helps distribute Day 1 Bags across the country. One Simple Wish, which gives people the opportunity to grant a foster child's wish – from toys to bikes to music lessons, and more – now includes a wish card in every Day 1 Bag, expanding their reach and providing joy and hope to more foster children.
Hunter's vision started with 100 bags, but to date the project has collected and distributed more than 16,000 bags to children across Texas and the United States. His dream is that no foster child will ever be given a trash bag again. "It doesn't have to be my bag, just no trash bags," he said. "It's so simple, but I have seen the impact of a trash bag, of the negative message it sends. Day 1 Bags are a ray of light for foster kids."
Now a junior in high school, Hunter's schedule is busy but he remains committed to helping foster children in his community, because the need is so great. And, he is reaching out to other teens to keep the momentum going. To mark Child Abuse Prevention Month in April and Foster Care Awareness Month in May, Hunter would like to see students across the United States participate in school service projects to benefit teens in foster care – which is a major need, he said, adding that he hopes teens will host fundraising parties or fill-the-bag events in their communities.
"With more than 30,000 children entering foster care each year across the United States, I recognize that keeping up with their needs can be overwhelming, especially at the time of removal from their home," Hunter said. "While not everyone can be a foster parent, anyone can help a foster child and the nice bag may be the first step to help them transition."
If you are interested in supporting Hunter's work, you can connect with him through One Simple Wish's Day 1 Page or support Comfort Cases.
Share this post