Eagle Scout's Volunteerism Guides Youth to Productive Citizenship and Life Skills
Meet Daily Point of Light Award honoree Robert Conway. Read his story and nominate an outstanding volunteer or family as a Daily Point of Light. 
An Eagle Scout himself, Robert Conway says Boy Scouts of America helps develop youth to be better citizens for society.  
A Scoutmaster with the Tuscarora Council, Robert volunteers with kids aged 10-18 to help them learn life skills and how to strengthen character through actions to prepare youth for a lifetime of leadership. Volunteering with the council since 2016, Robert has connected with hundreds through his service. 
What inspires you to volunteer?
The change and development I see in the kids. Some of them come in with no respect, to be honest. To see their improvement inspires me.  
Describe your volunteerism with the Boy Scouts of America.
As Scoutmaster, I advise and host meetings and advise and book activities. I also help with transporting the youth back and forth to activities where they learn skills including outdoor skills, leadership, fitness, first aid, technical and survival skills. We also do service work for the community, which introduces youth to service. In addition to my role as a Scoutmaster, I also serve as assistant district commissioner, district committee member, range safety officer and merit badge counselor. 
Share one personal story with me from your volunteerism. 
When the older scouts are close to Eagle, they slow down and realize their 18th birthday is coming quick. To see them look at you and say, "Wow I really needed the better time management that I learned." To see them push through because they know achieving that goal they set when they were 10-years-old is important. When they ask me for a recommendation for college or they get into the workforce, that makes me feel better to know they look at me as a mentor.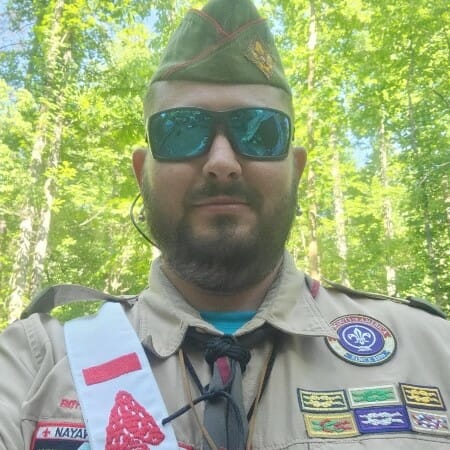 Why do you think it's important for others to get involved?
Volunteerism helps round out our communities; it helps everybody out. Paying it forward has been instilled in me since I was a kid, as my dad taught it to me when he was in the Air Force. Paying it forward continues to have a lasting effect on other people; they see it and they teach their kids to keep pushing it.  
What's been the most rewarding part of your service? 
Graduations and Eagle ceremonies. It's rewarding to see the kids finish school and go off to college, trade school or start working, and see the excitement on their faces and their family's faces at the ceremonies.  
How have you continued to volunteer throughout the COVID-19 pandemic?
We slowed down as a result of the pandemic. Council attendance and numbers did drop and activities were slowed down because we couldn't gather in bigger groups, but overall, the pandemic didn't impact (us) too much and we are back to normal now.  
What do you want people to learn from your story?
Youth is our future and we need to teach our youth to be respectful and cognizant of our surroundings and others.  
In one word, what does volunteering mean to you?
Development.  
You're an Eagle Scout. What was your project? 
I completed and led a project for a 2.5 mile nature trail 23 years ago. The Eagle project isn't just for the Eagle Scout to complete; it's about developing and leading the project.  
How can readers help?
Please visit our council's website and to find a Boy Scout group near you, and visit the Boy Scouts of America website. 
Do you want to make a difference in your community like Robert Conway? Find local volunteer opportunities. 
Share this post