Emerging Volunteer Leader Supports Lifesaving Red Cross Programs Amid Pandemic
Meet Daily Point of Light Award honoree Manogna Dumpala. Read her story and nominate an outstanding volunteer or family as a Daily Point of Light.
Despite the COVID-19 pandemic, Manogna Dumpala has volunteered with gusto for the American Red Cross Northern New England region in the past year, connecting with hundreds as the rising college sophomore helps to support the organization.
Through her service, Manogna, an 18-year-old Dover, New Hampshire resident, promotes volunteer opportunities and supports volunteer recruitment programs. Lending a hand wherever it is needed and infusing her volunteerism with positivity, Manogna is building a stronger Red Cross through service.
What inspires you to volunteer?
I'm inspired to help others and give back to the community. Everyone around me has always shown me kindness and love, and by volunteering I can make the world a better place, even if it's something little.
Describe your volunteerism with the Red Cross.
As a volunteer recruiter for the Northern New England Red Cross, I virtually recruit volunteers, host orientations for new volunteer recruits, and also assist with training materials for our volunteers. From ensuring the Red Cross blood drives have a volunteer workforce, to local and national disaster volunteer response, I am helping to expand the organization's reach across rural communities in our region.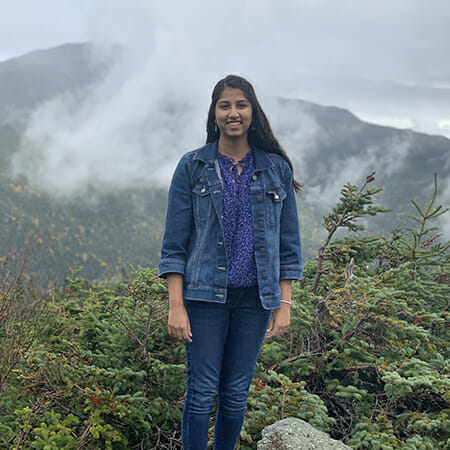 Share one personal story with me from your volunteerism.
During one virtual presentation to volunteers, one attendee unmuted herself and spoke about how she was moved by my presentation and was inspired to do more because of how we all worked together. Even though we're volunteering behind the scenes, we're still helping others through our compassionate efforts.
Why do you think it's important for others to give back?
Once you begin to support a cause, you won't regret volunteering. Through service, you'll remember how you impacted others and you'll grow as a person.
What do you want people to learn from your story?
It's the little things that can go a long way. We haven't been going out in person because of the pandemic, but I could still impact others virtually through volunteerism.
In one word, what does volunteering mean to you?
Fulfillment.
When you're not busy volunteering or in school, what do you do for fun?
I love reading or going to the beach and the lake.
How can readers help?Please visit the Red Cross website for more information about how you can help.
Do you want to make a difference in your community like Manogna Dumpala? Find local volunteer opportunities.
Share this post