College Students Volunteer to Bring Laughter to Lives of Senior Citizens
Meet Daily Point of Light Award honoree Gracelyn Metts and Tania Yacu. Read their story and nominate an outstanding volunteer or family as a Daily Point of Light.
Gracelyn Metts and Tania Yacu met their freshman year at Clemson University, and the now best friends are often inseparable. The two have extended their friendship into service to spread joy to senior citizens in their community.
As volunteers with Providence Care, the 20-year-old students are making an impact on the lives of seniors who are at times isolated or lonely. Offering companionship, laughter and love to elderly at home and in assisted living, Tania and Gracelyn's volunteerism serves as a reminder that during the most difficult times, there is hope and healing for all.
What inspires you to volunteer?
Tania: I'm inspired to volunteer because of how people's faces light up. My grandpa passed away in hospice. I got to see the volunteers and how it impacted him. In that sense, that experience showed how just one person can change another person's life for the better.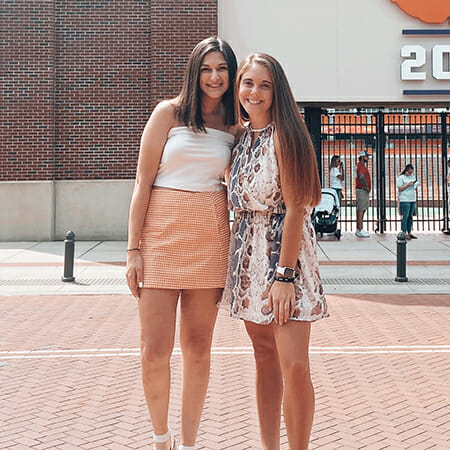 Describe your volunteerism with Providence Care.
Tania: As volunteers, we make at-home visits to hospice patients receiving treatment and also visit with seniors living in assisted living. We reminisce with the patients to try to get them away from thoughts of being in hospice. We do activities like coloring and also assist with other bigger activities.
Share one personal story with me from your volunteerism.
Gracelyn: We visit one 93-year-old lady who knows we're Clemson students, and she's the biggest Clemson fan. I was able to get an autograph from the school's head football coach for her. She was ecstatic. She now has the autograph framed in her room, and she talks about it all the time. It makes you appreciate the smaller things. To be able to present her with something signed from the coach helped to bring her joy during a hard time and it brings joy to her family's life as well.
Why do you think it's important for others to give back?
Gracelyn: There's going to be a time in everybody's life when you need to depend on others. It's important to volunteer because there are people now that need help, and later on in your life that may be you too.
What's been the most rewarding part of your service?
Tania: Getting to see the impact we're making on seniors is rewarding, but also, for our hospice patients, our volunteer coordinator tells us how our service helps to make their lifespan longer at the end of the day. Knowing that is very rewarding.
What do you want people to learn from your story?
Gracelyn: Although we're just spending a couple hours talking to patients or playing simple games, the impact really is so big for them. Doing just one small little thing can really…
Tania: (Interrupts) …it can really change someone's life at the end of the day. Make the effort to do one nice thing for one person a day, because it can change them for the better.
In one word, what does volunteering mean to you?
Gracelyn: Transformative.
Tania: Heartwarming.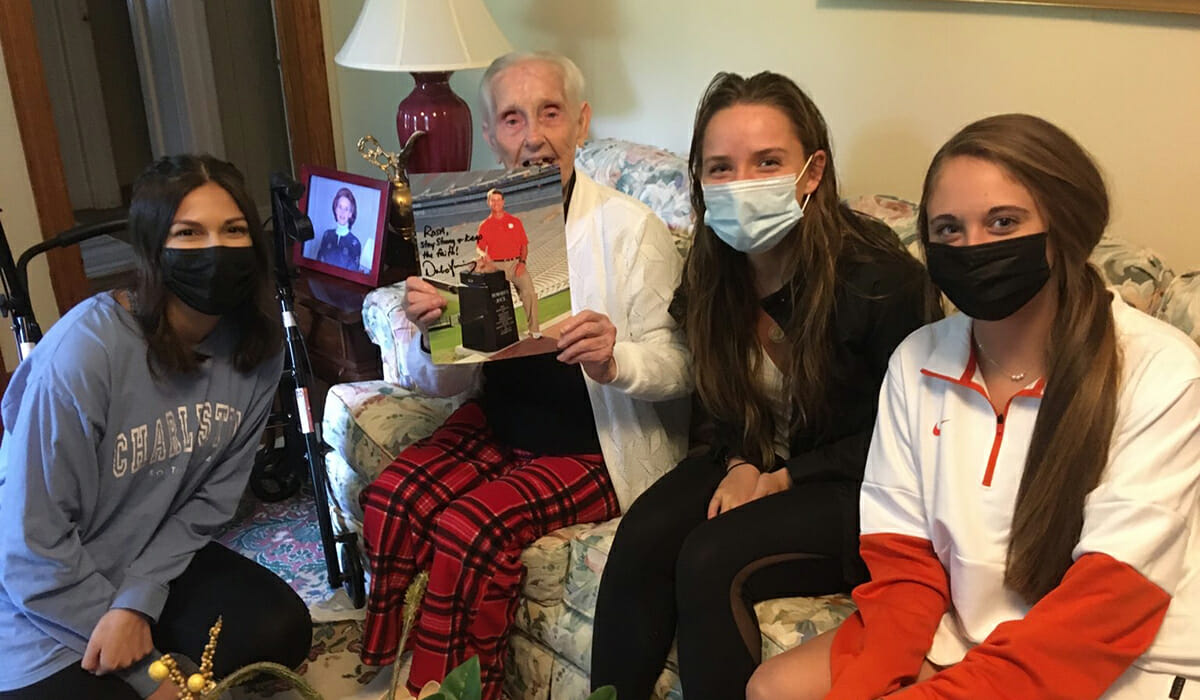 When you're not busy with school or volunteering, what do you do for fun?
Tania: If I'm not bothering Gracelyn (laughs) I like to go hiking around Clemson, or driving around, or watching the sunset. I enjoy the little things around the Clemson area.
Gracelyn: We do most of it together (laughs). I like to go kayaking on our lake up here, or listening to music, jamming out in the car and having fun.
How can readers help?
Please visit the Providence Care website for more information about how you can help.
Do you want to make a difference in your community like Gracelyn Metts and Tania Yacu? Find local volunteer opportunities.
Share this post