Empowering Planet Conscious Youth, Teen Volunteers to Promote Climate Education
Meet Daily Point of Light Award honoree Shreya Chaudhuri. Read her story and nominate an outstanding volunteer or family as a Daily Point of Light.
17-year-old Shreya Chaudhuri, a Haywood, California high school senior, says she witnessed environmental racism and injustice from a young age growing up in the Bay Area, infamous for its extreme socioeconomic disparities. Moreover, according to Shreya, inequities in the educational system in low-income communities exacerbate already existing climate change issues.
Founding Project Planet in 2019, Shreya is targeting underserved students to eradicate the climate educational divide and encourage youth to become climate leaders. Serving with the belief that ignorance, not apathy, fuels climate inaction, Shreya is improving current climate education by focusing on long-term, sustainable projects and research. Connecting with more than 3,500 students in the U.S. and across the globe thus far, Shreya is volunteering to build a future of planet conscious citizens.
What inspires you to volunteer?
We are a part of the generation that can effect change, and I'm inspired to volunteer for the future generation. Project Planet combines research, advocacy and activism to give people an action-impact plan and create a sense of real change.
Describe your volunteerism with Project Planet.
As founder and CEO of Project Planet, I manage our dozens of volunteers who serve across the world. I also create programs and educational materials which we distribute to schools and make available online. Lastly, I facilitate collaborations with environmental organizations.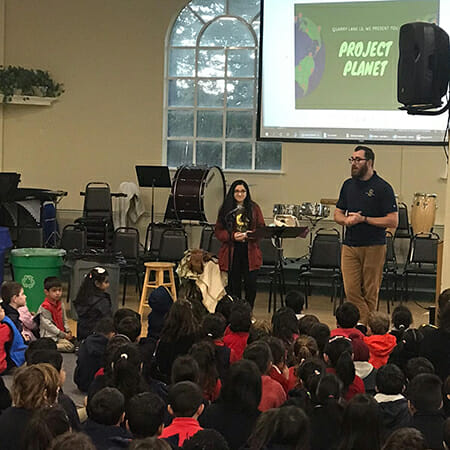 Share one personal story with me from your volunteerism.
When we first started out, I didn't really think I'd make an impact that quickly. After one of our school events, a parent told me her daughter talked about the change she wanted to make in her own community after learning more about climate change. Another student created a plastic drive in their own community. Through our volunteerism, we are inspiring other kids to take action. Even changing one person's mentality is enough to change the world, and seeing that change motivates me to continue my service.
In addition to your own volunteerism, you are encouraging other kids to become climate leaders.
Underserved communities are the most disproportionately affected by the climate educational divide. This isn't just because of location, but also because educational systems are underfunded. These communities and citizens can't make a change even though they might want to. We are providing everyone with the opportunity to make a difference, so they too can have access to clean air and water.
In one word, what does volunteering mean to you?
Hope. We are able to solve this problem together by giving hope. The media shows how it's impossible to stop climate change, how big companies are causing climate change and nothing can be done. Our project shows there is a future generation that wants to help and people are working together to try to make a difference.
How have you continued to volunteer throughout the COVID-19 pandemic?
Because of the pandemic, we expanded the virtual curriculum we'd previously created for schools, and are now implementing these programs for students. Our programs include mentorship programs, workshops, blogs, campaigns, petitions, webinars and courses, which have all moved online due to the pandemic. Additionally, we are in the process of launching a carbon dioxide tracking app. Next year, we plan to launch two programs:
– Global Exchange Project: We connect an underserved youth with another youth that does have resources so the two can make an impact together.
– Mentorship Program: We will connect our more experienced youth climate leader volunteers with less experienced youth leaders so they learn and then in turn make their own change.
When you're not volunteering or at school, what do you do for fun?
I like to read and bike and go on hikes.
How can readers help?
For more information on how you can help Project Planet, please visit our website.
Do you want to make a difference in your community like Shreya Chaudhuri? Find local volunteer opportunities.
Share this post