Autoimmune Encephalitis Patient Pays It Forward So No Other Patient Would Be Alone
Meet Daily Point of Light Award honoree Tabitha Orth. Read her story and nominate an outstanding volunteer or family as a Daily Point of Light.  
Tabitha Orth went through a medical experience that no person should have to go through alone. No doctor could understand what was wrong with her, and she realized the dangers that come from misunderstandings and a lack of information. After the 64-year-old was diagnosed with autoimmune encephalitis, a rare inflammation of the brain, she worked to create a new normal with her husband.  
But Orth didn't stop there. The Beaverton, Oregon native founded the International Autoimmune Encephalitis Society so other autoimmune encephalitis patients didn't have to go through what she experienced. As the organization's president, Orth is creating ripples of kindness and community around the world.  
Describe your volunteer role within the
International Autoimmune Encephalitis Society. 
I founded the organization in 2016. I was in this world where nobody knew anything about autoimmune encephalitis and there was no organization that could help me and my husband. My memory loss and cognitive ability were quite severe and very scary. I thought something had to be done. Somebody has to help and I didn't want anyone to go through what I went through. This disease happens to people of all ages — infants to seniors can get it. It has no discrimination and often comes out of the blue. So I started learning about it and I started working in a support group environment and realized that we need somebody to support all of these people. 
I then established the International Autoimmune Encephalitis Society. No matter where you are in your journey, we can help you. Our secret sauce is the volunteers who help run the organization, who are people in recovery of the disease themselves or were caregivers of someone in their family who had the disease. Now the organization has its own living spirit that people all over the world gravitate to. We also assist different researchers and caregivers get the most up to date information to their patients.  
What is Autoimmune encephalitis, and how do you help others with the disease?
Autoimmune encephalitis is a rare group of brain diseases that was only identified in 2007. I got sick in 2013 and it took a year for me to get a diagnosis because no one knew what was going on. With adults, you have out-of-the-blue first time psychosis, hallucinations and paranoia and you really can't tell what's real and what's not real. It mimics bipolar disorder and schizophrenia.  
When I got sick, no one had heard about encephalitis before and there were only three places in the entire country that had people who specialized in it because they were heading the research, like at John Hopkins, the Mayo Clinic and the University of Pennsylvania. When I got sick, I was put on a psychiatric hold and almost legally committed. My husband got an attorney to get me out. After I went through all of this, we learned that it's a swelling of the brain. It's an autoimmune reaction where your body creates an antibody that's not supposed to be there and it attacks healthy brain cells. People have trouble talking, walking and eating and if it's not identified early, then the brain damage can be more excessive. If it's identified early it can be reversed.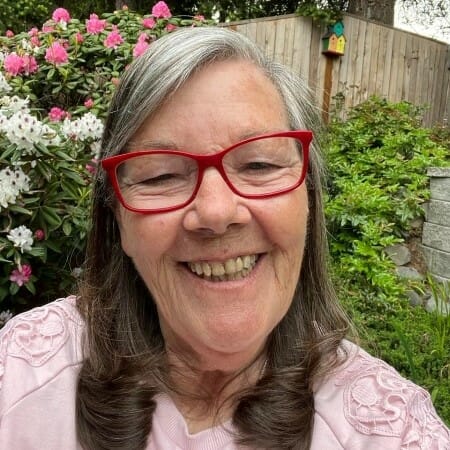 How has the
International Autoimmune Encephalitis Society grown?
First, we run a support group on Facebook, and we have over 3,000 members worldwide. Every day there will be new posts, either about new research that's coming out or explanations of the disease. The core of what we want to do is help people understand that education is power. If you understand the disease and you understand the treatments, then you can have a much better relationship with your doctor and feel more confident in your doctor and treatment. 
Our volunteer count has also grown. Most of the people who volunteer with us have some kind of talent, and a lot of them are in the medical field like nurses, different doctors, specialists and insurance workers. So we've become very effective in helping people. We have a website; it's the best website in the field here and thousands of people have been positively impacted by our information.  
What inspires you to volunteer?
What inspires me is that I don't want anyone to go through what I went through. If I can save one person, it means the world to me. We want others to feel like they aren't alone in this disease. So it's really the passion of getting people through a difficult time and coming out the other end together and supported —  that there really is a light at the end of the tunnel. 
What have you learned through your experience as a volunteer?
I am going to surprise you with my first answer, because it surprised me. I wasn't a business person but I don't look at this organization as a business. We're the only family and patient centered organization for this group of diseases. I think when you start an organization as a patient yourself, your focus is on the patient, the family and the caregiver. I never imagined it would get as big as it has, and I never imagined it would touch so many lives. We help people in the smallest corners of the world. Seeing the ripple effect of the work the organization has done, where people come to us and they get help, it's incredibly rewarding. I never imagined that it would actually have its own energy and its own heartbeat.  
Why is it important for others to contribute to the causes they care about? 
When you have a trauma, you usually ask yourself, why me? I believe there was a greater purpose for me. People who have a serious and life threatening disease come out with a mindset that no matter how big or small their problem is, they realize the value of life more than they ever did before. They also realize the power of a simple act of kindness. Kindness becomes sort of infused into you. And you see life through a different lens and you appreciate your life a lot more. 
Are there any partnerships, programs or events that you are excited about?
February is Autoimmune Encephalitis Awareness Month and we had experts from around the world give presentations. That's our biggest thing of the year. But we are also going to be participating in two studies for two separate kinds of autoimmune encephalitis. We also have a children's book that we've written and the illustrations are being wrapped up now; that's our next big launch. 
Do you want to make a difference in your community like Tabitha? Find local volunteer opportunities. 
Share this post