Florida Teen's Service Raises Awareness About Climate Change and Rising Sea Levels
Meet Daily Point of Light Award honoree Sara Pearl Adler. Read her story and nominate an outstanding volunteer or family as a Daily Point of Light. 
16-year-old Sara Pearl Adler lives in Hollywood, Florida, and says she's witnessed flooding in the streets right outside her home. Realizing the impact that rising sea levels were having on her own neighborhood, Sara Pearl dedicated her volunteerism to promoting climate change action. 
As a volunteer with Sea Level Rise Solutions, Sara Pearl co-founded the King Tide Walk annual event in 2015, and has since connected with hundreds of adults and children in Broward County. Offering education and raising awareness about climate change, Sara Pearl is proving you can be any age to make an impact through volunteerism. 
What inspires you to volunteer?
I've always been fascinated by science and the environment. As I've grown, I've continued to learn more about climate change and sea level rise, and it can't happen any longer. I feel my work and my fellow leaders' work is bringing some change and awareness.  
Describe your volunteerism with the King Tide Walk event.
King tides are known as such because they bring unusually high water levels, and can cause local tidal flooding. Shoreline erosion and King tide flooding are an immediate threat in South Florida. As the co-founder of the annual King Tide Walk, I help neighbors witness the impact of king tides for themselves so they can become activated through experiential learning. In addition to the event, I serve as an advocate and activist around the community. I conduct speaking events including school visits, distribute education materials and manage online activity.   
Share one personal story with me from your volunteerism. 
Our King Tide Walk visits a neighborhood in Hollywood, Florida. Every year, we measure the water, and it always gets higher. There's one street where driveways are literally under water. The homeowners have to stand on hills (to avoid water) and they can't have real grass because it'll die. The media shows up and the homeowners will come out and tell us how important the cause is. That shows the community wants to help, and understands that what we're doing is really important. Knowing I can make this impact makes me feel that change is possible because the work we're doing is helping the community.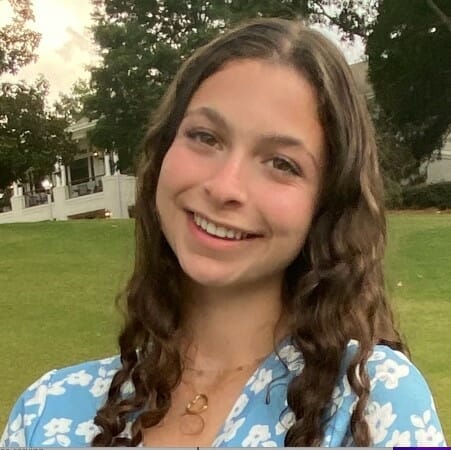 Why do you think it's important for others to contribute to causes they care about?
Helping people is important. Find what you like and help other people by bettering the world. There's nothing that can beat that.  
What's been the most rewarding part of your service? 
Personally, I've gained confidence. I have spoken to scientists, leaders and politicians in our community. I'm less afraid to speak up and ask adults to join my cause. Also, seeing how much the event grows each year and the kids who show up to learn, help and understand that change needs to happen is so rewarding. 
How have you continued to volunteer throughout the COVID-19 pandemic?
Our annual King Tide Event couldn't be held in person in 2020, so we held a virtual event, but we still had a ton of people attend. This year the event will be held in-person again. 
What do you want people to learn from your story?
Find something that you care about, something that needs to change, something that people in your community need to care about, and be that person to step up. Take initiative to see what you want to fix and work towards it.  
In one word, what does volunteering mean to you?
Purpose. Volunteering gives me purpose.  
When you're not busy volunteering or in school, what do you do for fun?
I love art. I'm a big artist. I also love social media, I'm the social media manager for my school newspaper and I'm helping a local representative with her social media. I am a rower and I love to read.  
How can readers help?
Please visit the Sea Level Rise Solutions Facebook page to learn more about how you can help. 
Do you want to make a difference in your community like Sara Pearl Adler? Find local volunteer opportunities. 
Share this post