When Estella Pyfrom retired in 2008 after a 50-year career with the Palm Beach County, Fla., public schools, she wasn't ready to stop serving her community.
First, she founded a food pantry that today helps feed 3,000 people a month. Wanting to do more, in 2009 Pyfrom used retirement income and money from a lifetime of investments to buy a bus and turn it into a mobile learning center – outfitted with 17 computers, a satellite receiver and a power generator.
Estella's Brilliant Bus, as it is known, helps underserved kids throughout Palm Beach County learn vital computer skills. It travels to schools and community centers,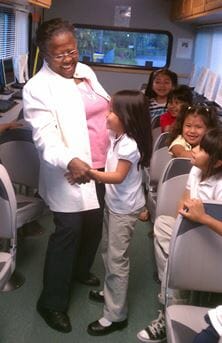 where students take turns working at the computer stations for 45-minute sessions, using software and a curriculum designed around national academic standards.
Pyfrom and more than 100 volunteers have operated the bus for more than 8,000 hours and helped more than 500 kids, from preschoolers to high school seniors.
"Our county has a high percentage of families without Internet or even computers in the home," says Pyfrom. "Without computer skills, it is very difficult for kids to get ahead in school."
Pyfrom says any child can succeed against the greatest odds, and offers her own life story as an example. The daughter of migrant farm workers in Belle Glade, Fla., she grew up in poverty, picking beans to help the family make ends meet.
"We were very poor, but my father was lucky enough to be promoted, so we were better off than most of our neighbors," says Pyfrom. "My first lessons in service came from my father, who usually gave up his extra income to help others."
By working multiple jobs, Pyfrom was able to go to college and earn her master's degree. During her long public school career, she worked in various positions, including as a teacher and a guidance counselor.
She came to appreciate how education can lift young people out of poverty, and she created Estella's Brilliant Bus to help get kids on their way.
When the bus arrives in a neighborhood, it usually remains for six weeks and rotates among five schools or other facilities, visiting each once a week. As students receive their weekly 45-minute lessons, the computers store their work and track their progress. Pyfrom also provides literature for parents about low-cost Internet access and computers available in the area in hopes that their kids will be able to continue their studies.
"This bus started with an idea and a piece of paper and a pencil," says Pyfrom. "And if I can do it, others can as well. With anything in life, if you can dream it, believe in it, and you're willing to work, you can achieve it."
Share this post