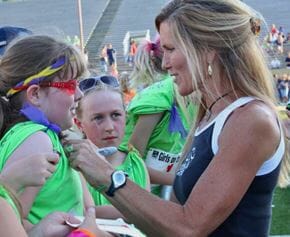 Molly Barker never expected to be a leader. What she remembers most from childhood is a sense of anxiety and shame. As she neared adolescence, she felt invisible and focused her energy on trying to fit in and win approval.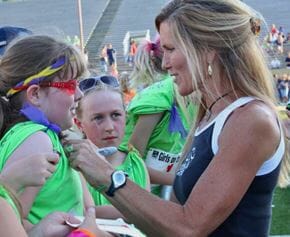 "I had stepped into the 'girl box,'" says Barker. "It's a place almost every girl has been. Prior to middle school, our bodies are changing, social pressures are increasing and our self-esteem drops."
Running had long been the sole activity that brought Barker peace, and it was the inspiration for Girls on the Run, a volunteer organization Barker founded in 1996. Through a 12-week program that blends running with games, conversation, exercises in camaraderie and a variety of other social activities, Girls on the Run helps girls discover their inner strengths and cultivate self-respect.
Barker started with a group of 13 girls in Charlotte, N.C. The idea proved so popular that word spread quickly: Parents eagerly contacted Barker, volunteers appeared and people called from other cities to ask about starting their own Girls on the Run programs.
Today, there are Girls on the Run chapters in 210 cities throughout North America, and more than 600,000 girls have participated. "One of the most amazing things is that everyone found us," says Barker. "We weren't promoting ourselves. We were just volunteers who believed in the program."
As the program evolved, Barker created curricula to serve younger and older girls, grouped by grade – third to fifth and sixth to eighth. Each lesson in both 12-week programs is built around a topic of the day, which might be "Stopping a Gossip Chain" or "How to Be a Good Listener." The lesson is then divided into an introduction, a cardio warm-up and a workout.
"Even if the girls are just running laps, we always add something social and fun, such as a high fives or a game," says Barker. "And we find ways to keep focused on the day's topic."
Toward the end of the program every girl must design and implement a "community impact project," something simple the girls can accomplish during one of the sessions, such as creating cards to send to a children's hospital or holding a bake sale to raise funds for a cause.
"We believe this is critically important to a girl's sense of empowerment," Barker says. "What we give to the community, we receive in abundance back, and we want to help girls experience this."
Barker says the program means different things to different girls. For some girls, it's a way of making friends. For others, it's an introspective exercise, or it's about healthy competition and achievement – reaching new speeds or distances.
"The girls love it for their own reasons," Barker says. "The most common thank-you letters I get say, 'When I run, I feel free,' or, 'When I run, I feel joy.'"
Share this post