Floyd Hammer and Kathy Hamilton
On July 15, 2013, Kathy Hamilton and Floyd Hammer received the 5,000th Daily Point of Light Award at the White House from President George H. W. Bush, who created the award during his presidency, and President Barack Obama, who said of the winners, "If the purpose of this award is to celebrate Americans who work to make our country and world a better place – not for their own advantage or for any ulterior motive, but just to serve, pure and simple – I cannot think of anyone more deserving than Kathy Hamilton and Floyd Hammer." (Watch on C-SPAN.) Please read the couple's story below, check out this short video about the award winners honored at the White House and nominate someone you know for a Daily Point of Light Award.
Floyd Hammer and Kathy Hamilton were preparing to sail the world in leisurely retirement, back in 2004. But first, at the suggestion of friends, the Union, Iowa, couple participated in a volunteer mission to Tanzania to help renovate an HIV/AIDS clinic at a village hospital.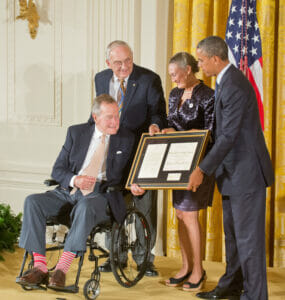 Upon arriving – during the third year of a nationwide drought – the couple saw children suffering, and dying, from malnutrition.
Hammer and Hamilton decided they would expand their volunteer work to help fight starvation. After an experiment distributing food in just one village, they founded Outreach, a nonprofit that has distributed more than 229 million free meals to children in more than 15 countries.
The organization started distributing meals to kids in the United States two years ago, after Hammer and Hamilton visited a food bank in Washington, D.C."We were startled to learn that one of every two kids in the Washington, D.C., metropolitan area is food insecure," says Hammer, referring to the fact that many children routinely do not have enough food to eat. "We also learned that nationwide, one in every five children is food insecure over the weekend – when they don't have access to subsidized school lunches."
To help, Outreach started its domestic food program, which has given out millions of meals to U.S. kids, usually through Feeding America affiliates.
Outreach uses donations to purchase U.S.-grown vegetables, which make up the core of its packaged meals. Each meal contains rice, soy protein, a dried vegetable and a vitamin. An "Outreach package" contains six meals. The packages are usually put together by volunteers at Outreach events.
"A meal costs 25 cents – including all ingredients, transportation and Outreach overhead," says Hammer. "The volunteers at Outreach packaging events typically donate $25, then spend one hour packaging meals. As we tell each volunteer, with that $25 and one hour's work, they produce 100 meals for hungry kids."
Back in the early days in Tanzania, Hammer and Hamilton started out small, engaging villagers in a barter system.
"The village we visited was filled with skilled craftswomen who made baskets," says Hammer. "I bought two truckloads of maize, and we traded it to hungry families in exchange for homemade baskets."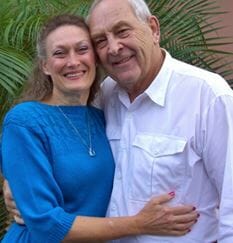 At the end of the couple's first trip to Tanzania, they brought more than 12,000 baskets back to the United States. When they founded Outreach, they took those baskets with them to help raise funds at churches and community organizations. They made enough from those first basket sales to build a school in Tanzania and distribute more food. Today, Outreach still sells baskets at their events, and basket making has grown as an industry in many Tanzanian villages.
Outreach also conducts twice-yearly medical missions in Tanzania. Since 2005, the group has taken more than 800 medical volunteers there. During each mission, which lasts eight to 10 days, doctors perform an average of 60 major pediatric surgeries, and other medical volunteers treat as many as 1,700 patients. Outreach Tanzania has also overseen the construction of a five-acre demonstration farm (which not only teaches farming skills but also feeds kids and teachers at the school) and the installation of equipment to sanitize drinking water.
Outreach's growth during its nine years has attracted attention and praise. Charity Navigator gives Outreach a four-star rating and listed Outreach as one of the 10 fastest-growing nonprofits of 2012.
"You don't have to start with an enormous organization to make a difference," Hammer says. "It just takes one or two people to start something like Outreach, and if they believe in the mission, it will succeed. It's the most rewarding thing I've ever done."
Hamilton adds: "I don't think anything can make you feel better than what we've experienced. We've watched many of the kids we met in Tanzania grow up. They once had nothing, not a glimmer of hope. Now their eyes are filled with hope. They can dream. And they talk about the future."
Share this post