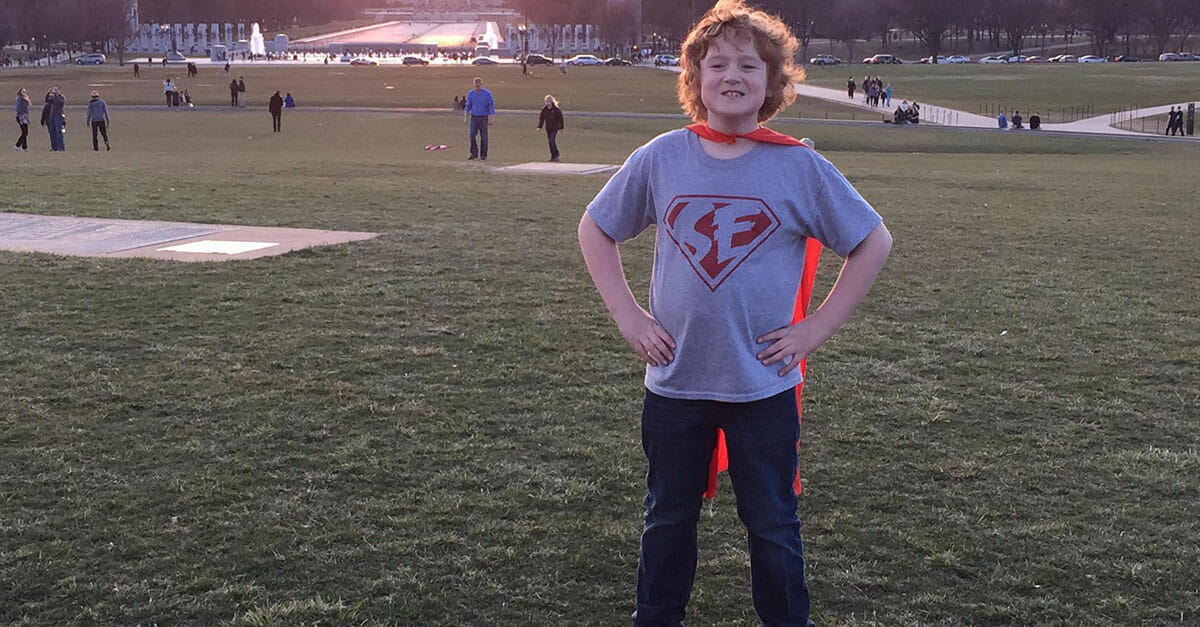 Meet Daily Point of Light Award honoree Ewan Drum. Read his story and nominate an outstanding volunteer, family or organization as a Point of Light.
When 9-year-old Ewan Drum puts on his cape, this mild mannered fourth grader can leap tall social problems in a single bound.
"It started two years ago when me and my family were in Detroit driving somewhere to eat and I saw a homeless person on the street and I wanted to help them," he recalls.
After having that feeling, Ewan, who lives with his family in New Haven just north of Detroit, came to his mom and dad with a question. "He asked us if he could dress up like a super hero and take clothes and food to homeless people when he was a teenager," says his mom, Angela Drum. "James and I just looked at each other and said, well you don't have to wait until you're a teenager. You can do that now."
So began a grassroots initiative that started with Ewan's family packing and delivering sack lunches to a gritty section of downtown Detroit by the old Michigan Central Train Station, an iconic building that was used in the filming of the Batman vs. Superman. The family came upon a group of homeless people by the station, and shared lunches and water with them.
"We hadn't realized that many homeless shelters weren't open on weekends most of the time, leaving these folks without services," says Angela. What started small grew, with a groundswell of support from friends and neighbors, into Super Ewan – a nonprofit that serves about 200 people each month, with the caped Ewan leading the charge.
"Ewan has always been very sensitive to other people, even when he was 3 and 4 years old," says Angela. "James and I both grew up in families that fell below the poverty line, so we know what it is to be in need."
It was very important to the Drums that their children – Ewan is the oldest, sister Feenie is 5, and brother Crosby is almost 3 – grow up understanding what it is to give back and help someone less fortunate. "The little ones won't remember what it's like before we started having Super Ewan adventures," Angela says.
For Ewan, these adventures include holding food drives at his school and helping his family deliver 66 turkey dinners the weekend before Thanksgiving, despite a snow storm.
"I feel good when I help people and I think they like to see me in my cape," says Ewan, the little guy with a big heart. As more people hear Ewan's story through word of mouth and social media, more volunteers and supporters step up and donate time, goods and money to help him continue his adventures.
"Super" Ewan Drum is a shining example of how one person's vision inspires a family, which in turn inspires a grassroots movement to drive change. Join us in Detroit in June for Points of Light's Conference on Volunteering and Service, which provides the singular opportunity for thousands from around the world to come together to shape the future of volunteerism.
Share this post