Family of Volunteers are a Bright Light in Their Storm-Darkened Puerto Rico Community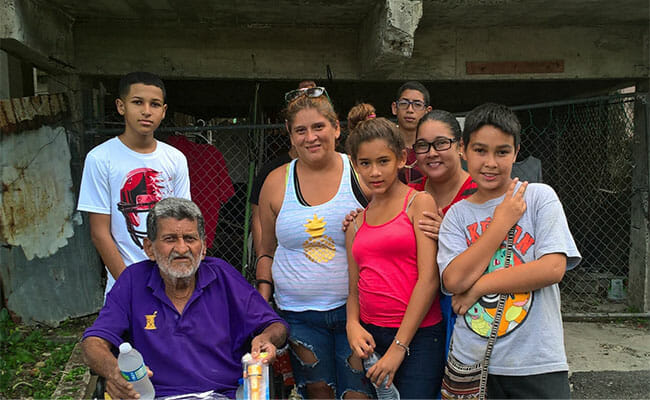 As Texas, Florida and Puerto Rico face the aftermath of Hurricanes Harvey, Irma and Maria, Points of Light is honoring everyday citizens who stepped up to serve their communities during the immediate response and to embark on the long road to recovery.
After barreling through the Caribbean, Hurricane Irma skirted Puerto Rico, still managing to take out power for nearly one-third of the island's population. The Reyes Torres family went dark, along with one million other Puerto Ricans following the Category 5 storm. This was one week before Hurricane Maria battered the U.S. commonwealth, plunging the island into chaos and knocking out most of the remaining power – causing the longest blackout in U.S. history.
Standing united, the Reyes Torres family has prevailed through the crisis, providing support to their neighbors in the wake of the disaster when, at times, there's been no water or ice to preserve food, and no phone service to communicate with each other. The family – parents Carlos and Maria, and children Carlos, 21, Shaquille, 19, Anaisa, 18, and Lizbeth, 11 – are long-time community volunteers. Carlos and Maria, as well as a few of their children, also serve with a local AmeriCorps program where they've helped to recover and maintain Casa Educativa, a community center providing mentoring, tutoring and service learning experiences to the children of the Cantera Peninsula community.
We spoke with the Reyes Torres family to learn more about how they are supporting their community as recovery efforts in Puerto Rico continue, and why volunteering together is important to them.
Hurricane Maria had a devastating impact on your home. Does seeing your neighbors in need underscore the importance of contributing to your community through service?
After Hurricane Maria, we helped our neighbors and our community through the immediate need. More than 60 days after the disaster, the need persists, and we are continuing to volunteer and respond to the great need for help, because it's necessary. We've spent time moving trees, trash and offering general support to our community.
You volunteer together as a family. Explain why?
We volunteer as a family because in this way, we are stronger to help people through our heartfelt efforts, without expecting anything in return.
Carlos and Maria, as parents, where does your inspiration come from to lead your family through service?
As a family, giving back together motivates and inspires us to do more volunteer work to help others.
Carlos: As a father, I've taught my children how to help their neighbor without receiving anything in return.
Maria: My family became involved in volunteering because we know that our community needs help, and we can offer that support.
Some of the family has had experience volunteering with AmeriCorps. Describe some of the work you've done with them.
Maria: I've volunteered with senior citizens through an AmeriCorps program in the Cantera Peninsula community in San Juan, Puerto Rico. Encouraging the elderly to be able to stay in their homes, we offer recreational and educational activities to promote their mental and physical health (listening to music, reading newspapers, watching television and discussing the news). Similarly, we help with basic household chores and maintenance.
Shaquille: I've worked with the AmeriCorps program in San Juan as well, through their initiative to promote future health and prevent childhood obesity by facilitating physical activities and sports for children in the community.
Share 5 statements about what volunteering means to you.
Help without expecting anything
Cooperate for a better community
Serve others with your heart
Be a motivation for change
Inspire others to serve
What do you want people reading your story to learn about your service together as a family?
We want others to recognize the importance of being a volunteer in their own communities. Above all, we want people to know that volunteering as a family promotes a healthier community. And even bigger than just your community – serving as a family is a way to show that you are united as one, and committed to your country.
Do you believe volunteering together has made your family bond stronger?
Since we've volunteered, the family has grown closer and stronger. This makes us want to do more – and motivates us to continue helping and offering services to those who need it.
What's next for your family? How will you continue to give back?
Our family will continue to offer services with all our hearts as God allows it.
Do you believe you serve as an example for others in your community to give back and help?
Of course, yes. We serve as an example with our commitment and actions. Our goal is to motivate other people and families to increase their volunteerism in our community and our country. Together we are stronger.
Learn about Points of Light's disaster response work, and find out how you can help.
Share this post