Retiree Teaches Seattle's Youngest Residents How to Craft for Good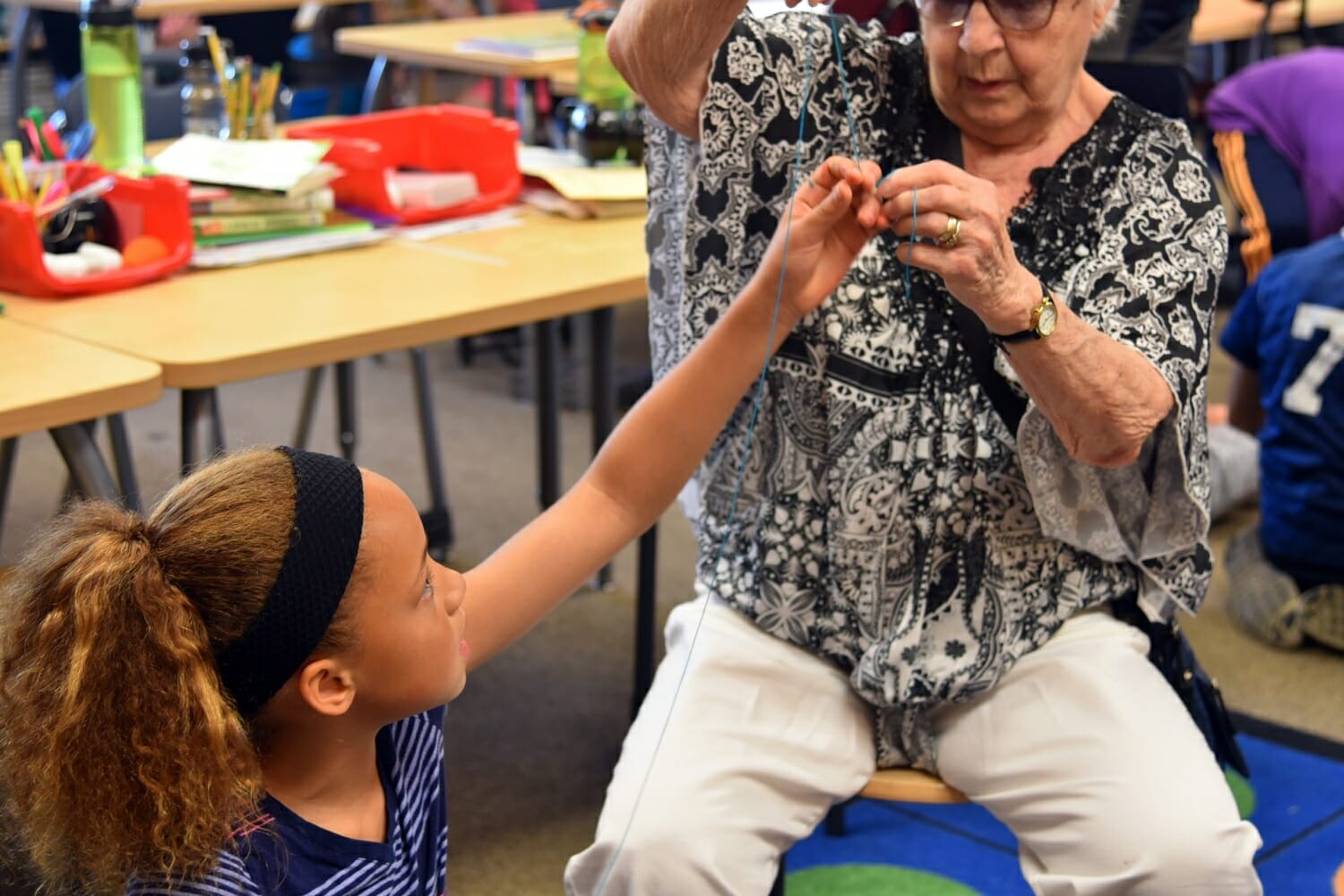 Not everyone gets to work the same job for more than 60 years — let alone volunteer for the same organization for the same amount of time. But, that's exactly what Pearl Conkle—known affectionately as Grandma Pearl—has done.
She started volunteering at Daniel Bagley Elementary School when her children were enrolled in the mid-1950s. Over the years, she's taken her love of crafts, including, knitting, quilting, and crocheting, to young students who enjoy creating with their hands and spending time with her. In addition, as a big part of the Arts of Love Quilting Project, Pearl has touched the lives of nearly 100 hospitalized children and their families. She also spends time bringing smiles, hugs, and laughter to people in the Seattle community through her Happiness Sprinkling Project.
At the age of 92, Pearl is just now showing signs of slowing down, but she has no plans to abandon her volunteer service entirely.
When and why did you begin volunteering?
I actually started volunteering at Daniel Bagley Elementary School in 1956 when my kids were going there. I took time off after they left the school, but I've still been involved — just not to the same extent. And, all of this time I was collecting material. Then, I had a stroke at 62, and the doctors told me to take it easy. I thought that then was the time to drag all of the stuff I bought out. I had boxes and boxes, and I thought I'd have to live three lives to get rid of them.
I asked Daniel Bagley if I could come back and teach embroidery, knitting, crocheting and leather work. By that time, my grandchildren had started Bagley, and I took them to school every day. So, rather than sit at home, I have a table of eight kids at a time with me at Bagley. I furnish all the stuff because I had it in my basement. The school has been so sweet to me to let me come back. Two years ago, I celebrated by 90th birthday. But, this year, I've decided that it's time to stay home.
How often were you there?
I would go in at 8:30 a.m. with my granddaughter and come home at 3 p.m. every day. I was there every Monday and Friday for full days. The teachers would sign up for when they wanted the children to work with me. And, for 30 minutes at a time, I would work with eight students out in the hall. I usually got about six or seven classes in every day. These were kindergartners through 5th grade.
Tell us how and why you got involved with Art of Love Quilting Project.
Jennifer Outhouse, one of the teachers at Daniel Bagley, wanted to get her kids to be more friendly toward each other. Kids have it rough today, and I feel sorry for them. I got involved because I wanted to teach them how to quilt and do something for others. Because the school didn't have sewing machines, the kids would cut out the squares for the quilts. They designed them, and I'd sew them back together. Some of the parents helped put the quilts together, and the kids would use the old-fashioned tying method instead of a machine. Then, they took the quilts to the Seattle Children's Hospital. In the past four years, we've made and donated more than 80 quilts to children in the hospital.
I did Art of Love for about five years. I had 3rd, 4th and 5th graders — mostly 4th and 5th. I never went with the kids to the hospital, but one of the mothers with a child in the hospital brought her son to the school with his blanket and talked with the kids. She's come twice now.
What is the Happiness Sprinkling Project, and what do you do as part of this endeavor?
My daughter met a lady named Laura who wanted to put more happiness into the world, so we decided to do it together. There could be a dozen of us or 30, and we go to Pike Street Market. We have signs that say, "You're okay!" "It's Going To Be A Good Day," "Have You Hugged Your Kid Today?" and others. We stand there with the posters and plaques for an hour.
The group has now gone to Mexico twice since February, and they've gone to France twice, as well as all over the United States and Canada. We also have a Happiness Tree a half block from my house, and the kids go down there with their signs and stay for an hour. They also put signs up on the street for people to see. All it takes to do this is for me to call up my daughter and ask her if she wants to go down to the Market. Any one of us involved is an ambassador who can get the group together.
What impact have you had with Happiness Sprinkling?
Some of the people we see are happy. Others are sad. I kept looking up the hill one time in Seattle, and this lady was having a hard time walking. I made it a point to turn around, look up, and smile and wave my sign at her. She came up to me and asked for a hug. She said, "I didn't think I could make it down. But, every time you looked at me, I really knew I could."
I'm trying to show people that they can put a smile of their face and make it a happy day. The only requirement to be part of Happiness Sprinkling is that you wear a yellow shirt. We always have extras for anyone who wants to join us. A lot of people have asked us who we're affiliated with, but we're just a group that wants to spread happiness. They often ask if they can join us, and they grab a sign to join in.
Why is volunteering important to you?
I just love kids, and I like to work with them. I see so many at the school who would come from broken homes or difficult situations. It felt good to get a smile out of them. The school also have homeless children now. I knit hats with them, and there are many who have said they never have had a hat before. It breaks my heart.
I also ended up in the hospital last June, and the doctor told me that I had to keep busy. It's the kids that keep pulling me through.
Do you want to make a difference in your community like Pearl? Visit All For Good to find local volunteer opportunities.
Share this post