Family Pays it Forward by Serving Families Impacted by Autism
Meet Daily Point of Light Award honorees the Jeevanayagam family. Read their story and nominate an outstanding volunteer or family as a Daily Point of Light.
Nicky Jeevanayagam says when her son Luke was first diagnosed with autism, the family was in disbelief. "It seemed like an end to a lot of dreams that we had hoped for for his life and his future," says Nicky. The Suwanee, Georgia resident and her husband, Jacob, cycled through feelings of fear and anxiety as their toddler missed traditional milestones like potty training and riding a bike.
But through significant support and many prayers, Nicky says, the family began to see the light at the end of the tunnel. Receiving support, education and resources from Spectrum Autism Support Group, the entire family, including Luke's twin sister, Hannah, engaged with other families experiencing similar issues with autism spectrum disorder (ASD) and found comfort in knowing they were not alone.
Deciding to pay that support forward, the Javeenayagam family, one of the finalist families for the Disney and Points of Light Family Volunteer of the Year, have served as volunteers for Spectrum since 2014, helping to fill gaps that exist in support and services for other families in their community and demonstrating that every person of any ability has the power to make a difference.
Points of Light spoke with Nicky Javeenayagam to learn more about her family's volunteerism.
What inspires you to volunteer?
We volunteer as a family by helping children and our neighbors in need. Volunteering with Spectrum was one way of giving back because we realized that not a lot of people want to work with special needs kids. There is such a great need there and Spectrum had helped us through difficult times when we did not understand what was going on. By volunteering, we are giving back in some small way.
Describe your role with Spectrum.
As volunteers, we started making "Hope Bags" which are goodie bags for children. We also help to put together race packets for the annual Georgia Race for Autism, and volunteer at the race. We also help to organize events and solicit donations as Spectrum is dependent upon fundraising for programs and resources for families.
What are in these Hope Bags?
We make and distribute goodie bags that are hygiene kits for people in need. They can include a toothbrush, towel, soap and shampoo. We'll also put a $5 bill in the bag as well as an inspiring message including a list of resources for them to use within the community.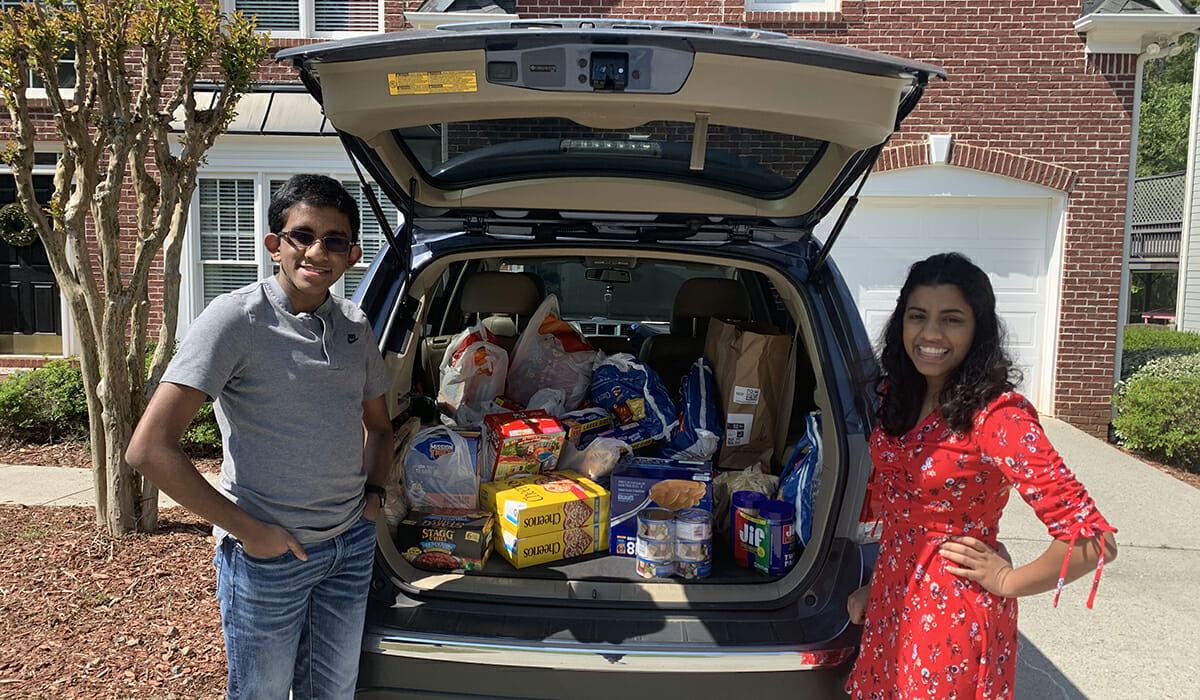 Share one personal story with me from your volunteerism.
Spectrum provides innovative and progressive programs to improve the lives of children and adults with ASD and their families. This past year, our daughter, Hannah, helped to lead a Spectrum support group panel discussion for other siblings of kids who have autism. That was a profound moment for me because I realized how much volunteering with Spectrum has helped Hannah to see beyond her little bubble. Parents came up to me afterwards and thanked us for being so open (about ASD) because they were walking the same walk that we had done just a few years ago.
What's one way you hope to inspire others in your service?
Everybody can start somewhere and do something by volunteering in small ways. Children and families going through lots of difficulties may think they can't give back, either because it takes up too much time or they've exhausted all their resources. We also volunteer with the North Gwinnett Co-Op, which helps those in our community who are food insecure, and we started by sponsoring just one child. Last Christmas we were able to help hundreds who are hungry in our community.
What's been the most rewarding part of your service?
It's rewarding to help people and see them understand they're not in this alone. Volunteering means there's always someone to walk alongside you who has already gone on a similar path, and is willing to help out and listen.
In one word, what does volunteering mean to you?
Bringing joy. So two words (laughs).
Give us an update on your children. What are they up to?
Hannah and Luke are 18-years-old, Hannah is a freshman in college and Luke is graduating from high school this May. Luke has really progressed very well from lots of therapies, great teachers and also lots of prayers. He just loves people and loves helping out, and wants to be a math teacher one day.
How can readers help?
Please visit Spectrum's website to learn more about how you can get involved and give back.
Do you want to make a difference in your community like the Jeevanayagam family? Find local volunteer opportunities.
Share this post