Female Entrepreneur Employs the Power of Technology to Detect and Prevent Child Abuse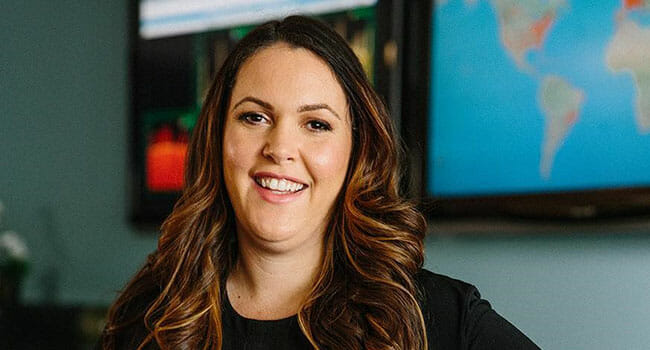 Each year L'Oreal Paris and Points of Light recognize, celebrate and support Women of Worth who make a beautiful difference in their communities. For exceptional commitment to service, 10 honorees each receive a $10,000 grant to support their most cherished cause. One honoree, selected during the open online vote, receives an additional $25,000 grant.
"We exist for one simple, critical reason," said Carly Yoost, a dynamic entrepreneur who worked fearlessly to co-create the Child Rescue Coalition. "To protect children from sexual abuse and emotional suffering, and rescue them from harm's way."
Looking at a pin map from the Child Rescue Coalition is alarming. Thousands of virtual pins dot an international map identifying locales where child pornography is, at that very moment, being viewed and traded by sexual predators. Robust technology developed by the CRC in Boca Raton, Florida, is allowing law enforcement to track predators, monitor their activities, thwart potential assaults, and make important arrests. In the last three years, the data provided by the CRC has led to the arrest of 7,776 child predators and the rescue of 1,788 children who were targets of potential sexual attacks.
Yoost is the former co-CEO of TLO, LLC, a data solutions provider founded by her father that specializes in investigative and risk management tools and child protection technology. After their father's passing in 2013, Yoost and her sister kept ownership of the child protection technology portion of the company and founded the nonprofit Child Rescue Coalition to continue their father's legacy of protecting children. Yoost serves as the full-time CEO for no pay.
At the core of the program is leading-edge technology that identifies, monitors, and ranks the online criminal behavior of child predators on file sharing and chat networks. "We compile and curate millions of records that are indexed and immediately retrievable by police 24 hours a day, seven days a week, 365 days a year," said Yoost. "We are rigorous in our efforts to ensure that our data is accurate and irrefutable."
Approximately 44 million viewers of child pornography are currently being tracked by CRC, which has provided technology to participating law enforcement agencies in all 50 states and 63 nations worldwide.
CRC partners with child exploitation investigators, police officers, digital forensic experts, prosecutors, child welfare agencies, and corporate and private philanthropy. Providing this technology free of charge, Yoost and CRC have trained more than 8,000 law enforcement officials worldwide so that perpetrators can be apprehended before they harm their next victims.
The prevalence of child abuse material on the internet in the world today has reached pandemic proportions. Even more alarming is that 85 percent of online offenders are already hands-on abusers of children. Sadly, the number of victims continues to escalate.
Approximately 300,000 children are abused every year in the United States, and in the course of their lives, 28 percent of adolescents, ages 14 to 17, will have been sexually victimized.
"That's why the information we provide is so critical," said Yoost. "Our technology gives law enforcement access to information about abuse in their area that they may not know even exists. We are able to paint a complete picture of predatory behavior and use historical data to reveal trends that would be impossible for any agency to track on its own. With almost 7,800 arrests directly attributed to our system, we know we are protecting innocent children and countless more who might have otherwise become victims."
The Child Rescue Coalition is innovative in that it is the most advanced and comprehensive tool for thwarting the illicit activity of child predators: 1) CRC monitors and streamlines seven different networks into one cohesive tool for law enforcement; predators would have unfettered access to child abuse material on these areas of the internet if it were not for CRC; 2) the group is steadfast in its commitment to thoroughly train law enforcement officials around the world; 3) CRC has developed a revolutionary new forensic tool, which automates retrieval of deleted abuse files from offender devices.
Yoost has received numerous accolades for her work. She received the Broward County 2-1-1 Child Abuse Prevention Award, was named an Unsung Hero by the Broward County Sun Sentinel, and one of the M&A Advisors 40 Under 40 Emerging Leaders. Yoost is also a recipient of the Daily Point of Light Award. Yoost and the Child Rescue Coalition are members of the Virtual Global Taskforce.
Yoost said that if she receives additional funding through L'Oréal Paris Women of Worth, the Child Rescue Coalition will be able to train more law enforcement to protect more children. One trained officer saves three children a year from abuse. "In addition, resources are needed toward system upgrades. The bad guys don't take a day off; we need to stay one step ahead of them," said Yoost.
The reaction of law enforcement officials who use the Child Rescue Coalition system has been overwhelming. A detective from Georgia said, "[The system] allowed us to find a perpetrator that had flown under the radar for as long as 10 years and now has been tied to countless victims." Another law enforcement official from the United Kingdom reports, "[The suspect] went on to admit that he had been sexually abusing his two nieces, ages 7 and 10, and had recorded the abuse. The nieces had never told anyone, and these offenses were discovered as a direct result of the system. A very dangerous man is off the streets."
Show your support for Carly Yoost by voting for her, and learn more about the other extraordinary L'Oréal Women of Worth honorees.
Share this post