Filling in the Gaps to Helps Homeless Youth Build Better Futures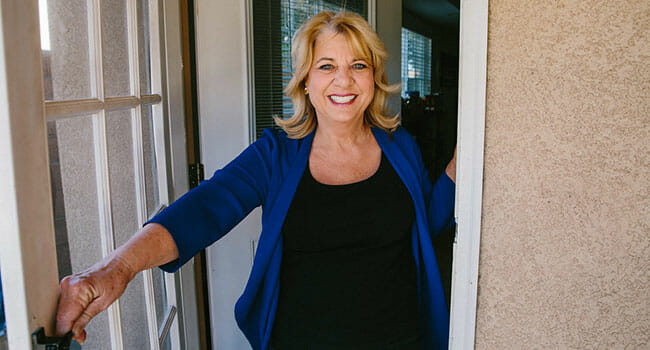 Each year, L'Oréal Paris and Points of Light recognize, celebrate and support Women of Worth who make a beautiful difference in their communities. For exceptional commitment to service, 10 honorees each receive a $10,000 grant to support their most cherished cause. One honoree, selected during the open online vote, receives an additional $25,000 grant.
"If you have a kid on the street who knows for a fact that there is no one in the whole world who cares, that he or she could disappear and no one would know or care – that to me is the saddest thing," said Kathy Tillotson. "In terms of any difficulties they present, that doesn't bother me, because honestly, for those kids to have survived is just a testament to them, given the conditions they've had to endure."
Tillotson never expected she'd be working 45 hours or more per week without pay – and loving it – when she and her husband retired and moved to sunny California. She simply wanted to continue her long habit of volunteering and was asked to help two homeless teens.
"I literally went around all of Orange County to try to find some help," she says. "I spent a whole year looking at every nonprofit to see if there were any that could help 18- to 24-year-olds and there were not."
Tillotson founded Build Futures, an organization that gets homeless kids off the streets quickly, not only finding them permanent housing, but helping them become self-sufficient – often within months – by finishing school, finding jobs, and breaking bad habits like substance abuse or reckless spending.
The young adults are referred to Tillotson by police, churches, and social agencies. Some find Build Futures on their own, after stumbling upon its website or Facebook page.
The youth arrive hungry, scared and desperate – Tillotson's first priority is to get them somewhere safe within 24 hours. She coordinates with existing social services and agencies to get them clothing, food, IDs, bus passes, job-hunting assistance, help with schooling, medical care, and mental health treatment.
As part of the deal, youth have to remain sober and well behaved. They must meet regularly with Tillotson and follow up with the resources she recommends. She makes sure they have phones so she can keep in touch via email and text message.
With more than 3 million people, Orange County, California, is one of the most populous counties in the United States. It contains three cities with more than 300,000 residents each – Anaheim, Santa Ana, and Irvine – and Huntington Beach, which has more than 200,000.
But not all residents have homes, and a growing number of homeless individuals are ages 18 to 24. "About half of them are runaways, often running from some sort of abuse," said Tillotson. Others are "throwaways," or kids whose parents have kicked them out. Less than 10 percent of the young adults helped by Build Futures are graduates of the foster care system. "Those kids usually have support and housing options in place as they transition out of foster homes," she said. "These kids get zero, zip, nothing." Last year, nearly 3,000 seniors in Orange County public schools were homeless.
Most emergency shelters are geared toward families or veterans, said Tillotson. Yet it's especially dangerous for naïve young people – particularly girls, who are vulnerable to human trafficking – to live on the streets.
Compounding the problem is Orange County's high cost of living. Rental units are expensive and have low vacancy. Build Futures has seen a continuous increase in requests for its services. Last year, the number of clients jumped by 40 percent, and Tillotson expects a future increase of at least 25 percent this year.
Since its founding in 2009, Build Futures has helped more than 1,000 homeless youth. Last year, 240 kids received help, including 110 who were housed. Of those who cooperate with her interventions, Tillotson estimates 75 percent have gotten jobs and become financially self-sufficient.
Elizabeth Vasquez, 24, credits Tillotson for helping her turn her life around. "I was incarcerated for substance abuse," said Vasquez, who lost custody of her young daughter to her parents. She quit drugs but lacked a high school diploma, a job, and social skills. "I didn't even know how to do email," Vasquez said. "I didn't speak clearly, and I couldn't even look somebody straight in the face." Vasquez learned about Build Futures by calling the 211 helpline. At first, [Kathy] was really strict," said Vasquez. "She told me to go to classes, to do mock interviews, and stuff like that."
Vasquez is now close to finishing her diploma and has a steady job at Walgreens. She's acquired practical skills, such as operating a forklift truck, but has set her sights on a nine-month college program to learn medical billing and coding. She's been paying off her court fees and rent. "I'm always moving forward," Vasquez said. "I have self-esteem now."
Michelle Harding, 18, found Build Futures by scouring the internet. She'd been seeking the courage to leave a dysfunctional home. "Kathy emailed a response within 24 hours," Harding said. "She said she could find housing within a week. She was very proactive. She told me to sign up for different programs, including food stamps and medical insurance. Every week, she religiously sends emails to all the kids about job openings."
Harding now works two jobs and has been accepted to the University of California, Santa Cruz, where she plans to major in science. Without Tillotson's help, Harding said she would have remained too stressed out to pursue college or anything beyond a minimum-wage job.
Tillotson believes she's the only resource dedicated to homeless people ages 18 to 24 in all of Orange County, and she knows similar programs are exceedingly rare elsewhere.
Ron Garland, who runs four transitional sober living homes in Orange County, agrees. He's rented rooms to dozens of kids referred by Build Futures. "These kids have nowhere to turn," he says. "She pays the rent at first, but she works with these kids almost like 24-7. She's really tough. She demands them to do what they need to do – usually it's about three months of classes and all that. They have to text her every day with their schedules, and if they don't follow them, she wants to know why. She has them come to her office each week to pick up the rent check so she can talk to them. But afterward, they love her. I'd say 70 percent of them are success stories. They have jobs, cars, pay their rent."
Tillotson credits her previous career in business with the program's successful, cost-efficient strategy.
"Look at my website," she said. "You'll see we have a … list of over 1,300 resources. We don't duplicate anything that's being done by somebody else. For example, for clothes, we have a relationship with the Assistance League; they'll give us vouchers for $50 for each kid, and that buys a lot. We have an Excel spreadsheet for food and groceries. There are organizations that do resume building and interviewing. Our main thing is to fill gaps, not to duplicate anything."
Tillotson was honored to receive California State Sen. Lou Correa's Women Making a Difference Award in 2011, and in 2013 she was a National Philanthropy Day, Orange County honoree. She has also been recognized with a Daily Point of Light Award.
If Tillotson were to receive further funding from the L'Oréal Paris Women of Worth competition, she'd put all of it toward finding more housing options for homeless young adults. As homelessness grows and word spreads of her organization, there are times it's difficult to find openings. "We're committed to 'rapid re-housing,'" she said. "We need permanent homes, not temporary shelters, so that they can get jobs."
Tillotson knows the problem of young homeless adults isn't limited to Orange County, so she's developed a 21-step plan that could be used to start similar programs elsewhere. "The model I've developed can be replicated nationally," she said. "We do have a very unique and innovative program."
For all her toughness with young adults in need, Tillotson feels a great deal of compassion for them. Her own daughters, now 26 and 27, had privileged backgrounds and became highly successful. "My kids went to the best schools and everything," she said. "But even they went through phases and made bad choices. You can't expect kids who've had horrible lives amid dysfunction, who've never even seen someone make a good choice, to do otherwise. It's easy for me to understand."
Tillotson's daughter, Kelly, a country singer who now lives in Nashville, said, "I've seen some of these kids. They have no one to be a parent to them and my mom stepped into that role. Every time I call her, she's picking up a kid or looking for housing or applying for grants. She literally gets no money for this; she does it out of love."
Show your support for Kathy Tillotson by voting for her, and learn more about the other extraordinary L'Oréal Women of Worth honorees.
Some names have been changed to protect Build Future client's identities.
Share this post