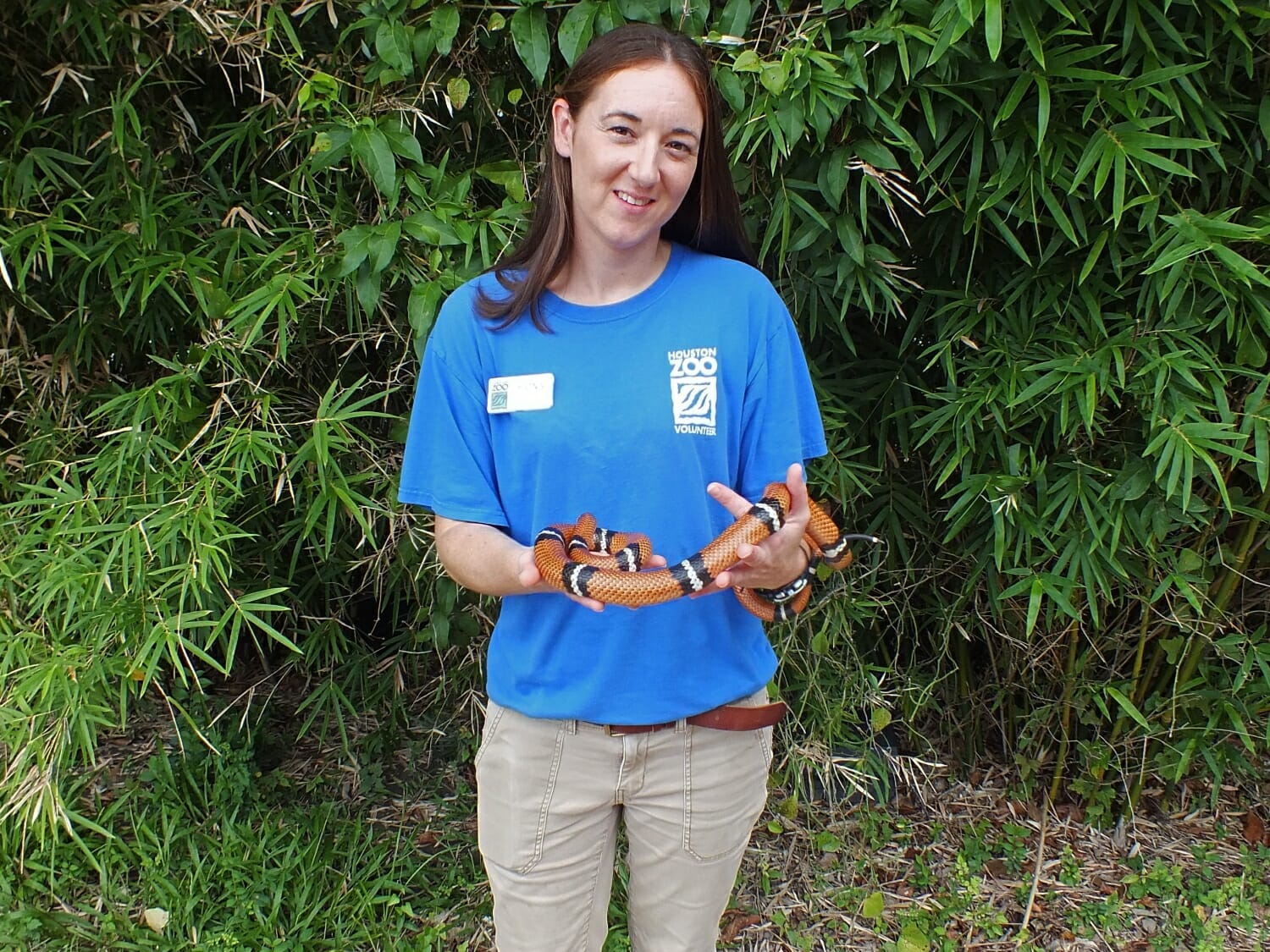 For Fiona Layfield, volunteer service is an international activity. As a United Kingdom native, she juggled donating her time to non-profits while holding down a full-time job. But, when she immigrated to the United States, volunteering became her primary occupation.
And, since 2013, she's been a faithful volunteer at the Friends for Life no-kill animal shelter and the Houston Zoo. In that time, she's given nearly 3,250 hours to the care and protection of animals of all sorts. Her work is important, she says, because animals lack the voices needed to advocate for themselves.
As a shelter volunteer, she works mainly with dogs, walking them daily, cleaning their living areas, and providing behavior training.
"We want to make the dogs as adoptable as possible," she says. "The more training we do, the better they'll be behaved, the more likely they are to be adopted."
At the Zoo, Layfield's efforts are more extensive, focusing on program development and education. So far, her impact has been significant. Each year, she helps plan the Zoo's primary fundraiser – Feast with the Beasts. She works one day a week for six months to organize the more than 4,000-guest event where attendees learn about the Zoo's more than 6,000 animals and their importance.
She's also been integrally involved in the Adopt-an-Animal program that keeps Zoo supporters informed about the health and activities of certain animals. And, most recently, she's been part of the Action for Apes Challenge. This program collects cell phones for recycling because the tantalum in almost all of them is found and mined in gorilla habitats, causing great disruptions. To date, Layfield has helped collect 2,233 electronic devices.
Additionally, Layfield is a Zoo docent who teaches the public about the Zoo's smaller animals, including young alligators, snakes, chinchillas, and reptiles. Working closely with the public – especially with children – is an effective way to get as many people involved as possible in protecting and conserving animals, she says.
"The younger children are when we speak to them, the higher the likelihood they will hold a desire to protect animals throughout their lives," Layfield says.
Share this post