Firefighter Installs Free Smoke Detectors in Homes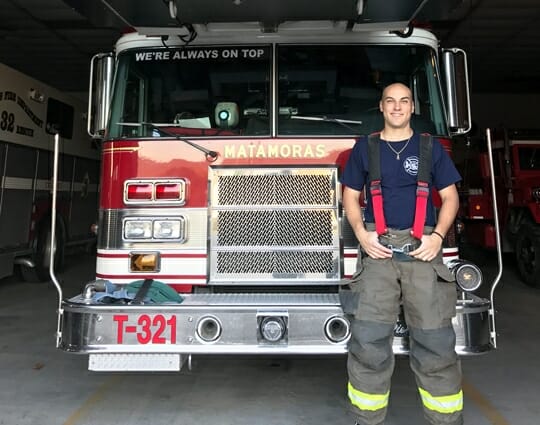 Ever since Mario D'Ambrosio was a kid, he dreamed of being a firefighter. His dream came true on the day he volunteered to join his local Matamoras fire department. "They took me in like family," Mario said.
Mario became highly involved because of his deep desire to help others. His first year in the fire department, Mario was appointed as fire prevention coordinator and by his second year, he was appointed as fire rescue captain.
"Volunteer work to me is something I love to do. I have a passion for making a difference, if I change one person's life, it makes me happy," Mario said. "I am a volunteer firefighter and would do anything to help someone."
His volunteer role with the Matamoras Fire Department includes responding to emergency fire calls, at all hours of the day. He is also responsible for cleaning the fire trucks and fire station. In addition to his duties at the station, he is involved in community outreach, which includes running fire prevention events at schools. "My main goal at a prevention event is to teach kids not to be afraid of firefighters when they come to your home," he said.
Mario thinks it is important for others to give back because he says life is more than money, it's about making a difference and spreading cheer. "If people knew how well it makes you feel, I think more people would do it," Mario shares. "People need to give back more."
After seeing a lot of homes that didn't have smoke detectors, Mario teamed up with the American Red Cross, which offers up to three, free 10-year, no battery smoke detectors per residence.
Mario personally drives the fire truck to the homes and installs the smoke detectors. Through the program the fire department has installed more than 90 detectors. "This is rewarding to me. I feel like I am making a change doing this and I know it can save a life."
Through his experience as a volunteer, not only has he been trained as a firefighter, but has also developed better communication skills. "I experience something new every day, and learn how to respond," he says. "You never know what kind of call you may get as a firefighter."
He wants other people to learn from his story to get involved and volunteer. "Go out and help people. Volunteer and take the initiative to go to your local non-profit organization and help."
Want to make a difference in your community like Mario? Visit All For Good for local volunteer opportunities.
Post written by Karen Cohen.
Share this post