First-Generation American Volunteers to Promote Inclusion for Refugee Youth Through Art
Meet Daily Point of Light Award honoree Manav Shah. Read his story and nominate an outstanding volunteer or family as a Daily Point of Light.
16-year-old Manav Shah is like any other American teen, spending his time outside of school taking photos, fulfilling his passion for photojournalism, and traveling to meet people from different cultures. What sets the Marietta, Georgia teen apart from some of his classmates are the racist attacks he's faced, and the action he is now taking to help other minorities.
"Being told, 'Go back home. Go back to your country'," Manav says. "I feel like I also am an integral part of this community, and I want to help build this nation and help it succeed. Being told that really disheartens me. Racism is really disappointing."
Fittingly, the rising high school senior was traveling when he discovered how he could help others. Visiting the city of Dharamshala in India in 2018, Manav stumbled upon a Tibetan refugee enclave and returned back home to the United States determined to help refugees in his own community.
"I was shocked to see the plight of the refugees. Self-immolation was occurring in the community, they had no home and they faced so much racism, especially the youth who felt torn between India and Tibet."
Once home, Manav began having conversations with the large refugee community in nearby Clarkston, Georgia, often referred to as "the most diverse square mile in America". Manav says speaking with Tibetan refugees there reaffirmed what he'd observed in India, and revealed the great need that existed.
Launching Liberated Voices in 2019, Manav uses protest art, inspired by his time spent with the Tibetan refugees, as a vehicle of communication in helping refugee youth express themselves. The art empowers refugees to build confidence in voicing their narratives of inequity, says Manav. Raising more than $10,000 and helping about 650 refugees thus far in Clarkston, Chicago, Omaha, Kenya and Nepal, Manav is looking to branch out even further in the future, hoping to connect with refugees as far away as Kenya, Jordan and Iraq. Manav says his innovative solution to creating a just and inclusive society can be applied across many different cultures and communities, just as it's being used in the Clarkston community.
"Their experiences and what they had to face hampered their ability to get an education, receive career prospects and integrate into their communities. Without these opportunities, they couldn't make their voices heard on a community and political level. Through our protest art workshops, we are combining cultural experience and art with the traditional elements of protest against Chinese oppression, racism, and being overlooked."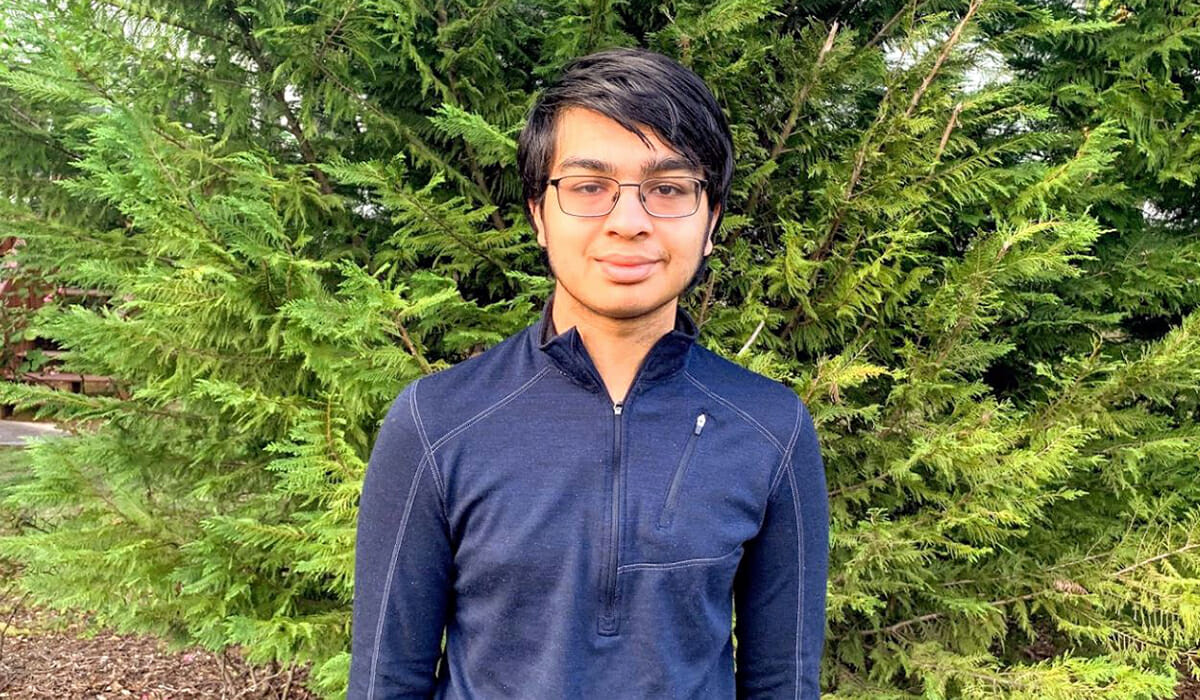 Holding workshops across the U.S. and internationally that advocate for change through diversity, Manav instructs weekly and monthly classes and workshops with free art supplies including oil, water paints and more for refugee youth participants along with more than 20 Liberated Voices volunteers. Creating community for refugees to meet each other and also offer positive reinforcement of their community, Manav notes that along with the creative expression his workshops encourage, their classes have some very practical applications.
"A lot of refugees don't know how to speak English. Protest artwork is a really non-verbal form of communication which is impactful because the colors and images can be applied to many different cultures and many different people who really have no idea what the refugee experience it is."
Offering several initiatives including Learn, Lead, Change, which promotes leadership and helps refugees create artwork that gives them a peek into a better future for themselves, Manav says this support can help refugees escape drug, alcohol addiction, crime and violence, all devastating side effects of the exclusion they face. Liberated Voices participants, from Tibetan to Somalian, Yazidi and Burmese, are encouraged to harness and embrace their varied life experiences.
"I sat down with a young Somalian girl at the Clarkston Community Center where we were holding a workshop," Manav says. "She was previously bullied about wearing a hijab. The girl had left behind extreme poverty and traumatic situations in her home Somalia, and said she didn't want to go back. As I was making artwork with her, she'd covered up the phrase "i'm proud of be Muslim" on her artwork. As I talked with her about the phrase, we uncovered it. She accepted both her culture, and she felt accepted by our community. It's really an inspiration for me to see the work that I'm doing helps others really fit into their communities and make their voices heard."
According to Hemali Gunt, who mentored Manav while he interned at Duke University, Liberated Voices has served as a ground-breaking impetus for refugees to open up about the issues they face, and draw those challenges out through art experiences.
"There are people from all over the world who are assimilating. Even if (refugees) are made to feel welcome (in their new countries), their past experiences can sometimes overshadow those open arms. It's important they are able to express themselves and embrace who they really are to help them reach their fullest potential. Manav's work is helping refugees not forget their roots, but also helping them to become a much more whole individual."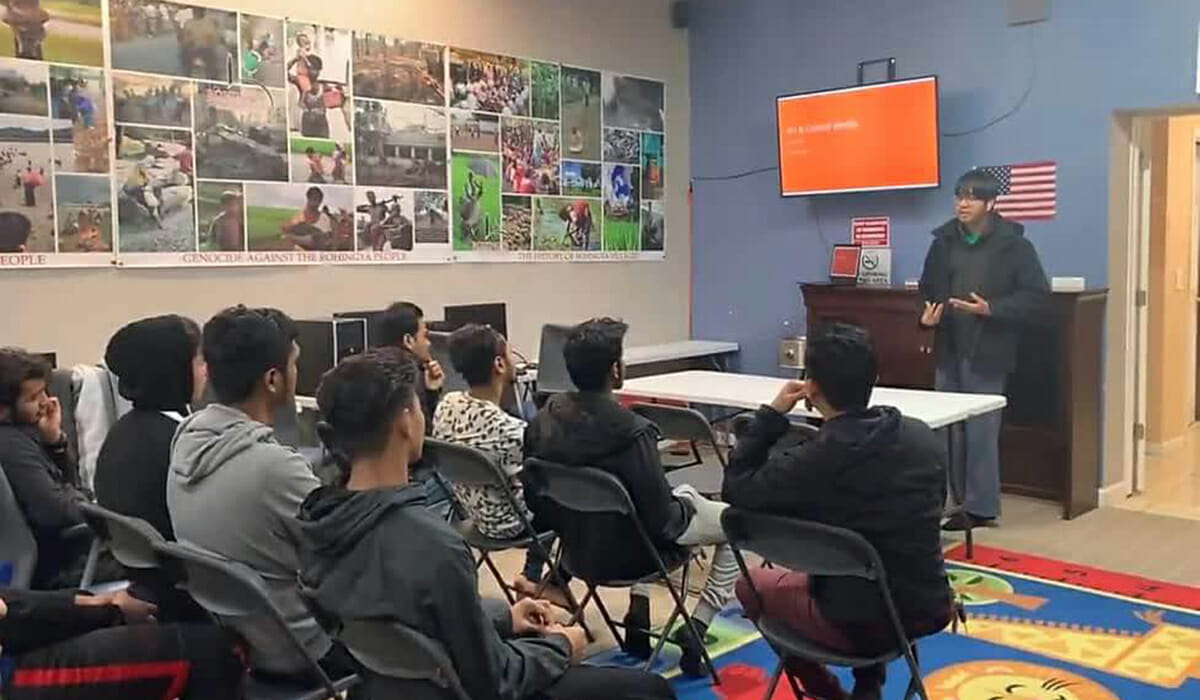 As he continues his refugee outreach, Manav has been working with UNHCR Europe to create what he envisions to be a multilingual integration program, customized for various regions based on specific laws and policies. Additionally, Manav is advocating for state legislation in Georgia to recognize "Diversity Month", in addition to approving diversity activities for public schools, work that he hopes can resume after being postponed due to Covid-19 pandemic stay at home orders. Liberated Voices will also have artwork featured in an exhibit at the High Museum of Art in Atlanta in Fall 2020.
"Seeing refugees being able to come to this country and not face discrimination would be amazing," says Manav. "That's our goal. We want to ensure that communities are more inclusive and aware of the experience that ethnic minorities face. By understanding the trauma they faced in leaving their homes and coming (to the U.S.), we can help them by providing support and welcoming them with open arms.
Do you want to make a difference in your community like Manav Shah? Find local volunteer opportunities.
Share this post