First-Generation Graduate Builds Bridges of Financial Literacy for Youth
Meet Daily Point of Light Award honoree Patricia Lu. During the third annual Global Volunteer Month, we celebrate the power of people who tackle society's greatest challenges, and build stronger, more vibrant communities through volunteerism and everyday actions, like Patricia. Read her story, and join the Global Volunteer Month celebration.
As a first-generation college graduate, Patricia Lu dedicates her time as a volunteer to support the future generation to reach their fullest potential. Patricia found the EAGLE Scholars program in Dallas through her job at Bank of America, and what started out as a six-week volunteer program turned into years of helping high school students grow their financial literacy skills.  
The Vickery Meadow Youth Development Foundation college readiness program is made up of a diverse group of middle school and high school students, who Patricia has enjoyed taking to banks for field trips and learning sessions. Patricia was recognized as a Bank of America Global Volunteer Awardee in 2021, and her mentorship has helped scholars receive an average of $13,982 in scholarships towards their college or university of choice.
Describe your volunteer role within EAGLE Scholars and how you found mentorship volunteerism.
I heard about EAGLE scholars in 2016 through my work at Bank of America. We sort of have a volunteer calendar. There was an opportunity for us to teach financial literacy to sophomore students. It was around a six-week commitment on Thursday nights, but whenever I started getting involved with it, I actually really enjoyed my experience and I thought it would be cool to stick around. Over time, it's evolved to not only financial literacy, but we were also able to take students to visit a bank to see what the inside of the bank is and ask any questions about opening an account or just helping them understand what it's like when they started becoming an adult. 
We work with a lot of immigrants and first-generation students also, and being a first-generation student myself, it was something that I felt like I could relate to and see myself a little through them. I thought it'd be great to be able to be involved and help them in ways that I might not have had growing up. 
WHICH curriculum do you teach your students and how has it helped them
We have a curriculum called Better Money Habits that covers a variety of topics related to financial literacy. It covers opening a banking account, savings account, credit account or covers steps to finance a car or house. With the sophomores and younger students, I started to realize that it wasn't working as effectively — they don't really want to just listen to PowerPoint presentations all day. So, I adapted to what they wanted to do. We started having small group sessions of question-asking. 
They get the opportunity to work as a team with a mentor to learn about a specific topic and they get the chance to present or teach their peers. The students said we should do a Kahoot, and I was like, what the heck is a Kahoot? It's essentially a presentation and then a mini quiz. You can do it on your phone and a question will show up and you select an answer and then you get points based on how fast you submit and if you get the answer correct or not. It's been cool just seeing how the students are more receptive to different activities.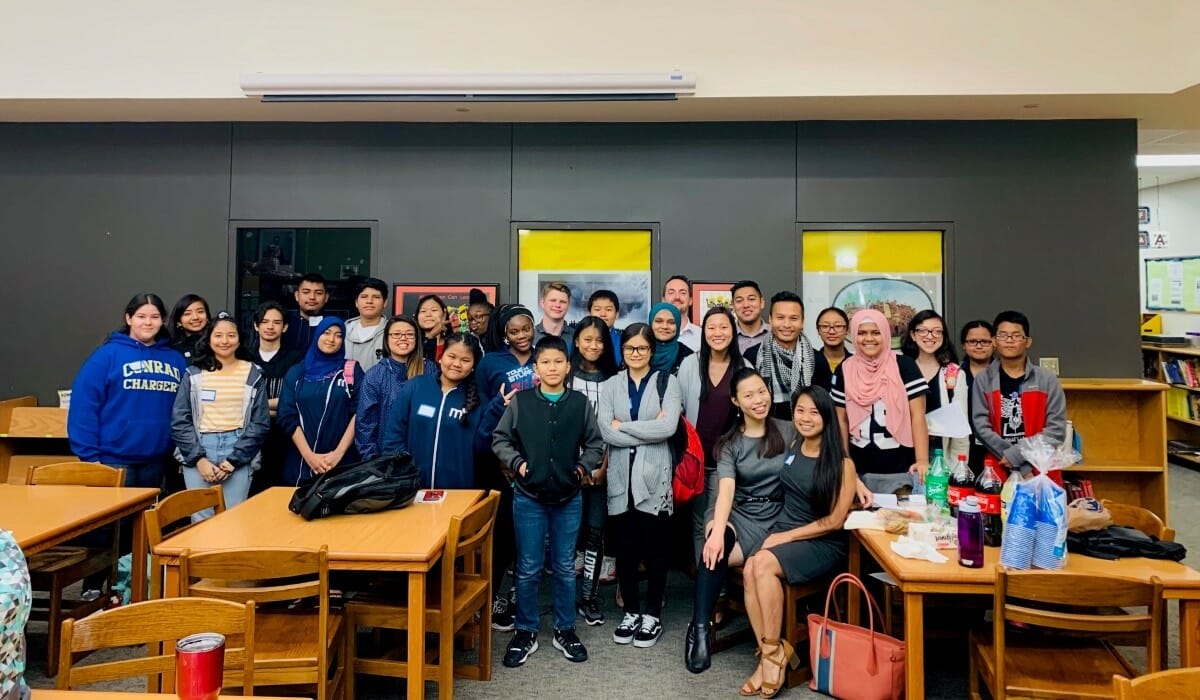 Describe the scholarship program within EAGLE Scholars.
Anyone during their sophomore year can apply to what we call a sophomore year application. It's around a $600 scholarship. For most of the students, it's their first time ever applying for a scholarship. When I was applying to college, I didn't apply to a scholarship until senior year. So, it's very early, but it gives them the opportunity to learn about the realities of a scholarship and apply with the help and support of a mentor. Over the last few years, at least one of the students has won the scholarship for $600. When they apply for college, it can be applied towards tuition and such, but it's just really cool getting to see them work through that process. And whenever I work with the seniors, just being able to see how they've evolved since they were a sophomore is one of the best things. 
What inspires you to volunteer?
This is going to sound so cliché, but it feels so good making a difference. It really does. Whenever you're able to see the rewards from the students, there's no better feeling than when the students express gratitude for helping or just thanking you for taking the time to be with them. One thing that I've seen that's unique is that I've been able to be with them consistently. When you're able to spend the time in developed relationships with the students, it means a lot more.  
What have you learned through your experience as a volunteer?
I think I've learned patience volunteering with the students. I've also learned that adults don't know everything. Volunteering is the most effective way to teach for me, and every time, it's just about understanding that the students need different teaching approaches and learning environments sometimes. 
Why is it important for others to give back, especially to young people and students? 
It's important to help because it helps you see the world in a different light. I always hear that children are the future or this generation, but when you think about it, it's true. The way that you help or support kids of this generation helps them be able to do the same thing for more future generations. These students might be able to be politicians or council members — there's just so much that they can accomplish with our support and someone believing in them. 
Are there any partnerships, programs or events that you are excited about?
I'm excited about the college signing day for seniors. The seniors kind of reveal to all of the EAGLE scholars where they're going to be going to college and talk about how much money in scholarships that they've been able to obtain. It was a virtual and in-person hybrid event last year, and we're not sure what this year will look like, but it's an awesome feeling. Whenever you do you get to be there in person and you hear 100 scholars or 75 scholars cheering for you after you share your news with them, it's just so exciting.  
Do you want to make a difference in your community like Patricia? Find local volunteer opportunities. 
Share this post