Florida Retiree Encourages Continued Engagement With Personalized Acknowledgements
Meet Daily Point of Light Award honoree Barbara Dietrichsen. Read her story, and nominate an outstanding volunteer or family as a Daily Point of Light.
Barbara Dietrichsen grew up mainly in Tennessee and Georgia, with a stint abroad when her parents acted as missionaries in Taiwan. She was visiting her parents in their hometown of St. Petersburg, Florida, where she met the man who would convince her to set down roots — a man she was married to for 37 years. She spent a couple of years working as a chemist followed by a rewarding career working for the State of Florida before retiring. Today, she enjoys gardening in a backyard filled with butterflies and flowers all year long. She also lives near her daughter's family, including her two teenage granddaughters.
It was through one of her granddaughter's volunteering experiences that she first discovered something else to be thankful for, The Kind Mouse (TKM). TKM is an organization with a mission to feed local children experiencing food insecurity and currently, on average, provides 3,519 meals each week and more than 166,050 since their founding in 2012. Donating to the noble cause, Barbara was surprised and pleased to receive personalized, handwritten thank you notes with every check she wrote.
Since 2020, Barbara has sat on the other end of those notes, spending around 25-30 hours a month expressing appreciation with every card she has written. Recognizing every individual, partner, organization, business and agency that contributes to TKM's success, she promotes continued involvement in the mission that has become very close to her heart.
What inspires you to volunteer? 
I heard about The Kind Mouse when my granddaughter was looking for volunteer work for her church confirmation. And when I heard about kids learning to help other kids, I decided this is where I wanted to not only make monetary donations but to volunteer.  
I started off helping out in the pantry. I inspected incoming cases of foods and put an expiration date on each item and then repackaged them into the meal bags for kids. I'm not a fast-walking person anymore, so that suited my mobility.  
Then there was an opportunity to help out the person who did the acknowledgments. I was glad to do that, because when I started donating, I would get handwritten notes each month. It was really amazing. And so, I was glad I could take on that role and learned a great deal about the organization and the variety of ways they get people to donate: grants, individual contributions, business campaigns.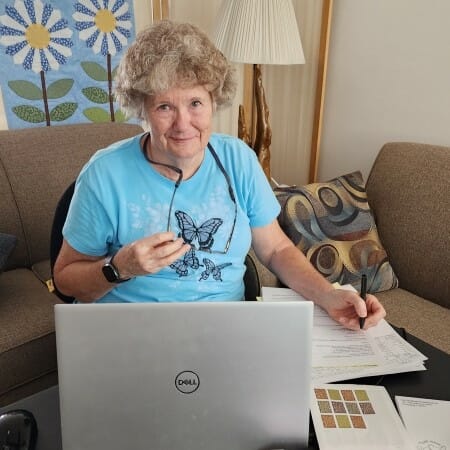 Describe your current roles with The Kind Mouse and your church.
The previous leader passed the baton to me on the first of this year. Now, for example, they just did a back-to-school fundraiser, where they took out the empty bins to a couple dozen businesses that have the donations for people that come in. When those came back, I coordinated with those people to send acknowledgements confirming what the money was going to be used for. I can look in the database to see which people are first-time donors and which ones have done this before in order to customize the comments and let them know how much they're appreciated.  
When I started, I would go to the office, and they had handwritten logs of donations. They'd run me a photocopy of what needed to be sent, and I'd work from that. Now we have a CRM database that makes things more efficient and makes it easy to see notes about the donation, like if someone is donating in memory of someone who has passed away or donating on someone else's behalf. I can use donor details and history to personalize their acknowledgement.
I also volunteer with my church group. We're finishing up making things like nap pad pillowcases for a daycare over in Tampa. I'm a novice seamstress, but I can sew straight lines. In the next month, we'll be finishing up a project making bags of school supplies to give as Christmas presents to migrant kids. In a couple of weeks, we're making up bags for homeless people to give to the free clinic that contain things like a toothbrush, toothpaste, shampoo, conditioner and socks. 
Why are The Kind Mouse thank you notes you send important?
When I was receiving them, I enjoyed the personal touch. I was thinking of putting a caption, "I am not a robot. This is not AI. This is just a retired person," to let people know that what they're doing makes a difference. This is a local company making a difference to local people. It's nice to let donors know that their contribution is a part of a larger, successful, very efficient organization. 
What's been the most rewarding part of your work? 
To know that I can do my part to continue feeding hungry kids. To me, that is a fundamental part of society. Kids need to eat. I was glad to help out in the pantry, but if I can do something that helps save time for the frontline people, I do that. As each year goes by–even through the pandemic–they've increased their contribution to the community.  
What have you learned through your experiences as a volunteer? 
I can not only be thankful for what I have, but I can contribute to other people's lives. I've learned that I can learn new things. I can have new experiences. And I've learned what talents and capabilities other people have. I can also use what I learned in my career even after retirement in order to make the organization more effective. 
Tell us about future partnerships, programs or events that you are excited about.
Every time I go, I learn about some new event they're hosting, some new way to make people aware of the problem and how The Kind Mouse is solving it. They've got the annual holiday food campaign with different businesses coming up.  
I also look forward to learning more about the computer system and how I can contribute behind the scenes to help others go further. One thing the new computer system has enabled me to do is to respond more quickly. The faster you get feedback and encouragement, the better.  
Why is it important for others to get involved in causes they care about? 
You just feel better about life when you're helping somebody else, and there's so much need out there. As each year goes by, there's more and more need. It's such a challenge for parents these days.  
I'm blessed with what I have, and it's important for people who have financial security to contribute to society. These kids are the future of our country. We need to get involved in every way we can. I'm not going to be the person out there giving a speech, but I can support those people who are by using the skills and resources I have. 
What do you want people to learn from your story?
Whatever your talents are, there's an organization that can use them. Don't think you don't have anything to contribute. I went to The Kind Mouse and started sitting and labeling food, but it turned out, I could use my computer skills. 
Not only is it important to support kids, but parents need financial and food help, as well. You get back as much as you give, but the more you do, the more you can do. It just makes each day brighter. 
Do you want to make a difference in your community like Barbara? Find local volunteer opportunities. 
Share this post