Florida Teen Starts Nonprofit to Feed Homecooked Meals to Foster Families
Meet Daily Point of Light Award honoree Laura Kopec. Read her story and nominate an outstanding volunteer or family as a Daily Point of Light.
For many students, a research paper is just another grueling homework assignment. But for 16-year-old Laura Kopec, a research paper was the spark that ignited the desire to create, along with her sister, Feeding the Fosters, a nonprofit organization providing homecooked meals to foster families in Pinellas County, Florida.  
After exploring how immigration led to the development of the United States' foster care system in her research paper, Laura learned of the struggles that orphaned children of immigrants endured and she was shocked to find that food insecurity existed at a foster sibling group home in her own neighborhood. So, in 2020, Laura and her sister, Samantha, started Feeding the Fosters. With the cooking skills they learned in their Great Grandma Gracie's kitchen from a young age, Laura and Samantha have been whipping up baked ziti and meatballs, chicken and potatoes, vegetable quiche and more to serve 62 foster families. Not only are they filling the tummies of foster families with a warm, nutritious meal, but they're also helping alleviate some of the financial burdens on these households and allowing them to have more quality time to spend as a foster family.   
What is the mission of Feeding the Fosters? 
The mission of Feeding the Fosters (FTF) Inc. is to provide healthy, homemade meals at dinner time to foster families to give the gift of time. Providing meals helps foster families spend time bonding, doing homework, attending medical appointments and visiting with biological parents instead of grocery shopping and preparing meals. Additionally, volunteers help foster children celebrate birthdays and holidays and introduce them to a variety of culturally diverse activities and foods. This support allows the licensed foster homes to continue accepting children, knowing that the community will be there to support them. 
Why does your heart go out to specifically foster families and foster children? 
In the US, drug addiction has been blamed for the rising number of foster children and my heart is heavy knowing children are put into the foster care system due to unfit biological parents. I feel blessed that my parents always involved me in their community outreach, whether it's volunteering at a sibling group foster home, serving autistic children in church or participating in Big Brothers Big Sisters. They have made us more inclusive by exposing us to the world and its many diverse cultures, and I feel every child should have access to food and love. It is because of my parents' devotion, guidance and example that I want to have an impact on the community as well.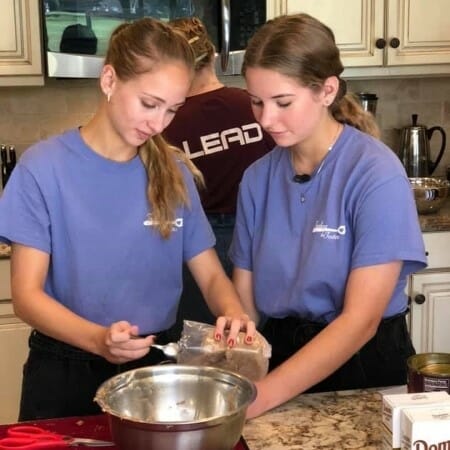 Where did you learn to cook? 
I began cooking at a very young age, spending entire afternoons in Great Grandma's Brooklyn kitchen. Grandma Gracie used to cook for a convent and we constantly joked that she didn't know how to make a meal for just a few people because she always fed an army. She taught me how to make many Italian dishes, but my favorite is baked ziti and meatballs. Now, my family enjoys bonding in the kitchen while following Great-Grandma's Italian recipes. I make delicious dinners for the foster children and staff, such as tacos, enchiladas, meatloaf, shepherd's pie, chicken parmesan, quiche and more. I also love to bake cookies and brownies and create fun, seasonally-themed cupcakes for the children. The gift of a meal allows the foster family time to relax and enjoy eating together, thus continuing the tradition of family mealtime. 
What other organizations help keep FTF running? 
Food surplus from local businesses allows us to remain sustainable. This donated excess food, picked up weekly, provides groceries to foster families and helps volunteers make healthy, homemade meals. I collaborate with nonprofits such as Harbor Dish, Mattie Williams, Feeding America and the Tarpon Springs Shepherd Center to assist volunteers in gathering end-of-day donations from a variety of restaurants and stores including Cheesecake Factory, Olive Garden, Whole Foods Market, Publix, Sprouts Farmers Market and Einstein Bagels. Preventing food waste and recovering nutritious, wholesome food allows FTF to make a difference in the community by feeding the hungry and helping the environment.  
How many families have you served? 
Pinellas County is the second largest county for foster care in Florida, with an average of three children being brought into the system each day. In August, FTF will celebrate our third year supporting the foster community, having served 397 children, bringing together a community of more than 2,300 volunteers to provide 39,099 individual meals for 62 foster families. Our criteria for eligibility initially was to have two or more foster children and live in Pinellas County, but we have grown to include nonrelative placement, reunited biological and newly adoptive families, also expanding our radius to include Largo and a part of neighboring Pasco County.  
Are there any future partnerships, programs or events that you are excited about?
I recently published a collection of recipes used by our volunteers in a cookbook, which was a great fundraiser to raise awareness for the mission. We have an upcoming Spirit Day at La Dolce Vita Creamery in June and are raising funds to pay for the foster children to make their own ice cream rolls at this event. In August, we will have a back-to-school drive. People can follow us on Facebook and check out our website to help.  
What do you want people to learn from your story?
I have learned that the foster care system needs more positive attention and foster children suffer because of the circumstances and choices of others. I will be participating in Girls State this summer in Tallahassee where I will try to pass a bill supporting foster children and encouraging their timely permanent placement before they become too old for adoption or age out of the system. Foster families are heroes, opening their homes and their hearts to children who need love and stability.  
Do you want to make a difference in your community like Laura? Find local volunteer opportunities. 
Share this post