Steadfast Food Pantry Volunteer Finds Meaning While Wishing Hunger Would End
Meet Daily Point of Light Award honoree Andrew May. Read his story and nominate an outstanding volunteer or a family as a Daily Point of Light.   
Andrew May is known for his heavy lifting as a longtime volunteer for Hands On Hartford, a nonprofit organization that fights hunger in Hartford, Connecticut. 
Week after week, Andrew can be counted on to pick up a truckload of donated food – as much as 3,000 pounds worth – then help unload the boxes and pallets, sorting and organizing the food items to be stocked at the agency's food pantry. He's also worked in the food pantry, helping clients select groceries. In addition, Andrew makes regular Friday visits to local schools, handing out packages of snacks for students through the pantry's "Backpack Nutrition Program."  The idea is to give underserved kids who depend on school lunches some healthy snacks for the weekend. In one way or another, Andrew has volunteered for Hands On Hartford, a Points of Light Global Network affiliate, for over 16 years. 
When asked about his willingness to do such heavy work for no pay, Andrew prefers to talk more about the weight of poverty and how he feels uplifted by doing what he can to help. 
How did you get started doing volunteer work with the Hands On Hartford food pantry?
Hands On Hartford originally started out as Center City Churches. I liked the organization because many faiths got together to form it, and it was ecumenical, as in, "Let's not care who gets the credit, let's all work together." That was appealing to me.   
What is the most rewarding part of your volunteer work?
The people. I started because of the interdenominational thing, but I was really inspired by a guy named Reg who, when he retired from his law practice, devoted a lot of hours to the food pantry. He even learned Spanish so he could communicate with our clients better. Another guy is in his eighties and he still comes and helps me unload the truck whenever he can.   
The Backpack Program is really cool. I go around to different schools. I've seen kids get excited when they see I'm pulling up. I'm 58, but I can still remember that when a kid gets a snack, that's a good day.  I like to think that they appreciate, in their own way, the fact that strangers care enough about them to bring them food. With how scary schools are these days, maybe a kid who realizes the community cares enough about him doesn't get so angry he has to hurt others.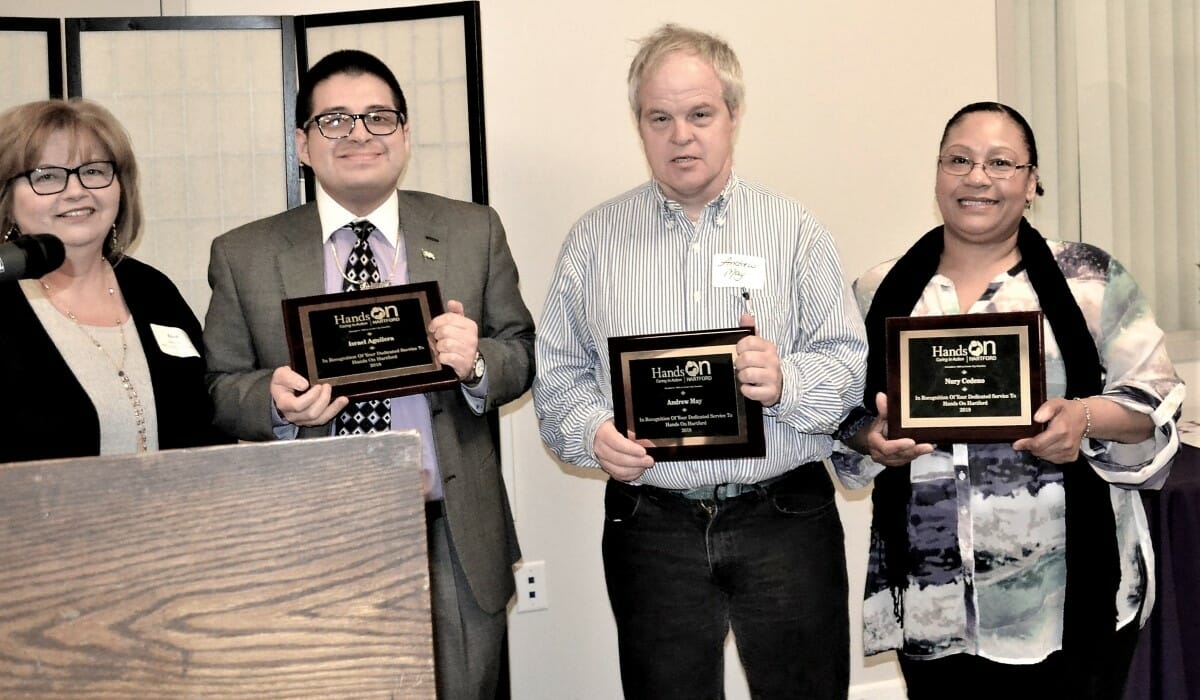 What is the most challenging part of your volunteer work?
Sometimes, it's the long hours, especially after having worked third shift. I work nights as a counselor for a crisis hotline. Sometimes, and I hesitate to say this, but some people are not polite, even though they're getting food.  You have to have unconditional human regard.  
How did the pandemic affect the food pantry?
Our pantry has just been hopping all the time. They've always had big orders. Hartford is a city that can use a lot of help with resources. They have a certain number of appointments and they're always filled. I am very impressed and pleased that Hands On Hartford found a way to keep it going during the pandemic. They stopped the shopping in the building for a while, but if people came to the door, they gave them a bag of food. A lot of places, for justifiable reasons, completely shut down (during the pandemic), but I was very proud to help to try to keep it going.            
What have you learned over the years from your volunteer work?
Hunger, along with food policy, should ostensibly be simple, but it's not. It doesn't seem as complicated as, say, health care or poverty. Like, we have plenty of food, can't we just feed people? But it's more complicated than all that.    
The other thing is that for anyone who wants to do any type of good: Be grateful for small victories. For me, it's seeing a little boy excited about getting a backpack snack. Am I solving childhood nutrition? No, but I'm making his day. 
Why should anybody volunteer, in general?
It gives purpose to your life. As long as, again, you don't think, "I'm going to end homelessness," but if you volunteer every week for Habitat for Humanity – or for Hands On Hartford – your life is going to be much richer. You'll see the people you serve as fellow human beings. You will appreciate the staff and your fellow volunteers. 
Do you want to make a difference in your community like Andrew? Find local volunteer opportunities.   
Share this post