Florida Teen Washes Windows for Veterans, Plans to Continue Service in College
Meet Daily Point of Light Award honoree Derek Fletcher. Read his story and nominate an outstanding volunteer or family as a Daily Point of Light.
Before leaving for college in August 2021,17-year-old Derek Fletcher plans to spend the summer raising money for veterans by washing windows. What once started out as a means to raise money for his first car, Fletcher realized that the small act of washing windows can make a huge impact in the lives of others.
Fletcher's Washing Window For Warriors program in Boca Raton, Florida, partners with Hope for the Warriors, a nonprofit that meets the changing needs of service members and their families, with a goal of reaching $10,000 to donate.
He hopes to expand his window washing efforts after he starts college in Gainesville, Florida, to continue helping people learn that you can find yourself by serving others.
How did you start Washing Windows for Warriors and connect with Hope for the Warriors?
About three years ago it was my freshman year and I was washing windows to raise money for my first car. Once I bought my car, I kind of stopped for a year and I was talking with my best friend Jonathan Chidiac because we wanted to impact our community in a good way and realized that we could wash windows and donate all the money to disabled veterans and their families.
So we spent about a week looking through every charity and we reached out to Mrs. Robin Keller, the CEO of Hope for the Warriors, and she said that she'd love to partner with us. That's where it all started. After we raised around $2,000 we were able to get on local news channels, which was amazing. We soon had three months booked in the summer and worked like eight hours a day. That was all we did and then it was all history from there. We kind of have recurring clients now so when they need their windows washed again, we just go back. We've raised a little bit above $8,000.
What sparked the idea of giving the raised funds to the veteran community?
I had a great grandfather and grandfather that were in the Royal British Air Force. It's always been something prevalent in my life that we should give back to our veterans and respect them and thank them for their service. My best friend Jonathan's uncle is a marine in Brazil. So we have family from around the world. They didn't serve the United States of America, but because we're from the U.S., we really wanted to pay back our veterans and thank them by spending our time washing windows — doing what we love together.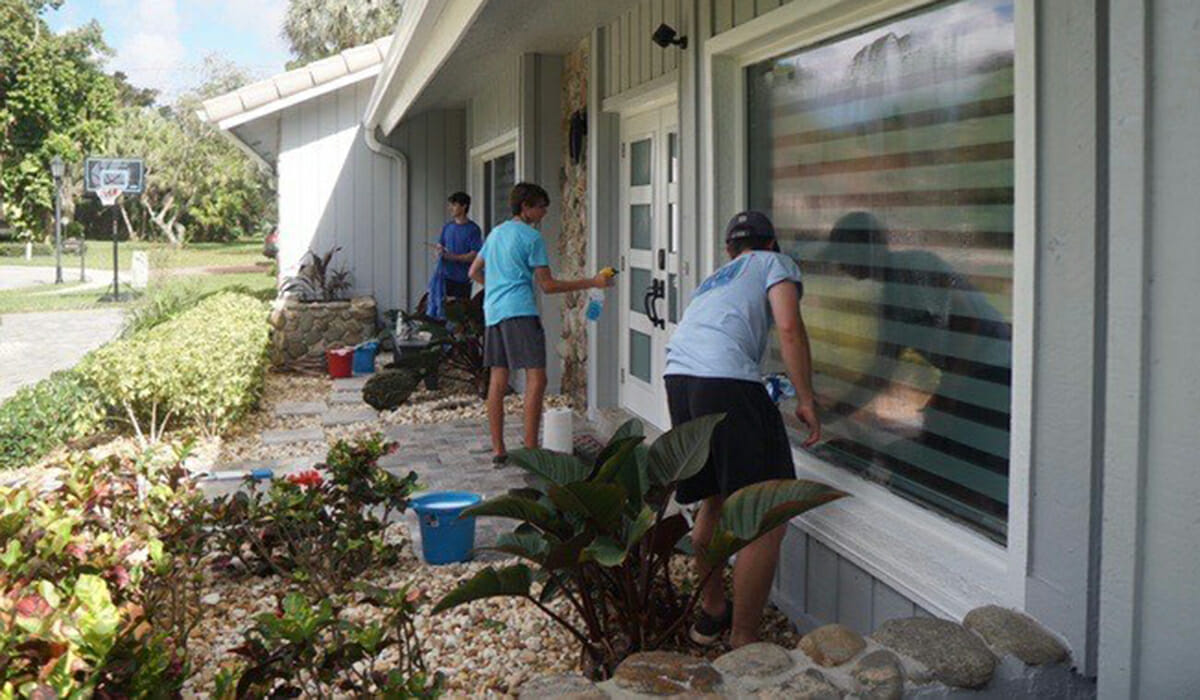 Have you met any of the veterans that Washing Windows for Warriors is helping?
We haven't yet but we'd love to. We've received many letters and unfortunately, the veteran that reached out to us passed away from COVID-19 recently, but I'll always remember what he sent us — thanking us for our service and how and how he really appreciates what we're doing. That's just what kept driving me to keep washing windows.
Why do you think it's important to give back to the community?
I think it's very important because it teaches you a lot about yourself and how far you can dig deep to help other people. it's the most selfless thing you can do. You really can't be greedy, because it just doesn't work at a certain point. Money is not going to be everything and you really have to take care of others in society — especially with veterans who put their life on the line for us. Any way that the youth can get involved in helping the community, I think it's great, and whether that be volunteering in a medical center, washing windows or anything — it teaches you a lot about yourself.
What's been the most rewarding part of doing this work?
I think hearing from veterans is definitely rewarding and my parents have been really proud of me. So that was great. I learn a lot about myself through the service of others. The veterans sending us letters just really taught me how appreciative they are. Even when they shouldn't even be thanking us because I really am thanking them for all their service. I just think their appreciation really was amazing. That really touched my heart.
What would you want others to learn from your story?
I think I want people to learn that you can find yourself by serving others. Even I feel somewhat selfish sometimes. So I think just letting go of your ego and just washing windows and going the lowest you can to help others, no matter who it is, I think that's just incredible.
Are there any partnerships, programs, or events that you are excited about?
We partnered with Mission 22 on Instagram when they had a golf tournament, and one of the holes was named after us, which was awesome. We want to continue collaborating with people on social media because that really kind of helps spread our message. But I'm looking forward to college, I really want to just keep doing this, keep building on it, because I think we had a good thing going.
Do you want to make a difference in your community like Derek? Find local volunteer opportunities.
Share this post