New York Mom Builds Support Network for Autistic Individuals and Their Families
Meet Daily Point of Light Award honoree Michele Sanchez-Stierheim. Read her story and nominate an outstanding volunteer or family as a Point of Light.
 After feeling dissatisfied with the level of support available for her and her two autistic children, Michele Sanchez-Stierheim decided to take it upon herself to bring forth the change she wanted to see for families going through the same experience. In 2017, the New York-based mother of five started meeting at a local Dunkin' Donuts with other parents to go over IEPs, or Individualized Education Plans, and other materials that families with autistic children have to navigate. Almost five years later, Michele is now providing a support system to over 100 families with her nonprofit Spectrum Warriors.
Along with about five volunteers, she hosts monthly workshops and family check-in meetings where she organizes guests and topics based on the families' needs, ranging from speaking with a special education lawyer to going over financial planning for their children. Additionally, Spectrum Warriors hosts events such as Family Day, where families with autistic children meet with local law enforcement. Some of Spectrum Warriors' partnerships include the New York Police Department, the New York City Department of Correction, and the New York State Association of Safety Officers, Inc., the latter through which the nonprofit will be providing training opportunities for officers and fire safety officials.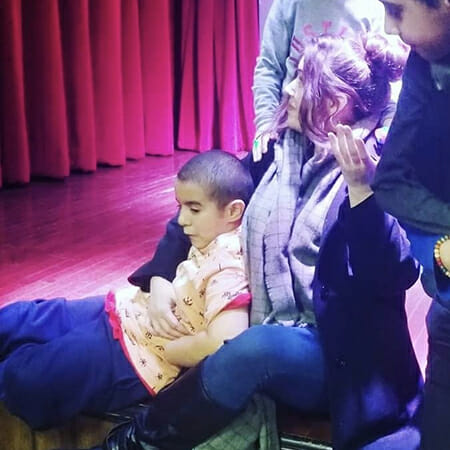 Describe your volunteer role with Spectrum Warriors.
It was started as a grassroots movement. I have two children who are autistic and really it started with my being dissatisfied with the level of support that was made available. There were no real parent groups that were warm and friendly and welcoming. It started that way, meeting at a local Dunkin' Donuts and going over IEPs and so forth. We have become way more than just parent support. My children have had experiences with having 911 called on them, and for awhile I was angry. Then things kind of shifted like a kaleidoscope and it was like, well the officers don't know, the first responders don't know, how can I help them know? From that, Family Day was formed. Family Day became an annual event. Unfortunately, because of COVID, in 2020 it didn't happen. Family Day was meant to connect law enforcement to our population, and to find a mutual space to do it in a way that would be fun. We started with approximately 80 families the first time, give or take, and started to form connections with law enforcement. Then moving forward, I got the Department of Correction involved as well.
I founded Spectrum Warriors. I don't get paid for anything I do. None of my volunteers get paid. A lot of my volunteers are parents who have walked through the process of say, completing an evaluation, because that can be tricky depending on where you go. IEP support, being able to advocate for what our kids need — a lot of that is intimidating, so I kind of stepped up and stepped in. All you have to do is give me 24-hour notice and I'm there. I am a DIR [Developmental, Individual-differences, and Relationships]/Floortime [a child-focused model for conducting an assessment and developing a program tailored to the child] practitioner, so I work one-on-one with families and I do home visits or, lately with COVID, I've been doing teletherapy. There's so many aspects of Spectrum Warriors right now.
Why is it important for families to have this network of support?
It's isolating, honestly. I can speak from my own personal experience and what I see families go through. You get a diagnosis and you feel your world is crumbling under you. You have all these professionals, and yes there are these groups they call parent support, but it's really not. … The level of support that's available is not very good, and from my perspective both as a parent and as someone who is helping other parents, you feel like you're in a hole. I don't need somebody who is going to tell me they'll fill out paperwork. I don't need someone who is going to offer me a ladder. Come down in here and help me get out. Sit with me and help me figure out how to get out. Show me I can get out.
What kind of feedback are you getting from the families you're working with?
It's all positive. They are grateful. It's really hard for families to find somebody who understands exactly where they are. Because I have walked through it and I'm still walking through it, I have a different perspective from somebody who comes from a different arena, so to speak. We have a heavy focus on safety with law enforcement, but we also have a focus on advocacy in the schools and community. Everybody has April set as Autism Awareness Month and we have a different perspective on that. If there's a day or month that's already set, the world is already aware. What we need is acceptance and inclusion. Coming from the perspective of myself being a mom, living in it and reaching out and doing work with families who are going through it, it's completely different from an outside agency who may have a Bachelor's in child development, but they've never been through it.
Can you explain the importance of law enforcement and first responders having proper training for interacting with autistic individuals?
I have had incidences where 911 has been called on my own children due to meltdowns and behaviors that are not understood. I have worked with families who have had 911 called on their children, small children and adult children. If you look at the media, and it's not always covered so you really have to go digging, there are more and more incidents of law enforcement being called due to behaviors, due to a meltdown, due to people not understanding what's going on. The initial call is reported as an EDP, which is an Emotionally Disturbed Person, even though they're trying to change the language to Emotionally Distressed. The way they respond to that is not very kindly at all. We have more incidents of children and young adults being harmed, being restrained, when that is absolutely unnecessary. There are other ways to approach it.
What's been the most rewarding part of your work?
Families feeling understood. Families feeling accepted. When it comes to me doing in-home [therapy] or now via video teletherapy — the connections. When I work with a family, if they need to be able to find something different than ABA [Applied Behavior Analysis; a type of therapy for understanding and changing behavior], because ABA doesn't always work and it's not exactly the kindest method in my opinion from what I've seen; if I'm doing Floortime and a family is able to make connection with their child, that's amazing. That is the most rewarding — seeing that spark, that 'aha,' that gleam in their kids eye and the parents being able to make a connection with their kid. It's amazing.
What do you want people to learn from your story?
That autism is not one size fits all. That we already have awareness; we want acceptance and inclusion. We want to be included and welcomed into our communities. We want to feel welcomed. It's OK to ask questions. It's not OK to automatically judge. If you see someone having a hard time and you see someone who is being excluded, be that light to them. Connect to them. Reach out to them.
Why do you think it's important for others to give back?  
We all have something to give. Even with myself, I was fortunate and I came across people who were willing to help me and propel me forward, and it's kind of a 'pay it forward' thing. If somebody helps you, why not go and extend your hand to help somebody else? It starts a cycle that is beautiful.
Do you want to make a difference in your community like Michele? Find local volunteer opportunities.
Share this post