Volunteering in Her Baby's Memory, Minnesota Mom Raises Awareness to Reduce Perinatal Death
Meet Daily Point of Light Award honoree Lindsey Wimmer, who was a 2020 L'Oréal Paris Women of Worth recipient. Each year L'Oréal Paris and Points of Light recognize and celebrate Women of Worth who make a beautiful difference in their communities. Ten honorees each receive a $20,000 grant to support their most cherished cause and an online vote determines one honoree who will receive an additional $25,000 grant. Nominations for 2021 are now open! If you know a woman who works to create lasting and significant change in her community, nominate her to be one of the 2021 Women of Worth.
At 38 weeks pregnant, Lindsey Wimmer says she and her husband were sitting on the sofa laughing at how busy their to-be firstborn's movements were one night, the future new mom and pediatric nurse practitioner relishing what had been a "really uneventful" pregnancy. After going to bed, Lindsey says she woke up in the middle of the night with a horrible sense of doom.
"After laying there for about an hour, I realized I hadn't felt the baby move (in that time)," Lindsey said. "We tried some of the things the books said to do — pushing on the tummy, drinking a cold beverage — things I now know don't work. I didn't have any bleeding or a fever, and when I looked at books, not one mentioned any sign that there could be something wrong. I was afraid I was being paranoid and didn't want to bother anyone at that hour."
Lindsey went to her doctor's office that morning, and learned she'd lost her baby, a son she and her husband had named Garrett, one of the 24,000 babies lost to perinatal death each year in the United States. Realizing what little she knew about stillbirths, Lindsey launched The Star Legacy Foundation in 2007 as a way to raise awareness and prevent pregnancy loss and neonatal deaths. Serving as executive director and founder, Lindsey volunteers alongside her husband and family in Eden Prairie, Minnesota, in addition to hundreds of volunteers across the country as they connect with tens of thousands of Americans to improve care for families who have suffered similar tragedies.
 "I was almost embarrassed as a health professional that I wasn't better prepared. It was devastating for me, even having the education and resources I did have. I couldn't help but think about how it has to be an even more daunting and scary experience for those who might not have as much awareness of how the health system works or how to connect. Most families we work with say the same thing. They didn't even know (losing a baby like this) was a possibility."
Fighting against the stigma concerning stillbirths, Star Legacy is a community of families, health professionals, researchers, policy makers and individuals working to help every pregnancy have a happy ending. According to Marian Sokol, former president of First Candle and a former Star Legacy board member, Lindsey is moving stillbirths from a private tragedy into a public health matter through her willingness to share her experience with others.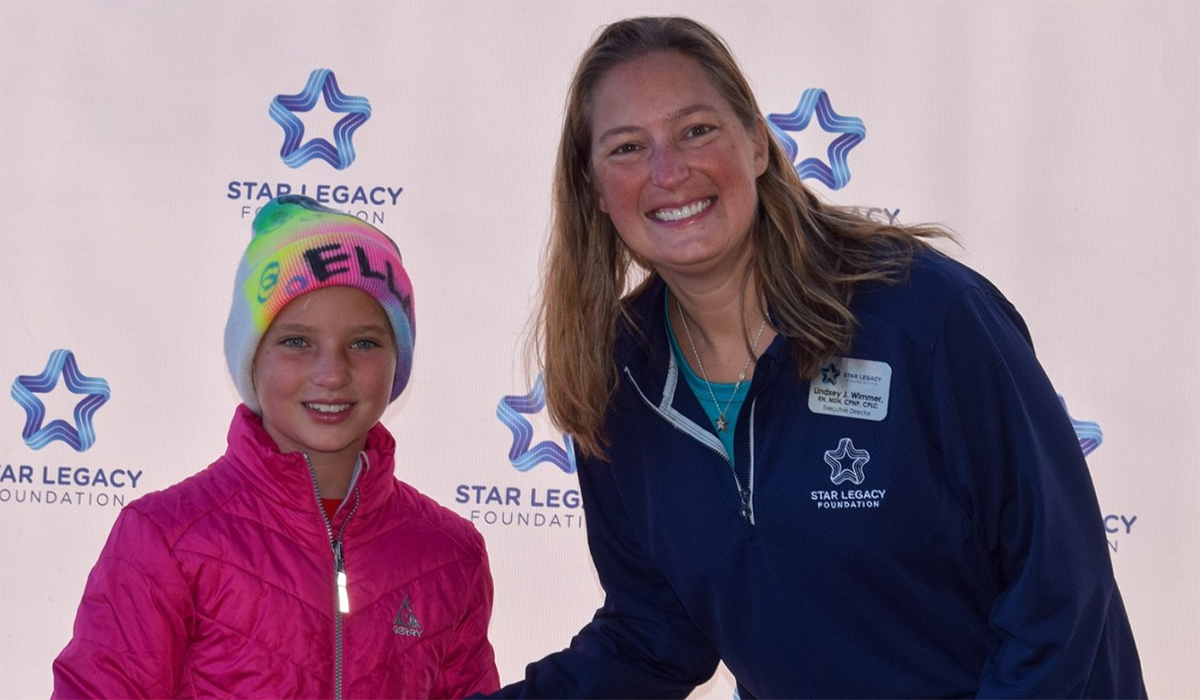 "First and foremost, she was a mother like any mother who experienced the pain of stillbirth. But beyond that, she became an advocate and in particular, a knowledgeable spokesperson who could draw attention to the issue," says Marian. "When you meet Lindsey and you learn how she's given of herself with her courage to come forward from her pain and to help others, it makes so many other individuals who knew nothing about the issue prior want to get involved and want to make a difference. Her genuine service brings strength to the entire movement for preventing stillbirths."
Addressing related issues concerning bereavement, prevention and early intervention, Star Legacy first started hosting golf tournaments to raise money for stillborn research and now hosts other events like 5ks and walks, as well as offering education and virtual peer support groups to help save lives. Star Legacy conducts some of their own research and extends their work through partnerships with organizations International Stillbirth Alliance and Still Aware. Demand for Star Foundation's virtual support has increased by 300% since the start of the COVID-19 pandemic, an indication of the great need across the U.S., says Lindsey.
"As a health professional it's my job to do better and extend the care we provide in the health system to families. This is how I parent my son. (Volunteering) doesn't feel like extra work because it comes from the love and energy I have for him. I am grateful I have a positive place to channel that."
Lindsey and her husband share four children, three living children in addition to Garrett. In channeling her tremendous loss into service and offering expanded access to resources, Lindsey says she is seeing real change happen, one baby or one person at a time, offering desperately needed hope to others.
"People we have worked with during grief will often come back to us later and say they didn't think they could have gotten through without us. While we know they could have and would have, we're grateful we gave them an ounce of hope. A mom once told me she watched me talking, knowing I'd gone through the exact same situation she had, and I looked 'normal.' She told me there was happiness in my life, and that gave her hope that maybe she too could survive. Our hope is that we get preventable stillbirth under control. We know that we'll never get it to zero without major genetic advances, but if we can get to where unexplained and unexpected stillbirths and neonatal deaths are gone, that is ultimately our goal. It's a continuum. When prevention isn't possible, we want families to have the absolute best care in the healthcare system and in our society."
Do you want to make a difference in your community like Lindsey Wimmer? Find local volunteer opportunities.
Share this post