Pennsylvania Teen Creates Mentorship Program to Empower Young Girls
Meet Daily Point of Light Award honoree Rebecca Stern. Read her story and nominate an outstanding volunteer or family as a Point of Light.
Growing up with two older sisters, Rebecca Stern knew how important having female mentorship was for her life. Wanting to share that with other young women, she and her friend Jillian Coccia founded Girls TogetHER, a mentoring and leadership program for girls in grades four through six. Girls TogetHER hosts a summer camp and workshops at local libraries and recreation centers around Rebecca's hometown of Malvern, Penn., although they have since gone virtual due to the COVID-19 pandemic. Since the program's inception in 2018, 48 mentors have worked to support and empower 66 young girls.
In addition to Girls TogetHER, Rebecca also serves as the president for her high school's chapter of Girl Up, the United Nations Foundation's international leadership development program, as well as the president of the program's Pennsylvania coalition. Through Girl Up, Rebecca worked with her school's administration to get free menstrual product dispensers placed in every female bathroom in the high school and middle school. The 18-year-old will be graduating high school this year and plans on continuing her work empowering women by attending college to study social entrepreneurship and gender studies.
Describe your volunteer role with Girls TogetHER.
Girls TogetHER is a girls' mentoring and leadership program. We do workshops and camps with girls, or anyone who identifies as a girl or nonbinary, in fourth through sixth grade. We started in the summer of 2018. I cofounded it with one of my good friends Jillian Coccia. We work with libraries and recreation centers to host these programs. We prioritized four different key [aspects] of leadership and mentorship. We do activities around teamwork, community service, creativity, and trustworthiness. We've been able to do those both online and in person. Of course because of the coronavirus, our last in-person meeting was in January so everything since has been virtual.
What inspired you to start this?
I think it was a lot of things. One of them is I come from a house with two older sisters so I feel that female mentorship has been so important in my life and made me into the person I am today, as well as we were really inspired by seeing the power of teenagers working with communities. I love younger kids and so does Jillian, and I think we realized there was a real need for peer-to-peer mentoring within this age group. We have high schoolers mentoring younger girls and it's been really powerful. We'd seen it work with coding and we thought this would be a really cool opportunity, too. At first when we started, we tried to make it more around business, but now it's more about social impact — whether that's creating a product that solves problems, or some of the activities we do are around community service and helping them become leaders who will change the world one day.
Discuss your work with Girl Up.
I am the president of the chapter at the high school and I am also the president of the PA Coalition. In the PA Coalition, my job is basically to unite the different clubs across Pennsylvania and provide any resources to them, plan our yearly summit, have monthly meetings to share what we're all doing and share those resources, and hold different events. We had an International Menstrual Equity Day. Something that I work on with Great Valley Girl Up is menstrual equity advocacy, so meeting with the representatives and sharing our experiences and what were doing with our school. I basically lead all the officers and our club members in discussions in different events and things like that.
How were you able to place free menstrual product dispensers in your high school?
That's something that Girl Up has been working on for the past year and a half. Basically we were working with our school administrators to get free menstrual products in bathrooms because a lot of girls or menstruators will miss class, or will struggle with infection if they leave something in too long, or just can't afford products because they aren't covered by these different programs like SNAP or WIC. We wanted to provide them in the bathrooms to also help with the stigma around it and the embarrassment around it, so people aren't shoving things up their sleeves and they will know that they are there and they will have access to it at any point they need it. While we were waiting for the administration to get it through, we created our own baskets. We used some of our money that was fundraised last year to purchase some products and we put those in all the of high school bathrooms. Recently our administration finally [passed it] through and they agreed to get the menstrual products in all of the high school and middle school female bathrooms. That will be in the budget for forever hopefully. They switched over all the dispensers to dispense them for free. Then I applied for a Hershey Heartwarming Project Action Grant with Great Valley Middle School Girl Up officers and we actually just received that. It was a $250 micro grant to hopefully work on elementary schools and to cover any bathrooms that aren't currently being covered, such as the student service bathroom that's usually used by students who are part of the LGBT+ community, just to make sure all menstruators in the Great Valley School District can attend school and they aren't missing class and they aren't struggling with mental health because of their period.
What's been the most rewarding part of your work?
I would say the most rewarding part is seeing conversations start and become less stigmatized, and building these communities. I feel like a lot of the work I do is building these communities where people can talk about these issues. In Girl Up, we have so many interesting conversations that don't really happen in classrooms regularly. I feel the freedom that comes from that, and a lot of change. I've seen a lot of growth and talking about menstruation at my school. I'm talking in front of every single teacher in faculty meetings about what we're doing and I think I've kind of lost a lot of that uncomfortableness about it because I'm used to it, but I know a lot of people haven't. I hope starting that conversation is having a lot of impact, as well as with Girls TogetHER, as I'm seeing people become more confident and seeing these young girls start to speak up more and transform from the beginning of one workshop to the end. It's really exciting to see that and know you're creating that longterm impact. When the program is over and you're gone, your mark will still be there on the school and the communities and the people you've met.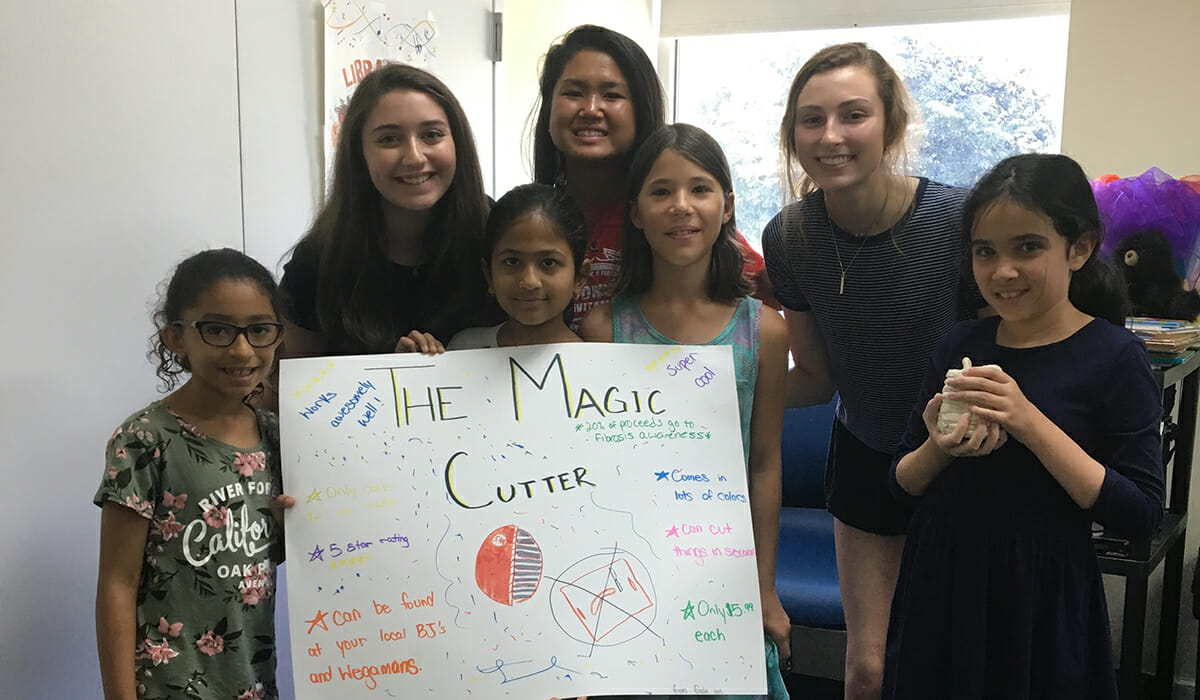 Why do you think it's important for others to give back?
I think it's the most rewarding thing you can possibly do for anyone and also for yourself. I think it gives you such a good mindset that you can apply to anything you work on. In all my fields of study and in all my efforts — in any kind of thing, I also do a lot of theater — in all of these things I'm still thinking in that same mindset where I can do community service. You form such a great bond with your community and create all these connections that are so rewarding in your life. Lots of joy, and lots of impact. I'm so happy I'm involved with these organizations. Girl Up and Girls TogetHER definitely changed my life and I'm really grateful for it.
What do you want people to learn from your story?
If you work hard enough at it and you have the passion and drive to keep pushing forward on it everyday, you can create that impact. Although it may seem that at some point it's not moving forward, there is still that potential and spark. With the menstrual products, we had a lot of delays especially because of COVID. I really didn't know if it was going to get through this year while I was still in high school, and it was a huge passion project of mine. We end up getting it through, finding different strategies to convince people, and it's really rewarding when it does. I would say keep on trying, as cliche as that is, and never give up on your passions.
Do you want to make a difference in your community like Rebecca? Find local volunteer opportunities.
Share this post