For Over a Decade, Volunteer Uses Soccer to Help Empower Kids with America SCORES LA
Meet Daily Point of Light Award honoree Aaron Kaufman. Read his story and nominate an outstanding volunteer or family as a Daily Point of Light.
Aaron Kaufman said when he first heard about the nonprofit America SCORES LA back in 2005, he would have never imagined how involved he would be in the organization over a decade later. Aaron was invited to volunteer for the after-school program, which utilizes poetry and soccer to empower kids in low income and urban areas of Los Angeles, after meeting the organization's then-Board President while networking through his corporate soccer league. Passionate about both soccer and how the organization helped youth in the community, Aaron invited them to spend the day at the offices of his former employer, video game company Electronic Arts. The kids spent the day learning about how to make video games, playing soccer on the company's field, and picking out a gift from the EA store just in time for the holiday season. The day led to both an annual event with EA as well as Aaron's continued hard work with the organization.
Fourteen years later, Aaron is known to multiple America SCORES LA alumni as 'the EA guy' due to how many kids were impacted by the event he organized. While he no longer works for EA, he has swapped out organizing EA Day with the annual America SCORES LA Cup, the nonprofit's biggest fundraising event of the year. In the seven years Aaron has run it, he has grown the annual tournament from about 10 to 12 sponsors to 36, and has helped the event to raise almost one million dollars since he first took over organizing it. As a member of the Board of Directors, Aaron also helps oversee marketing for LA SCORES, which impacts anywhere from 300 to 400 kids in its programs each year.
Describe your volunteer role with America SCORES LA.
I am on the Board of Directors for America SCORES LA and as part of my role, I help oversee the marketing of the organization and I also run our annual LA SCORES Cup, which is our biggest fundraising event of the year.
We're a nonprofit 501(c)(3) and we are based in the Culver and Palms district of Los Angeles, CA. We are an after-school program for kids in low income and urban areas of Los Angeles. We provide a safe environment, an incredible place for kids to nurture and grow and be empowered as leaders of tomorrow. The pillars that we really instill in our kids are poetry to understand reading and writing, and teamwork through playing soccer. Our after-school program accommodates kids all the way as young as kindergarten up through high school.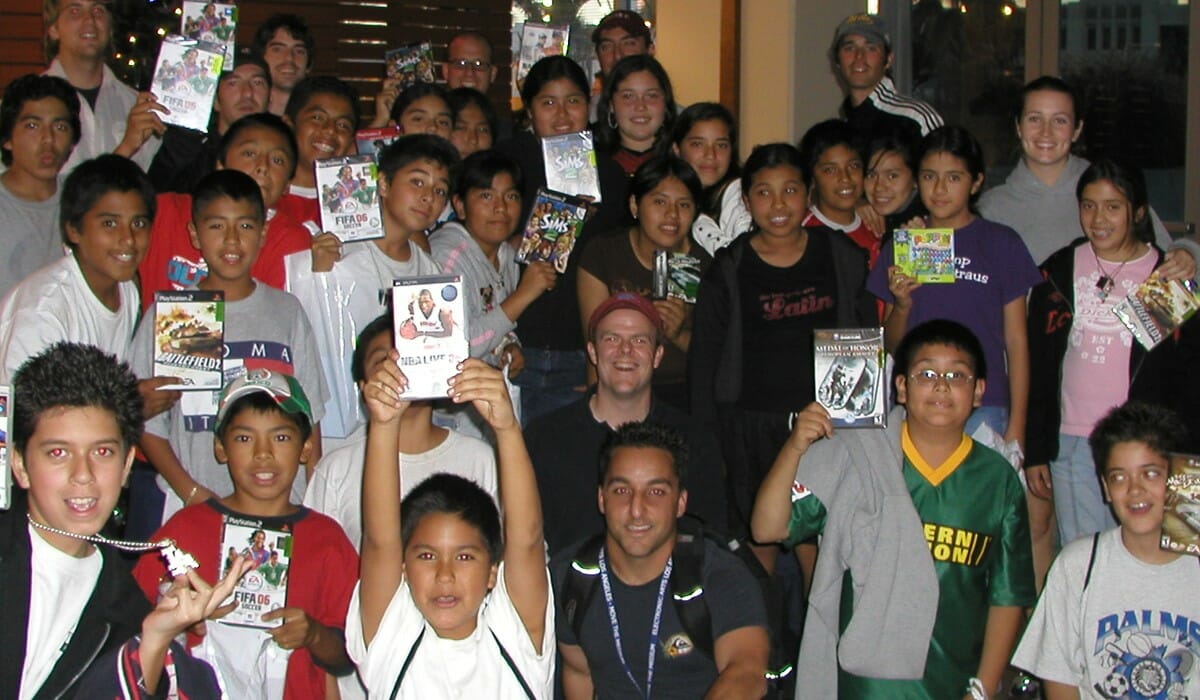 How did you get involved?
I first got involved in America SCORES LA way back in 2005. I was working at a company called Electronic Arts [EA], a video game company, and at the time I was running a Corporate Soccer League. I ended up networking with a good friend of mine today, Jason Greene. He was working at AEG and also held the position as Board President for America SCORES LA. He said to me, hey, we're really looking for people from corporations around southern California to help get involved, certainly people who have a passion for soccer and wanting to help grow kids into leaders, and we think that you might want to consider volunteering. Jason introduced me to now-former Executive Directors of LA SCORES, Alex Soschin and David Joseph. I said to them, I'm really inspired by what you guys are doing, I think one thing we could explore is having the kids come here to EA, for what we ended up calling 'EA Day' during the holidays. What we would do then in the month of December, I would host the kids of LA SCORES at EA, teach them how we make games, give them cookies and milk, they got to play organized soccer on our soccer field. Then one of the coolest things they got to do is we had a store on the campus and we would basically let them go in there and pick out whatever they wanted as a holiday gift from us. That became an annual event that I ran at EA for a number of years, and really through that event is what got me a lot more connected to the organization and then I started to get much more involved.
Why did this organization resonate with you when you first learned about it?
I think what really inspired me is the way the program takes kids in and inspires them and can empower them as leaders. I really, really loved the connection to soccer they were using as a bond. No matter who you are, size, shape, sex, race — when you're on the soccer field, it's an even playing field in showing how everybody can bond together, [which was] was really, really cool to me. I at a younger age had been involved with the Boys and Girls Club, and I think LA SCORES has similar fundamentals as an after-school program, and I know what programs like this can do to change and empower kids to be incredible individuals when they grow up. I really, really appreciated that they were targeting all the way down to elementary school to help uplift and inspire these kids to be incredible leaders and go on to major colleges and universities in their future. LA SCORES has an alumni program and we have many, many kids from the program who come back, who have gone on to incredible universities whether it's [University of California] Berkeley or Princeton, who have gone on to become lawyers and seasoned professionals, and then they come back to the program to help out and grow kids who they once were. It's this really amazing full circle of watching the program help nurture and grow the kids from a young age to young, successful adults. I like that we have a program in LA that offers that kind of opportunity, especially with the connection to soccer which is something that I'm personally very passionate about.
What kind of feedback have you heard from the kids involved in the program?
I think one of the cool stories is there is a guy named Nahoul Gonzalez and today he actually does work for the program and he's one of our alumni. I watched Nahoul when he was a young kid in elementary school when I was at EA. He was someone I met early on in the program and he was always one of these star soccer players. The guy has played semi-professional, he's an incredible talent and he's really an incredible human being. He's someone I have stayed friends with through the program over the years and when he would see me, he would call me 'the EA guy.' He would always reference back to the times we would play soccer at EA when I would bring the kids of LA SCORES over and he was part of that. He was in elementary school and he would say to me that creating that day for us and the connections that you made really inspired me and helped me. I've gotten to watch him grow into an incredible leader and adult in and outside of LA SCORES. That story is a great anecdote for what LA SCORES has meant to me and the impact that I know it's having on the hundreds of kids that we've touched over the years.
Are there any future partnerships, programs, or events that you are excited about?
I think the thing I'm always excited about the most is our annual LA SCORES Cup. This is an event that I direct. I've been doing it for seven years now and I think we're not far off from having raised one million dollars since the time I took it over. It's our biggest fundraising event of the year. It is one of the largest corporate soccer tournaments in southern California and it's actually an annual event that all America SCORES organizations run. We have chapters throughout the nation and everyone runs their own Cup, generally in the spring and the summer. The goal of the Cup is to raise funds for our local LA SCORES. We go out there and target small businesses, large businesses, corporations of all kinds, from law firms like McDermott Will & Emery to JP Morgan, to Enterprise, to HBO, Apple, Starbucks. We have incredible partners who participate in this annually. When I took it over, we were getting about 10 to 12 companies in this a year, and since then we've grown to 36 companies participating. That number has fluctuated but the tournament has grown significantly. We're trying to continue growing it and continue helping southern California corporations understand that playing in the LA SCORES Cup, every cent that you donate, every dollar goes directly back to the program. We get a lot of donations and corporate sponsorships that help us put the tournament on and we really believe it's one of the best soccer tournaments that any company can participate in. That event is probably our premiere event of the year that we're always really trying to advocate and drive to.
We haven't set the date yet for 2020 but we generally are targeting end of June or early July. We are running it at the Dignity Health Sports Park where the LA Galaxy play. It's really an incredible day and I think this year is going to be our biggest one ever.
What's been the most rewarding part of your work?
It's twofold. One, it's seeing these kids grow. There are kids to this day who will come up to me who are young adults now and call me 'the EA guy.' They remember when they were young, coming to EA and having this incredible day. Now they see me every year directing our LA SCORES Cup, collaborating on the marketing of the organization with our Board, and truly incredible individuals, Executive Director Geoff Wilson and Program Director Amy O'Dowd. I think just watching how they empower and grow these kids of LA SCORES into successful adults, and knowing that the dollars and the efforts that I'm helping to bring to the organization are making a real impact — it's really something that is extremely meaningful to me.
The other thing is with the LA SCORES Cup, time and time again when companies come out and have an amazing time on the field, they know exactly what they're playing for. They hear the stories from us, they see all the connections. I think continuing to grow that Cup into an even larger event, I hope one day we can raise half a million or one million dollars plus on a single event. That would enable us to do so many things with LA SCORES, such as spreading the organization to different schools in different cities, building sport turf soccer fields on concrete floors at schools to create safe places to play soccer. There's so many things we can do to continue to grow the Cup and other events to raise funds, and I love being at the forefront of this with everybody who's contributing to the organization and knowing that the dollars I'm bringing in and helping to raise are making an incredible impact. I think those are the two things that mean the most to me.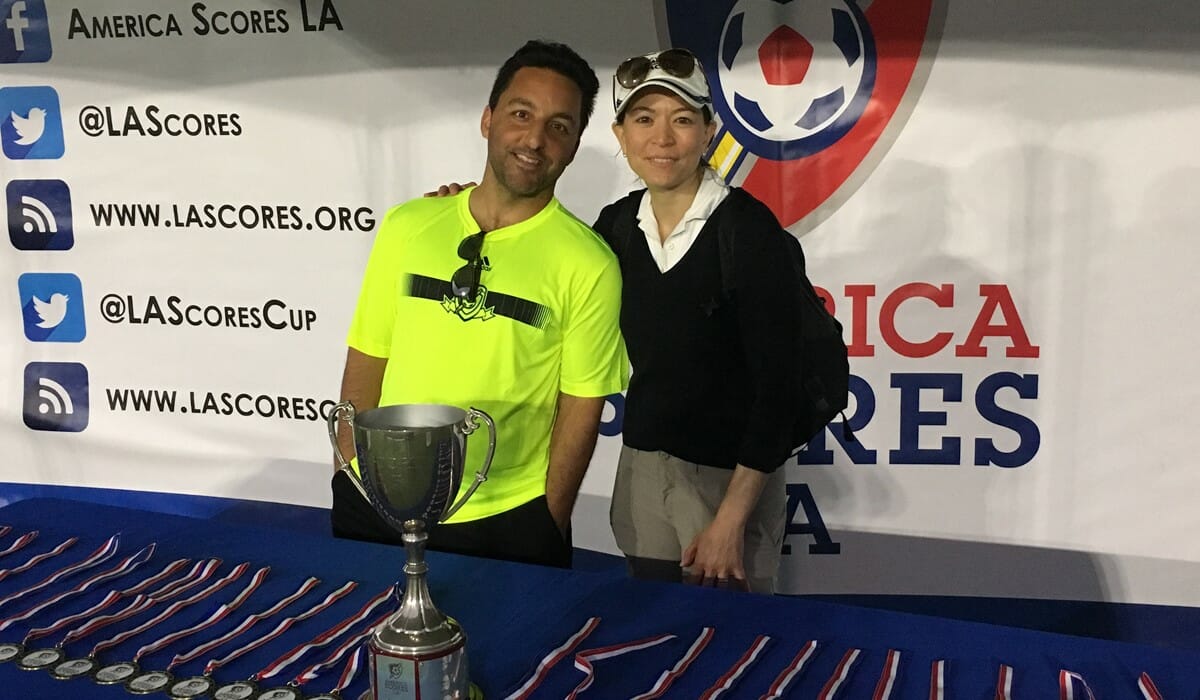 What have you learned through your experiences as a volunteer?
I think especially in running the Cup and being on the Board, I've really, really learned the power of collaboration and teamwork. When I talk about running the LA SCORES Cup, there's no way in hell that event gets off the ground without the recruiting contribution of our Board, the grassroots efforts of our Development Board, running the tournament with Geoff and Amy, and countless others who have helped contribute over the years. This is just one example of being in a position where you have to pull collaboration from a lot of people and I think anybody who gets involved with volunteering, that's what we're out to do. Volunteering is not an individual effort, it's a team effort. You might be putting in your individual time, but you're contributing to a team and I think that's the part of volunteering that everybody needs to remind themselves of. You're not just putting yourself out there for your own individual gain, you're putting yourself out there to benefit the organization, to benefit the other people who are volunteering their time, and all coming together and taking that kind of skill and that kind of knowledge back to your everyday life. When you're a parent, I'm a dad raising my son, and I partner everyday with my wife to grow and nurture him and so that kind of skill helps me there. At my job, I'm in social media and marketing for a video game company and I'm partnering everyday with tons of different people inside and outside our organization. Everything I'm learning in LA SCORES about collaboration and teamwork is having an incredible benefit in many other areas of my life.
What do you want people to learn from your story?
I think what I would want people to take away is you know, when we look at what we as individuals can do to change the world, I think sometimes we think that even just the littlest action we do may not have the greatest impact. Then sometimes we take for granted that everybody else is doing it, so what is my small step in helping LA SCORES, for example, going to do to impact the greater good? I never imagined back in 2005 that playing soccer with kids on a field would turn into the EA Day, would turn into someone like Nahoul Gonzalez coming back to me over a decade later calling me 'the EA guy' and saying how much our friendship inspired him and helped him grow up into the young successful adult he is today. I never imagined that the efforts I put forth with the team to grow the Cup from 12 companies to 36 would get us to where we are today. All of those things were all little individual steps that I took, contributing my time and effort into LA SCORES, which in the grand scheme of things, is an incredibly small nonprofit compared to many larger ones out there. But impacting kids, especially impacting humans at a level that is much more local and personable to where you are, I think is an incredible impact. If we all do that, then eventually we're all going to have that chain effect that's going to add to the greater good. I think the main takeaway is simply go get involved, make a difference. Even just the smallest step, the smallest contribution to a nonprofit that inspires you, can make a tremendous impact. You never know where it will lead to, but I can promise you it will lead to something that eventually winds its way back to you, that you'll reflect back on and be like, man, I'm glad I impacted that person.
Do you want to make a difference in your community like Aaron? Find local volunteer opportunities.
Share this post