For Over a Decade, Youth Runs Nonprofit to Promote Volunteerism and Kindness
Meet Daily Point of Light Award honoree Maxwell Surprenant. Read his story and nominate an outstanding volunteer or family as a Point of Light.
On a fateful winter day in Boston about thirteen years ago, then-four-year-old Maxwell Surprenant encountered a homeless man without proper clothing in the freezing cold temperatures. Upset by what he saw, Maxwell was later inspired to promote kindness and empathy by starting the nonprofit Catching Joy, which organizes hands-on service projects, ranging from collecting books and socks to making fleece blankets for the underserved.
When the nonprofit was founded in 2008, Maxwell completed service projects from his living room. In the over a decade since, an estimated 100,000 volunteers from around the country, many of them other young people, have been mobilized to complete acts of service. Now 17, Maxwell is currently leading a Catching Joy Ultramarathon, a challenge to complete 100 acts of service to aid essential workers and others in need.
Describe your volunteer role with Catching Joy.
I serve as CEO and cofounder of Catching Joy, Inc. It's a nonprofit that promotes volunteerism and acts of kindness for kids, teens and their families. I organize hands-on service projects to share the responsibility and joy of giving. In the last 13 years, I've been able to mobilize an estimated 100,000 people to get involved. As part of my civic action as well, I also serve as an Asian-American reporter covering sports, art, politics and social justice issues. I write from a teen's perspective for my generation and amplify marginalized voices that need to be heard and shine a light in the darkness. At the start of the pandemic, I initiated a Catching Joy Ultramarathon — 100 ways to aid essential workers and people in need. We've been making blessing bags filed with toiletries, disposable masks and heart cards for those most vulnerable, so the sick, elderly, veterans and homeless. We're also collecting clothes and books for kids living in poverty and crisis, and making blankets for underserved communities.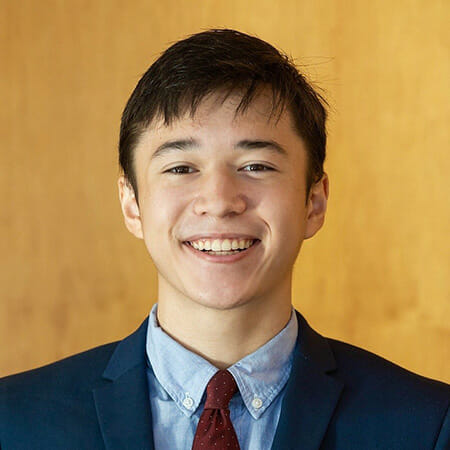 What inspired you to start this?
I started this when I was five years old. I think empathy was my initial driving force. I've been volunteering since my earliest memories. When I was four years old, I was holiday shopping with my family in Back Bay, Boston and I saw a man standing alone. He was without a coat, hat, mittens. He only had threadbare shoes. What struck me most then was that people were ignoring him and walking past him as if he was invisible. I had a lot of questions and I talked to my parents about it, because before this experience, my sheltered young self did not know or understand that not everyone has food, clothes, shelter and support. That moment of empathy was the spark and impetus for change and how Catching Joy ultimately got started.
What inspired the Catching Joy Ultramarathon and how has it gone?
It's been super successful. I'm so proud of everyone who has gotten involved and so happy we've been able to make an impact. I live in Boston and the inspiration for the Catching Joy Ultramarathon came around when the Boston Marathon was cancelled. It was in the midst of COVID closures and I wanted to do something. I'd been trying to come up with a way to get people to engage in service and do good from home for awhile, and I thought this was a perfect opportunity to do something in honor of the Boston Marathon with service. I launched a goal of having 26 miles, or events, for people to do good from home. It was very successful and we've since extended it and made it an Ultramarathon, so we're aiming for 100 miles and we're currently at 82.
At the start of the year, I was partnered with the Biden Inaugural Committee to lead a service project on Martin Luther King, Jr. National Day of Service and that was one of the miles. I launched what's called Operation Sock Drive and set out to collect 2,021 pairs of socks for people in need along with heart cards. In a couple of weeks, I ended up surpassing that, and we actually collected over 7,000 socks and cards. The socks and cards came from neighbors and local businesses across the country, so I think it was a great show of unity and solidarity. Socks right now are the most requested items in shelters so we were able to provide that service. One day when it was freezing cold, I was able to see volunteers handing out socks and warm clothing to people in line waiting for food, so that has inspired me to continue our marathon and get to 100.
Are there any future partnerships, programs, or events that you are excited about?
Right now, we have a goal of making 100,000 heart cards, so people can use their creativity and care to decorate these paper hearts with positive messages and then send them in to Catching Joy. We're currently at more than 60,000. … I'm working toward organizing events to get people engaged in that project. We will be distributing them to some of the organizations we work with and also to homeless shelters, hospitals, senior living centers and some other places as well. Overall, places where we can share some empathy and spread some dignity. People can send them in to Catching Joy — PO Box 125, Waban, MA 02468 — and they can also join our events in person or remotely. We're also going to be collecting books and clothes for people in need, so mostly homeless shelters and underserved communities.
What drives you to put so much time into Catching Joy when you're also a student?
First of all, I love my work with Catching Joy, so it doesn't at all feel like a chore or something forced upon me. I'm always looking for ways to do more with Catching Joy. It's probably the most rewarding part of my life. I also believe I have a responsibility to use my gifts and talents to make a difference. Volunteering for me has provided perspective and purpose. It's made me more grateful for my blessings and connected me to people around me. I believe in fighting for equality and equity for all and fighting for humanity, so I really think I have a responsibility to do Catching Joy, and I love doing it so it's a win-win.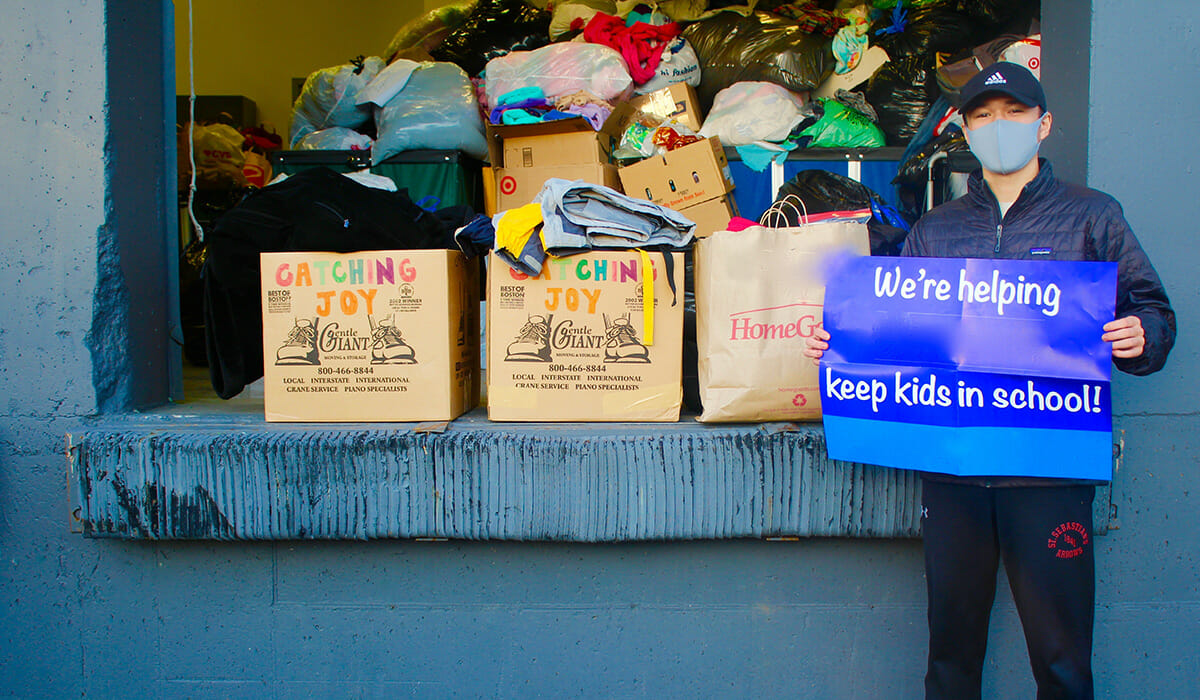 What's been the most rewarding part of your work?
Seeing how much dignity I can provide to others has definitely been the most rewarding, and also just the fact that I serve to make other people's lives better.
What have you learned through your experiences as a volunteer?
I've learned that youth especially have power and passion and can change the world. I've learned that it's so important for young people like myself to get informed, get involved, raise their voice and take action. Change starts now and we can't wait.
Why do you aim to especially inspire young people?
I think young people have so much to give. I think they have so much to offer. They have time, talent, creativity, care, imagination, idealism and they have so much energy and enthusiasm to put forth in the world. I think if young people felt empowered to use all those positive things for good, we could make a huge difference.
Do you want to make a difference in your community like Maxwell? Find local volunteer opportunities.
Share this post