Delaware Volunteer is Compassionate Champion for Community
Meet Daily Point of Light Award honoree Michelle Parsley. Read her story and nominate an outstanding volunteer or family as a Daily Point of Light.
Michelle Parsley estimates that she's helped to feed thousands from across the state of Delaware and beyond as a volunteer over the last two decades with Victory Christian Fellowship's Blessings, Dressings & More.
Through her outreach, the Newark, Delaware resident isn't just feeding impoverished community members, Michelle says she's offering hope and encouragement to many who are just barely hanging on. Recognized for being a compassionate champion of the people, Michelle is a faithful volunteer who is dedicated to helping others in need.
What inspires you to volunteer?
When I was growing up, my father ran a homeless shelter. We helped to feed the less fortunate at the shelter as children. That service had an impact on me at a younger age, and is my inspiration for volunteering today.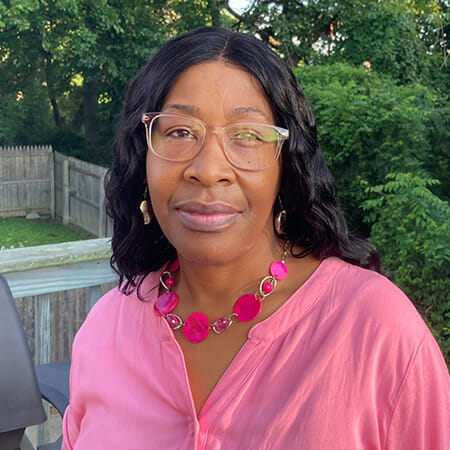 Describe your volunteerism with Blessings, Dressings & More.
I volunteer with Victory Christian Fellowship's ministries including:
Blessings, Dressings & More: Food distribution that services local communities in Delaware reaching approximately 1,500 each month and more during holidays.
Motel Ministry: Monthly service where we visit local motels and take food to individuals. We also go directly to the homeless, feeding people who live under bridges and in the woods.
In addition to this volunteerism, I am actively involved in my church community, and have also volunteered at Christiana Hospital for more than a decade.
Share one personal story with me from your volunteerism.
Motel Ministry meets with people who are temporarily displaced or don't have anywhere to live. A lot of people tell us they didn't know what they were going to eat if we hadn't shown up. That's when you know you are making a difference. You have people at their wits end, but that dinner or bagged lunch, a smile and encouragement does a lot.
Why do you think it's important for others to give back?
Each person has a gift they were born with. Those gifts are not just for you to sit on. Those gifts need to be used because they can change a life.
What have you learned through your experiences as a volunteer?
I've learned how to step back and listen to a person. I put myself in their shoes.
How have you continued to volunteer throughout the COVID-19 pandemic?
COVID-19 decreased some of our Motel Ministry, but we devoted more time to Blessings, Dressings & More by changing food distribution to take-out and following safety protocol including social distancing.
In one word, what does volunteering mean to you?
Gratitude.
How can readers help?
Please visit the Blessings, Dressings & More website for more information about how you can help.
Do you want to make a difference in your community like Michelle Parsley? Find local volunteer opportunities.
Share this post