Former Banker Teaches Financial Literacy to At-Risk Girls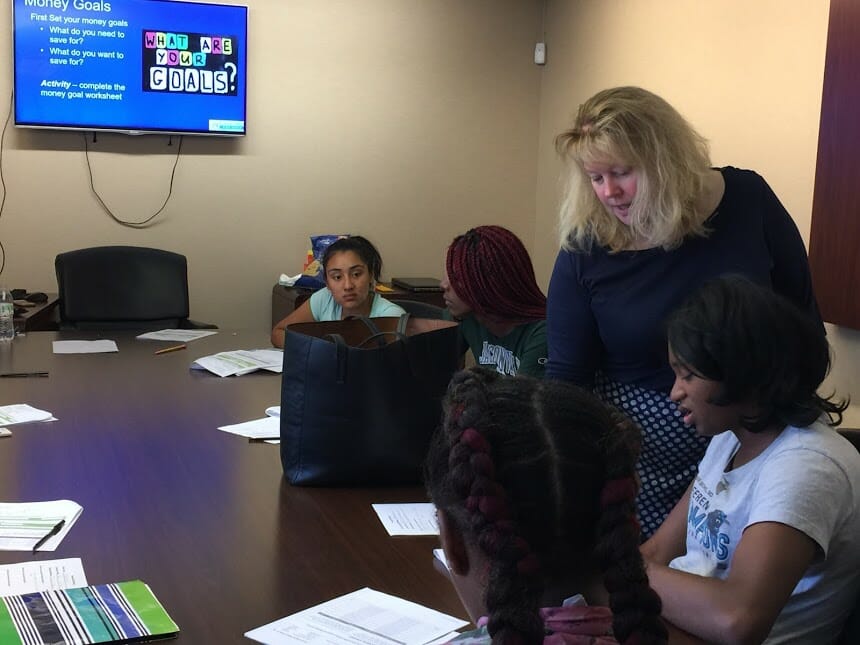 For more than 25 years, Liz Mockler worked as an executive in the banking industry as a change manager and certified financial planner. Now, she is leveraging her professional background to help teen moms, the homeless and trafficking survivors learn practical financial literacy skills to help them build their financial independence.
She developed core program material that was unique and relevant for their life. Topics include basic banking and borrowing information, learning about credit reports, background checks, renting, taxes, goals and budgeting. The 90-minute workshops include both hands on activities and discussions.
Liz has spent more than 2,000 hours over the past three years teaching these important life skills. She also has a team of volunteers helping to develop the content.
We recently talked to Liz to find out what inspired her to volunteer and learn about some exciting new initiatives with Foundation For Girls.
I was brought up in a household where I was taught to be a good community citizen. I volunteered as a little kid at my school and church. Once I was out of school, I volunteered as a tutor within schools for underprivileged kids. I have always been involved in community service.
Describe your volunteer role with Foundation For Girls.
I developed a financial literacy program for teen moms, homeless youths and trafficking survivors. I also lead the workshops and work on new initiatives for Foundation For Girls. This is my full-time volunteer job.
Why do you think it's important for others to give back?
We are all part of a larger community. Being able to help lift people up will make a stronger community. Giving back is also personally very rewarding and it is important to look at the broader world. We all have different gifts and talents we can give. Volunteering is easy and feels good. I always say if one person benefits, it has been a good day. We can all do our own small part to help our community.
What's been the most rewarding part of your work?
I find fulfillment from creating things from scratch. Also, it is rewarding when I see my work as a volunteer make a difference with a client. Recently, I was working with a human trafficking survivor at a career workshop. She had surrendered herself to being in an unsatisfying career, because that was the only way she had ever known. After going through the skills assessment, we were able to uncover other avenues and opportunities she was excited about. It is moments like those that are great and rewarding.
What have you learned through your experiences as a volunteer?
I come from a fortunate background. I have learned through my experience as a volunteer that many people have ended up in their situation just by a stroke of bad luck. This has taught me not to make assumptions about people. Everyone is human and deserves to be treated with dignity and worth. When you treat someone with dignity, warmth and respect, they can do great things.
Are there any future partnerships, programs, or events that you are excited about?
We will be expanding our financial literacy program this fall to the refugee community. Currently, we offer our technology program to refugee kids and we are excited to launch financial content to their parents and offer it in English, Spanish and Hindi.
In addition, I have spent the past year working on HOURZ. This is a mobile application that connects hourly workers with employment opportunities. This will help our at-risk clients and those served by other local non-profits find employment opportunities, as well as benefit the local business community. I have been working to develop the app, build-out the operations, and get employers engaged in the app. Any profit made from HOURZ will go directly back toward funding Foundation For Girls programs.
What do you want people to learn from your story?
Everybody has skills they can offer and share with others. Take a chance and do it.
Want to make a difference in your community like Liz? Visit All For Good for local volunteer opportunities.
This post was written by Karen Cohen.
Share this post