Former Firefighter and Paramedic Spends Retirement Serving Hundreds of People at Soup Kitchen Each Week
Meet Daily Point of Light Award honoree Tom Quigley. Read his story and nominate an outstanding volunteer or family as a Point of Light. 
On September 18, 2018, Tom Quigley walked into JOY Soup Kitchen in Greenville, North Carolina, looking for a way to serve the community he had only just moved to. The former Marine had recently retired from an over two decades-long career as a paramedic and firefighter in Massachusetts, and his loves for both helping people and cooking led him to his new area's soup kitchen. Little did he know at the time, but that day would mark for Tom the beginning of his journey to overhaul the nonprofit and better his new community. 
Later that year, Tom would start going to the soup kitchen every day. By 2020, he was on the board of directors, and began serving as its chairman in January 2021. Now, Tom completely oversees the nonprofit, which has since been renamed JOY Community Center to reflect its new social assistance programs, as well as the clinic Tom plans to open by mid-March. Aside from the new programs, JOY continues to operate its soup kitchen, serving hundreds of people lunch and dinner every week. 
Describe your volunteer role with JOY Community Center.
I voluntarily run the soup kitchen. I work 40 to 60 hours a week for free, running the kitchen, making sure the meals are planned, the food is bought and the other volunteers are signed up. I'm in the process right now of opening a free clinic, and that's why we went from JOY Soup Kitchen to JOY Community Center. I'm trying to bring in some social services and other services for children in the neighborhood. 
Can you describe the Children Event Nights you started?
We're right in the heart of a very bad neighborhood in Greenville, and there are a lot of children in there. Every other day, there's gunfire. There's drugs every day there. I watch these children out the window, and they're going to get lost. There was nothing really going for them in the area, so we started doing a Wednesday night activity for them. The third Wednesday of every month, we would bring them to JOY from 6 to 8 p.m., and we would do a craft — one, to get them off the streets, and two, to get them off computers and video games.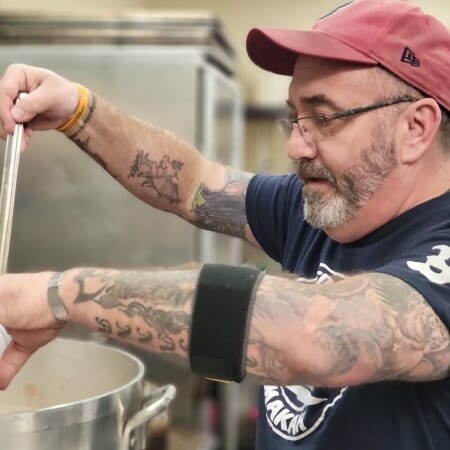 When did you decide to make JOY a community center, and what programs have you added?
Once we started doing the children's events, we decided we wanted to do more services for people. … Vidant Medical Center, the biggest hospital group in our area, are going to pay for a nurse practitioner or a physician assistant for a year to help run our clinic. We've got [East Carolina University] involved. The head of the medical school there is going to be our medical director. I just put new floors in. We fixed the walls. We got all new medical equipment coming in. … I started reaching out to a service, Pathways to Life. They help people get jobs and apartments. Trillium is a mental health service that comes in. I reached out to Lifetime of Joy Baby Pantry. They come in once a month and give out diapers and Desitin and stuff like that. We bring in Pitt County AIDS Service Organization. They deal with HIV and STDs. We have all these services that are going to be coming in on a rotating basis. We've got four offices on my second floor that they're going to utilize, and we're going to offer classes. We have a diabetes support group. Last week was a cancer support group. We might even get an Narcotics Anonymous or Alcoholics Anonymous chapter in here. We have a lot of space that we can do a lot of good with. 
Do you have any other future plans or goals for JOY?
I would really like to have a place where everyone can come and just be themselves with each other. I think that's the big, important thing about this children's event. When we bring all the kids into the building, we make the parents stay outside. This way, children can interact with other children. They don't see color and hate. They're taught that. I really want to have these children come in and have a good time together, so they can see that they can have a good time with somebody who doesn't look like them or act like them. That's what I want to push. I want to push community. I want people to say, "I'm in trouble, where do I go?", and I want to be the lighthouse for this whole community. In stormy weather, ships look to the lighthouse to get to shore. I want JOY Community Center to be the lighthouse of Pitt County. 
What is your favorite memory from your time volunteering with JOY?
I would say my favorite time was during the pandemic. I was sitting at the door. I propped the door open, and we would feed take-out trays out the door. I was sitting there eating a bowl of the soup I made. Somebody said to me, "What are you eating?" and I said, "I'm eating the same thing you're eating." He goes, "You eat what we eat?" And I said, "Yeah, I feed you like you're family." The guy said, "Can I hug you?" and I said, "Yeah, what's the matter?" And he goes, "You've got to be the most righteous white guy I've ever met in my life, thank you." You ever cook something for somebody, and they just look at you and they nod like it's one of the best things they've ever eaten in their life, and then they smile? Those are my memories.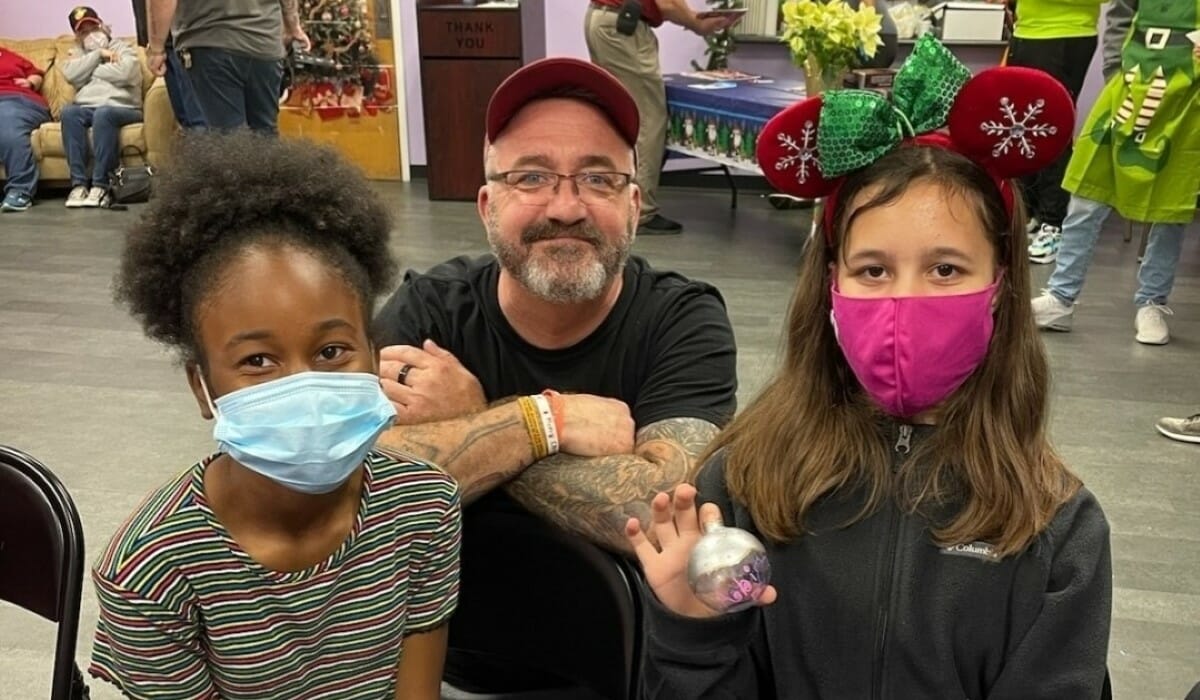 What's been the most rewarding part of your work? 
I think the proudest thing I've done is I've gotten people together that weren't used to being together. It's good to see. The dining room is reopened and we've got people eating with people they never would have talked to before. Once the food service gets going, I always come out and I greet anybody in the dining room. I sit down and talk to people, and it's like you're at a restaurant with friends. Back in 2018, 2019, it wasn't like that. We had people stabbing each other in the dining room. We had overdoses in the bathrooms. The place now is a place of respect. You'll see from the other people who eat there, if somebody starts getting loud in there, they'll stand up and say don't disrespect the kitchen, and don't disrespect Mr. Tom. It's cool the way the whole thing's turned around. 
What can people reading this do to help JOY Community Center?
If people are not from here and want to be a part of [JOY], they can contribute financially. I have it set up now where you decide where your money goes. You can give money and say it's for food, and it will strictly go into a food account. … They can donate money toward equipment. They can donate money to those Wednesday night children's events. Getting pompoms, popsicle sticks, paint, glitter, and all that, it adds up to a few hundred dollars a month just buying the crafts for these kids. Last Christmas, I probably spent $2,000 on stuff to give 103 kids a good night. If they're in this area, we run solely on volunteers. There are two employees here. We serve lunch five days a week, and we serve dinner four nights a week. They need help with that. Serving 150 people is tough with two people. 
Why do you think it's important for others to give back?  
I think a lot of people want to volunteer and they just don't know how. I think it's important for people to volunteer so they can see how the other half lives, because a lot of people don't realize that one bad day could take them from a life of comfort to needing that soup kitchen. 
Do you want to make a difference in your community like Tom? Find local volunteer opportunities. 
Share this post