Former NBA Player Aims to End Violence, Promote Education and Bring Communities Together
Meet Daily Point of Light Award honoree Jerome Williams. April is Global Volunteer Month, a global movement to recognize volunteers and people who actively support their communities, whether through volunteerism or other elements around the Points of Light Civic Circle®, like Jerome. Read his story, and join the Global Volunteer Month celebration. 
As Jerome Williams nears his 50th birthday, he has already accomplished a great deal. In the late '90s, after graduating from Georgetown University, he was drafted into the NBA. In nine years, he played for the Detroit Pistons, the Toronto Raptors and the Chicago Bulls before landing with the New York Knicks and retiring from the game in 2005. It was the Pistons who coined his nickname, Junk Yard Dog (JYD), for his work ethic and hustle.  
Jerome began his volunteer work during that time by joining the league's "Basketball Without Borders" program to spread the joy of the sport, along with resources, to underdeveloped nations around the world. He became a global ambassador upon his retirement. In 2016, he put together Legends Shooting for Peace, an organization that promotes helping young people channel energy into peaceful activities and education. 
"Legends Shooting for Peace was actually birthed out of a group of NBA Legends wanting to give back and stop gun violence happening across the US through not only our example, but by showing support for student athletes and the community as so-called Legends of the NBA," he says.
They wanted their support to be a sense of calm amongst communities. Jerome is the president of the Las Vegas chapter of the Retired Players Association. Chapters in New York, Chicago, Detroit, Atlanta, Miami, Orlando, Phoenix, Dallas, Houston and Los Angeles came together to support the new organization, which eventually grew into educational programs, school visits and more.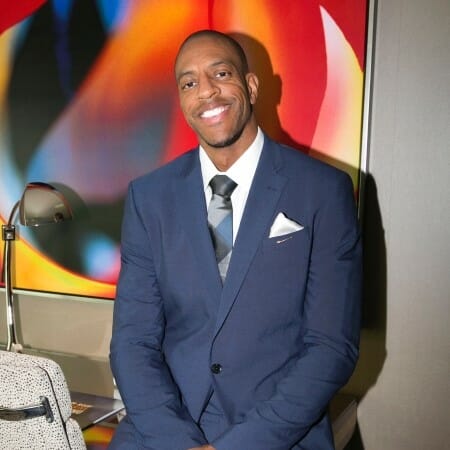 "What inspires me to volunteer are all the people I received help from growing up: the teachers, the coaches, the counselors." he states. "You just see how the Lord can work through and around a lot of people. And having seen that, I knew that when I was blessed to be who I was able to become, that I had a responsibility to give back and do the exact same thing." 
Jerome is the chairman and brand ambassador, and also serves as a spokesperson. Aside from seeking opportunities for things like student prizes and scholarships, he works with school administrators to determine student needs in order to put together and lead programs in the community. He goes out into the world as a presence for the organization striving to steer young people in the right direction. He uses his own story as well as those of other NBA players to give young people hope and to persuade them to persevere.   
"The more stories that get out there, the more hope that's found in the community where kids can say, 'Yeah, I want to be like him.' Not just a player in the NBA per se, but also to know that they can overcome something and can work through adversity. There's no story that's too small that could change a life, that could change someone's opinion," he reflects about the snowball effect of caring. 
Today, Shooting for Peace implements sports diplomacy with Youth Camps as well as Coach Training Workshops for adults who work with at-risk kids from communities in conflict. They've awarded over $10 million in scholarships to over 200 students and distributed 50,000 educational workbooks to schools. More than 15,600 students have completed digital courses offered. This year, Shooting for Peace has branched out to Rwanda delivering shoes to approximately 300 kids. Plans for the upcoming months include stops in Kuwait, Abu Dhabi, Cuba and Bahrain. 
"The most rewarding part is seeing the community come together," Jerome says. 
So as Jerome approaches his sixth decade, he reflects on his work with gratitude alongside his wife of 23 years, Nikkolette, and their four children. Coaching his 8-year-old son's 13-and-under AAU team for Team Takeover 2028, the opportunity to be there to teach him valuable lessons isn't lost on him.  
"You want him to learn the right things. He trusts me the most, because I'm his dad. But it's hard; you've got to teach them hard lessons too, and that's where I'm glad it's me," he says. 
He's especially proud and appreciative of the like-minded people who volunteer with him in all of his pursuits citing the power found in numbers. 
"[They're] my dear friends, and I call on them to come to events and help kids, and they show up. They don't look for a check. They don't look for resources. They just look to help," he reflects. "It takes an army to help the community, and I try to come with an army. I appreciate those people very much." 
So what's Jerome's next venture? In May, he will launch IP Famba, a company that combines his love for technology with that of service. The new company is designed to help NIL—name, image and likeness—students, young men and women navigating their way through athletics all the way through retirement. 
"It's important, because name, image and likeness is something that I was able to live and make a living off of, but wasn't really able to capitalize on, the way the kids can today," he says. "So, we're building tech to help them do that, and community service and student digital education is part of it. We offer our Shooting for Peace students digital education for free."  
He points to neighborhoods where athletes have been profited off of from a young age without any benefit to themselves. He hopes those long periods where they have been unable or unknowledgeable about how to monetize their name, image and likeness will come to an end.  
Further adding to his long list of accomplishments, Williams also has a book release this spring. In it, he will delve into the finer details of IP FAMBA and being a game-changer.  
"Society needs us. Society needs Legends, and they need other people to come alongside Legends. We can't do it alone. There are so many kids out here who need our support, who need that little bit of a lift. With all of us working together, we'll be able to change the world. My motto is Building champions and changing lives," he states. "I've been doing it for almost 30 years, and I enjoy it so much. I want to just keep doing it for as long as I'm here. And I thank the Lord that he's given me a platform that is recognized, and I'm able to attract good things and good vibes." 
Join the Global Volunteer Month celebration! Download our Global Volunteer Month toolkits and access resources to encourage volunteerism and civic action, recognize volunteers, and raise awareness for your organization's needs and funding opportunities.   
Share this post