Former Teacher Co-Founds Nonprofit to Address Education, Literacy and Hunger in Nashville Community
Meet Daily Point of Light Award honoree Daniel Craig. Read his story and nominate an outstanding volunteer or family as a Daily Point of Light.
Daniel Craig, a former special education teacher and director of Bridge Builders, is a local Nashville hero. After retiring and opening his own nonprofit, Daniel focused on alleviating the financial burden of replacing school supplies for low-income students. Teachers—and students—benefit from generous donations. Bridge Builders also tackles literacy and hunger, recognizing that one struggle is often accompanied by another.
Last year, in a proud moment for the team, Bridge Builders was chosen for Hands On Nashville's Mary Catherine Strobel Volunteer Award. Amongst all the other worthy organizations in Tennessee, Bridge Builders won the award that honors a woman remembered for her "tireless, joyful commitment to those in need." It catapulted the group into being a household name which, for a nonprofit, often means new partnerships and increased donations.
The celebration continued through May when Daniel earned his Masters in Public Administration, solidifying his certification in nonprofit management. So, what's the future look like for this rising community service leader? There are several new partnerships that could lead to exciting new initiatives, but for now, he's heading for the Caribbean to enjoy a well-deserved rest in the sun.
What inspires you to volunteer? 
Quinton Robinson, the VP of Bridge Builders, and I used to teach at the same school, Cora Howe. He was a substitute teacher, and I was full-time. We saw a significant need for school supplies, food, counseling, etc. and we couldn't overlook it. We sat down to talk about it and decided to create a nonprofit to help people get going.  
Kids lose their backpacks, pencils, paper and before you know it, teachers have spent $500 within three to four months of their money trying to replenish things. We've been able to help take the financial burden off both our teachers and students. We started stocking school supply closets, beginning with our school, and you can see the relief on their faces.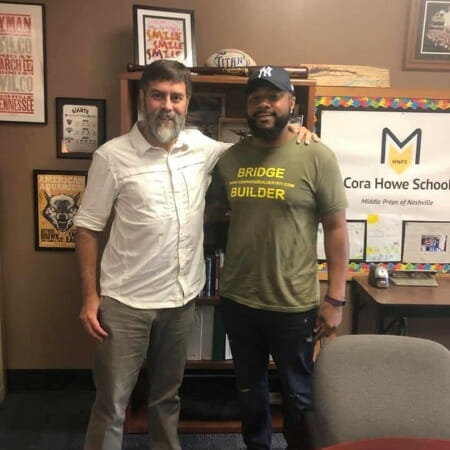 School supplies assist with education. Can you tell me what Bridge Builders does to address literacy and hunger?
Once you tackle one problem, what people fail to recognize is, there's another problem lurking right behind it. You might be there helping with literacy, but that kid might be going home hungry. To address hunger, we've partnered up with Panera Bread with Day-End Dough-Nation for the last four years. We collect the bread, pastries and sandwiches they don't sell on Fridays and deliver it to the national rescue mission, Ronald McDonald House or Metro schools. Sometimes we get donations outside of that as well. 
To help with literacy, we have college student mentors who read to kids in elementary school through Read Across America. It helps young kids understand the importance of reading and public speaking.  
Describe your specific volunteer role with the Bridge Builder Program.
I'm the executive director, so one of the things that I do is look through around 100 grants a day, trying to find one that fits us. I check our mailbox and make sure that the mail is in order, update bank accounts, talk to our accountant, put volunteers into schools, etc.  
Quinton and I try to work out a game plan for school supplies when we do drives. I stay in contact with all 13 schools to find out what their wants and needs are and how we can assist. I make phone calls pretty much day and night. I also work on partnerships, write the blog, and use social media to recruit volunteers. 
What's been the most rewarding part of your work? 
It's seeing the appreciative people on the receiving end of our work and how they've propelled themselves forward. Even helping the teachers with school supplies gets them into the school year knowing they have everything they need. 
We've done this for about seven years. When we started, Quintin and I talked about helping with my school, and now we help 13 schools twice a year. People are appreciative. It helps them and gives them hope.  
What have you learned through your experiences as a volunteer? 
There are going to be good days and bad days, but you can't give up. Emotions in dealing with a nonprofit come and go. Some days you may have less than what you need. You may need 150 turkeys, but you only have 25. You feel like you let people down, but it's not the case. You just have to just stay with it. Set high goals, and never give up. Always be curious and ask questions.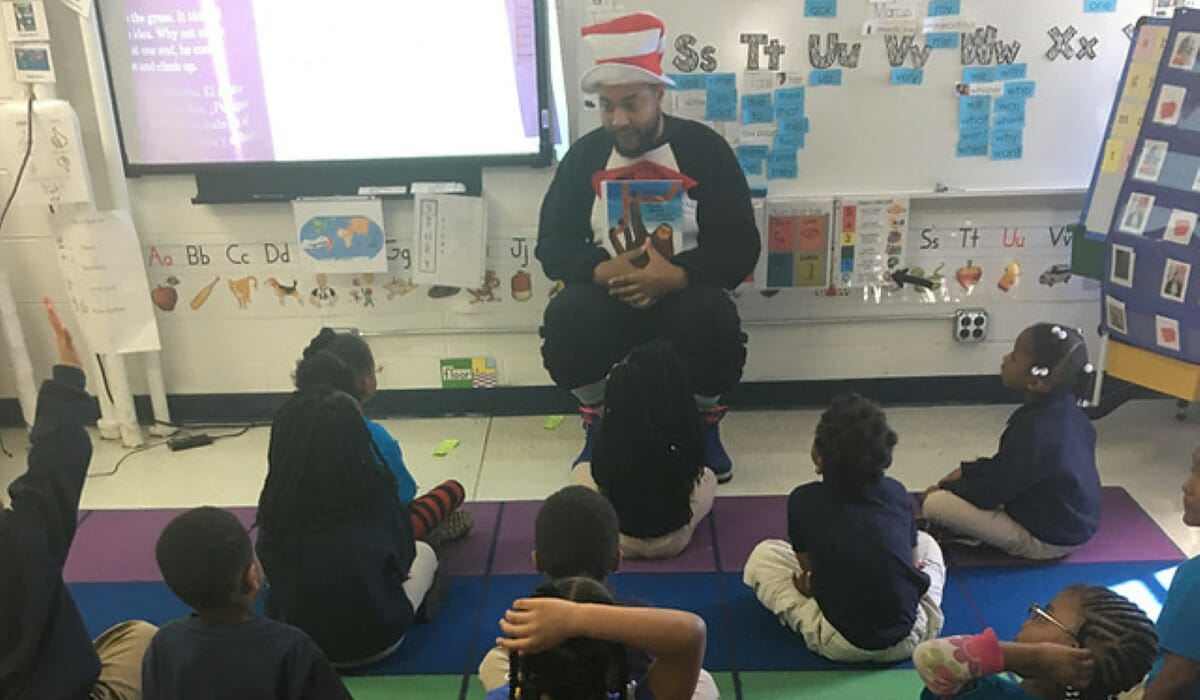 Are there any future partnerships, programs or events you are excited about?
We just got to work with Jumbo Dreams and Bomba Socks. We received about 2,500 pairs of socks, and some hygiene kits are will be donated by another company. We're really excited about distributing those to the unhoused and students who need them next year. And everybody knows about second half of the year school supply drive. There also will be a whole lot of things with Amazon Smile.  
Why do you think it's important for others to get involved?  
It's important to let people who are struggling know that there are people willing to help. It builds the community up to the point where no one feels left out or poor. They feel equal, and they're happy. If you want your community to thrive and do well, you want happy people in your community.  
What do you want people to learn from your story?
I want people to find and support a nonprofit that suits them. Of course, we would love for them to come with us, but they can also look in their own community to see what's needed and find a nonprofit that can assist with those needs. Then, they can assist that nonprofit. Find out what they're doing and what suits you as a volunteer, and do what makes you happy. If it's dealing with animals, go for that. 
Do you want to make a difference in your community like Daniel? Find local volunteer opportunities. 
Share this post