Former Teacher Sends Ripple Effects of Connection to ESL Students
Meet Daily Point of Light Award honoree Cindy Mahoney. During the third annual Global Volunteer Month, we celebrate the power of people who tackle society's greatest challenges, and build stronger, more vibrant communities through volunteerism and everyday actions, like Cindy. Read her story and join the Global Volunteer Month celebration.
After volunteering with English as a Second Language students as an undergraduate, Cindy Mahoney's career shifted, and she set out on a journey to help international students, refugees and immigrants learn the tools needed to navigate their new lives.  
Even throughout the pandemic, Cindy stood firm on ensuring that her students were receiving support to meet their next goals of getting a job, getting a driver's license, or passing a citizenship test. Cindy said they help her travel the world from her couch, and that she hopes that the ripple effect of service continues to spread.  
Describe your volunteerism as an International Language Institute tutor.
I started working at ILI of Massachusetts as a teacher around 25 years ago when my oldest was an infant. I taught English to speakers of other languages and at that time, I had volunteers actually come into my class to observe my teaching. So, I was connected to the program at a very early level.  
When I was no longer able to teach and commit to the time it takes to be a teacher because of family circumstances, I thought, wait a minute — I can volunteer and still do what I love without taking on a full class.  
I really tried to use my teaching background to prepare lessons that would engage them and help them get the most out of the tutoring. Each session is about an hour online and it really does fly by. Students still drive the topic, but it's just up to me to implement the lessons in an effective way so that they're the ones mostly speaking and practicing what they've learned.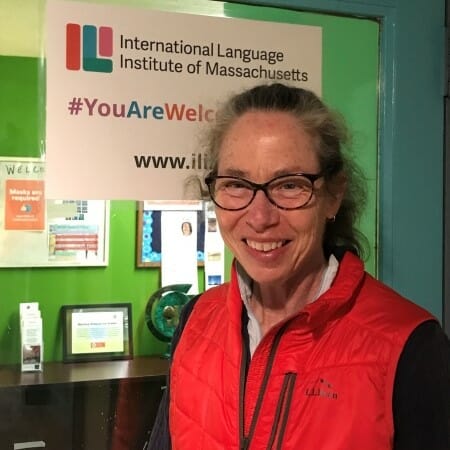 How did COVID-19 impact your tutoring?
It's been a bit of a learning curve for me. There was not as much technology when I was in the teaching world compared to it now. I had to learn to Zoom and I worked with two women who were around my age mostly with citizenship questions and reviews.  
For many of us, COVID-19 felt isolating but it allowed us to be a little more flexible with the tutoring that I'm doing. We don't have to travel and we can find time on Zoom if things pop up in someone's life like changing schedules or a childcare responsibility shift. We can find time without worrying about transportation and logistics of a classroom. Plus, on Zoom we didn't have to wear masks so the pronunciation was easier because we could see each other's faces. The barrier, of course, is the connection and energy that a traditional classroom gives you.  
Describe the community you're hoping to target with volunteerism.
In undergrad, I actually volunteered in an ESL program. It was just one of those things I picked up during my last semester when my school was looking for English tutors at a local middle school. It just became a passion to help people with language. There's so much progress that's made so quickly, it's really exciting to see.  
So, I started working with the adult education program and decided that's what I wanted to pursue. Then I got my master's in ESL education and it became my career after never intending to be a teacher.  
Most of these learners leave everything behind — friends, family, jobs, homes — and start over, and I think of what I would need in that situation. I saw my role as helping them take whatever role was next. We went through the education ladder. And they helped me learn more about the world with their stories and tales of their home countries. It's like traveling the world with a friend from my house.   
What inspires you to volunteer?
In the pandemic, it was a difficult time because of my daughter's remote schooling and my mother was in the end stages of Alzheimer's. It was an intense time, but I've always stayed connected with ILI and I got an email about volunteering and I knew I could do this. And it became like a "me time" thing; I can focus on teaching since it's something that I enjoy and I sort of got to put the pandemic and other struggles aside. 
What have you learned through your experience as a volunteer?
I really do think I learned about connection. These women were my age and they were learning English, so it inspired me to take a Spanish class. It gave me the confidence to tackle a new challenge. It also made me realize how much I enjoy volunteering. I've volunteered now with two other programs, one of them being the Department of Children and Families. It's about the connection with the community and the bridge to other volunteer opportunities. 
Why is it important for others to give back, especially young people and students? 
It really is sort of electrifying and I always feel like I get more out of it than the students. Again, it's a way to connect with people outside of your family, your neighborhood or your job, and opens up the world. It's like dropping a stone into the pond and the circle keeps getting bigger and bigger. I can see that my older daughters also realize that it's important to reach out and give back and now my husband is getting more involved in local politics. Volunteering has become part of our family culture. 
What would you want others to learn from your service story?
It can be scary; I was nervous at first. But afterwards I was so charged up. Just take that first step, you know. My daughters said the same thing, and you might not know anyone else volunteering, but you'll go back and then you'll know people the next time. Eventually, it just becomes something that you look forward to and is part of your routine.  
Are there any partnerships, programs, or events that you are excited about?
The most exciting thing has been those one of the two women I tutor got a job, which was a long-time goal. I always look forward to our ILI monthly gathering of tutors. I do hope to get back to volunteering in the classroom, though.  
Do you want to make a difference in your community like Cindy? Find local volunteer opportunities. 
Share this post