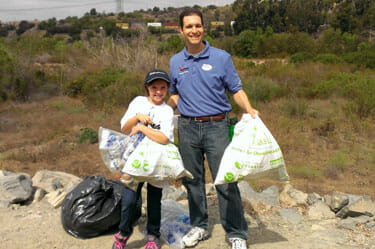 In honor of Family Volunteer Day, Nov. 22, Points of Light and Disney are recognizing the exceptional work of volunteer families with the Daily Point of Light Award. Meet today's winning family, the Georgantas family of Anaheim, Calif., and nominate a family in your community.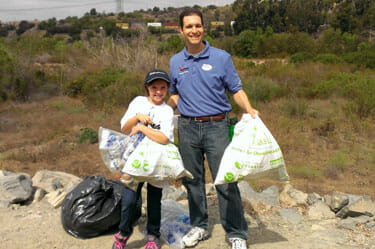 Greg Georgantas and his daughter, Katie, pick up litter during a trail cleanup event near Anaheim, Calif.
It was always an integral part of his life. But Greg Georgantas' passion for volunteer service really took hold when he started working at Disney. Now, his whole family is involved in giving back – together – to their community in Anaheim, Calif.
Greg joined Disney in 1996 as a part of the custodial staff. It didn't take long before he got plugged into service opportunities through VoluntEARS, Disney's employee volunteer program.
"I was drawn to the camaraderie and doing something constructive," Greg says of VoluntEARS. "With every volunteer activity, you could have a good time and accomplish something."
Eager to take on more responsibility, Greg became part of the VoluntEARS Leadership Council, which acts as the liaison between Disney employees and nonprofits, evaluating service opportunities outside the organization where Disney can make a positive impact and mobilize resources.
He's served in this leadership role for more than 15 years, attracting thousands of employees, whom Disney calls "cast members," and leading hundreds of service opportunities in the community.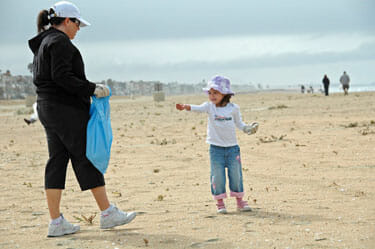 Christine Georgantas and her daughter, Callie, volunteer at a beach cleanup event.
Greg is now among the longest-tenured representatives on the council and has also carried the mantle for corporate citizenship as Disney's VoluntEAR of the Year.
As a husband and father, having his family serve the community alongside him brings special joy.
With a grin, Greg tells the story of how he met his wife, Christine. She was working at a store in Disneyland. Christine says Greg swept his broom through the store and pretty soon swept her off her feet.
When they started their family, it was a given that volunteerism would be a cornerstone in raising daughters Katie and Callie, now 8 and 4 respectively.
"My view has always been that I could sit at home and play games with my children, or we could go out and do something," says Greg. "I want my kids to see that it's for fun. It's not a chore. It's a habit to go out and help others."
The Georgantas family regularly volunteers with Orange County Food Bank, Trails4All cleanup events, beach cleanups and a bevy of walk and run events for charity where they hand out water to participants, including the AIDS Walk, ALS Walk, MS Ride and others.
Greg also serves on the board of directors for the Boys & Girls Club of Garden Grove, the Boys & Girls Club Orange County Area Council and the Boys & Girls Club California Alliance.
Christine knows these experiences are shaping the way her children think about their ability to make a difference: "I'm hoping that volunteering and seeing the different ways to volunteer is teaching my kids to have a positive and altruistic approach when it comes to the community and the world."
Daughter Katie agrees, adding, "It makes me happy and proud to know that we help other people, nature and animals."
For Greg and Christine, serving the community conveys to their children that helping others makes for a fun and meaningful experience, especially when you share it with people you love.
"You have a choice to go out and make the world a better place," Greg says. "Make someone smile. Make their day a little better."
Share this post