Cosenza and Grimes Families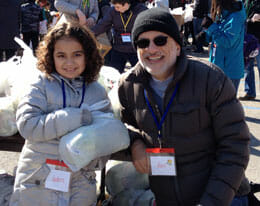 In honor of Family Volunteer Day, Nov. 22, Points of Light and Disney are recognizing the exceptional work of volunteer families with the Daily Point of Light Award. Meet today's winners, the Cosenza and Grimes families of Chicago, IL, and nominate someone in your community.
By most definitions, the concept of quality time shared between uncles and nieces might involve a trip to the zoo or an ice cream cone. But Jim Cosenza has other plans for the time he spends with his 8 year-old niece, Jalen Grimes. For nearly two years, Jim and Jalen have volunteered together with the Honeycomb Project, a nonprofit organization in Chicago that inspires and motivates families to build stronger communities through service.
Jim felt compelled to spend time with Jalen in the community in an impactful way. "I wanted to do something that would have meaning and would express our values," says Jim. "I started doing research for volunteer organizations that would work with children."
Jim and Jalen completed their first volunteer project together right before Jalen's 6th birthday. Since then, this uncle-niece duo have done just about every project that Honeycomb has offered. Together, they have delivered groceries to the elderly, played Bingo with seniors, cooked breakfast at a homeless shelter, cleaned up a beach, packed school supplies, made blankets for the homeless and gardened at an urban farm in South Chicago, just to name a few. In 2014, Honeycomb has engaged more than 1,600 volunteers, young and old alike.
Through these many volunteer experiences with her uncle, Jalen is already beginning to understand complex community issues firsthand. In their first year of volunteering, Jim says the entire idea of going up to someone's door and giving them groceries was a big one for a six-year-old. But it led to revealing conversations. Jim used the opportunity to explain to Jalen that "there are people who can't go to a grocery store, while she and I can buy whatever groceries we like." Jim says, "It is these kind of events that open up discussion about our community."
Jim says he has seen his niece grow through this exposure to different people and communities in ways she would have never experienced without volunteering. "Many of these people are really outside of her enclosed orbit," he explains. For him, watching Jalen interact with the seniors while delivering their groceries was moving, "kind of filled with wonder and curiosity." The proud uncle also sees how he's affected. "What I am doing with her, I am seeing community issues through the eyes of an 8 year-old," says Jim.
Jim emphasizes how much stronger volunteering has made his connection with not only his niece, but their entire family. He says he and Jalen have been able to share their experiences with their entire family.
"We're talking about big world issues and I'm doing that with an 8 year-old and she's getting it and we've all grown closer as a result of it. The entire family will engage in conversation, problems and what we can do about it."
Share this post