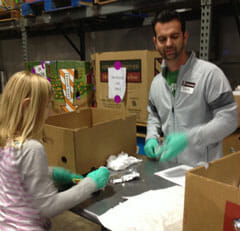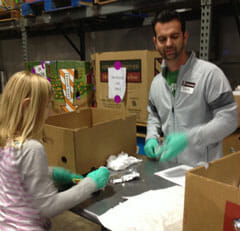 In honor of Family Volunteer Day, Nov. 22, Points of Light and Disney are recognizing the exceptional work of volunteer families with the Daily Point of Light Award. Meet today's winning family, the Koran Family of Holly Springs, NC, and nominate someone in your community.
More than half a million people struggle with hunger in the counties served by the Food Bank of Central & Eastern North Carolina. And about 30 percent of those people are children, according to Activate Good, an organization that martials volunteers in North Carolina. This struck a chord with Steven Koran and his 10 year-old daughter, Isabella.
Steven, a single father, believes that food can bring people together. So he and Isabella, or Bella, have volunteered monthly at the Food Bank for the past few years.
"I grew up where having food on the table was the focal point, it was what brought the family together," says Steven. "It's something where you would want everyone to have that experience, not just sit down at an empty table, but one filled with food, laughter and smiles."
Steven brings his daughter to the Food Bank because he wants to teach her the importance of giving back to the community.
"One of the things I've been trying to raise my daughter around is that, it is one thing going to church and hearing the word of God and Jesus, but for me volunteering is actually practicing that and being a good Christian. It's not just the, talk but the actions that are important," says Steven.
Steven says volunteering not only makes a difference in the community, but also helps strengthen family bonds, giving family volunteers a memory of serving those less fortunate.
Steven and Bella started volunteering together in 2009 and haven't stopped since. Through the Food Bank, they have packaged hundreds of pounds of nutritious produce and food. According to Activate Good, the Korans' volunteer efforts at the Food Bank were part of a cumulative effort in 2013 that saw distribution of a record 52 million pounds of food, or the equivalent of 43.5 million meals, to area residents in need.
The father-daughter duo make time for other causes, too, including creating Christmas cards for children with cancer, fostering pets in need of adoption and participating in events like Race for the Cure.
Bella enthusiastically describes the Christmas cards she and her dad make for the terminally ill during the holidays. "I made them homemade, I actually cut them out and wrote on them," she says. "I wrote out sayings like 'I hope you have a Happy, Happy Christmas!' It was really fun and we kept doing it until we made a lot of cards."
When asked how he became inspired to volunteer, Steven traces the origins back to his parents. "They were always helping out the less fortunate and giving back," he recalls. "I'm a single parent with Bella, so it's one of the lessons I wanted to teach her in life."
On Family Volunteer Day, taking place Nov. 22, the Korans will continue their family tradition with three generations in attendance at "Crafts for Causes," a special event where volunteers make cards and gifts by hand. Steven's parents will be joining him and Bella as volunteers. It only seems fitting the mentors who taught the principle of giving back to Steven will be able to work alongside their son as he teaches his daughter the very same life lesson.
Bella proves herself to be a quick study when asked for her thoughts on volunteering. "It's working together and making things happen, like [fostering] a dog or giving cards," she explains. "We do everything we can as a family. We try to do it all together."
Share this post