Georgia Teen Brings Nostalgia and Excitement Back Into Lives of Elderly with 'Old Time Candy at Old Time Prices'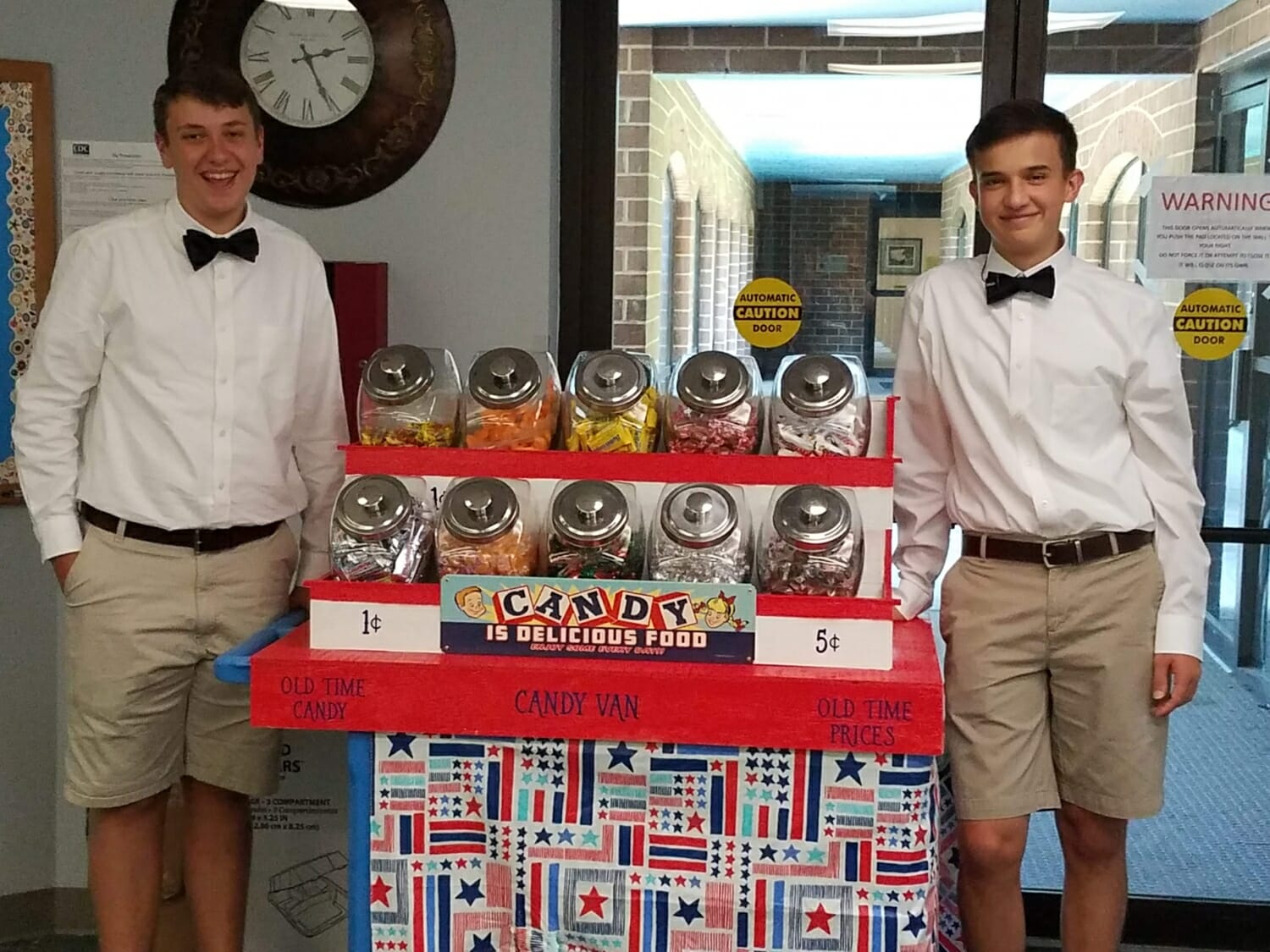 Whether it's a Snickers bar, a bag of Skittles, or some licorice twists, we all have our favorite candies from when we were young. One bite can instantly transport you to the memories of your childhood and put you in a good mood. Well, that's just what Ben Trofemuk does with his current service project called "We are More Alike than We Thought."
With "The Candy Man" song playing in the background, Ben and his friend, Kendall Joyner, wheel a candy cart filled with old-fashioned candy down the halls of local nursing homes to provide elderly residents with a taste of the good old days.
When Ben was in seventh grade, the state superintendent of his school challenged him to start a service project that helped children living in poverty. The project allowed him to raise over $2,000 to supply every third grader at a local elementary school with uniforms and it sparked his passion for helping others. That spark has now grown into a fire and Ben, currently a junior in high school, has completed multiple service projects including raising over $1,800 to bring a science field day to the elementary school he attended. He is continuously looking for new ways to help young children and the elderly. Ben is today's Daily Point of Light honoree and Points of Light spoke to him to learn more about his volunteer work.
What inspires you to volunteer?
I volunteer with people who need a little help. Sometimes these are people who are forgotten by their community. The elementary kids and the elderly are the most interesting to me. I enjoy raising money to help these groups of forgotten people in our community.
Describe your volunteer role.
After learning from Mr. BJ Shephard, a third grade teacher, that many students living in poverty don't have uniforms that are clean and well-fitting, I raised over $2,000 to buy a complete uniform for the entire 3rd grade at LH Williams Elementary School in Macon, Ga. The uniform was made up of a pair of pants, a shirt, a pack of underwear, a pack of socks and a belt. Office Depot was very kind and donated some items like pens, thumb drive, etc. I had no idea that children come to school in dirty clothes that might be too tight or too big. They might not have on underwear. How can you learn if you are distracted by all of this? I set out to fix this. This project led me to do more on my own.
One evening I had a conversation with my aunt who works for a group of nursing homes. She was sharing with me how little money senior citizens have after paying their monthly bills out of Social Security. She told me that sometimes there wasn't enough money for them to have little treats and sodas. I knew I could change this. I enlisted the help of my friend, Kendall Joyner and we brought a Senior Summer Camp to the residents of Eastview Nursing Center. We called our project "We are more alike than we thought" because we learned that we had quite a bit in common with the elderly. We like to eat snacks and sodas, play games, and watch TV. We taught them things we like to do. We built simple target systems and taught them how to shoot Nerf guns. It has been a popular activity and it brings out the kid in everyone. It is so much fun for them and for us.
Our Senior Citizen Summer Camp was such a big hit that we have gone to several other nursing homes. We have built numerous target systems and have given them away. I have taught part of the science day that I taught fifth graders to senior citizens in a nursing home. They still love to learn. They ask interesting questions and sometimes we learn together.
Our new activity is a candy cart. We provide "Old Time Candy at Old Time Prices." We sell candy from the 1930's, 40's, and 50's to senior citizens for the price of a penny or a nickel that they receive when they hit a target during our Nerf gun activity. Kendall and I learned from our Mentor, Dr. Michelle Gowan that the memory is like a pen. When you first write with it, the ink is strong and dark. As you get older, the writing starts to fade and it is hard to read. It is so neat to see a person who can't remember things about that morning tell you all about buying three butterscotch candies for a penny in their past. They can tell you the name of the store, the town they lived in and lots of other details. It is amazing how some simple candy helps these people remember things that happened before I was born.
What's been the most rewarding part of your work?
The most rewarding part of my work has been seeing a person learn something new and enjoy it. I have taught fifth graders about Bernoulli's principles. I have taught the elderly how to shoot Nerf guns.
My maternal grandmother died when I was in the third grade. She had dementia and it is an awful disease. With the candy cart, Kendall and I are able to bring memories flooding back to these people. It is so fun to see them excited to tell us stories.
One of my most treasured items are these thank you notes from the students at LH Williams. These are the kids that received the uniforms I purchased.
Can you share a story of a specific person or moment that stood out to you while you were volunteering?
We went to a nursing home and did Nerf gun day. I was talking to one of the residents and he was more active than the others. He could walk around and was more physically capable. We were standing there talking and he asked me what I was doing tomorrow. I said that I was going to be back here to do a science day. We went on to talk about aerodynamics and he said, "I'm so thankful for all the liveliness that you brought back into this nursing home."
What have you learned through your experiences as a volunteer?
I have learned a lot over these last few years. My favorite Bible verse is 1 Timothy 4:12. "Don't let anyone look down on you because you are young, but set an example for the believers in speech, in conduct, in love, in faith and in purity." It would have been easy to say that at age 14 I was too young to do anything to help a bunch of third graders. It would have been easier to sit at home during the summer and play video games instead of shooting Nerf guns with the elderly. I have learned that my community of friends and family support me a lot. They donate to my projects. They believe this world can be a better place. It might be as simple as donating $20 to buy a kid a new pair of pants or donating three boxes of Little Debbie Cakes that I can give to senior citizens. People want to see teens get involved and make this world a better place.
Are there any future partnerships, programs, or events that you are excited about?
We will be taking our candy cart to a senior living center in October. We will also be taking our Nerf guns to a nursing home in the fall. We expect to do Senior Summer Camp again next summer at a local nursing home.
Why do you think it's important for others to give back?
There are a lot of people out there that people don't recognize. They need to be. There are so many people on the streets out there in my city, Macon, that don't have the things that I have right now. I'm standing in my living room with a nice TV and air conditioning all around me, but they don't have that. When I realized this back in 9th grade, it was a call of action. I prayed about it and I finally decided to do something about it because I felt like it was wrong.
What do you want people to learn from your story?
Get out and do something, anything. Take some old time candy to friends in a nursing home. Get them to tell you stories from their childhood. Teach them something you enjoy. I promise you that every person I have met likes to shoot Nerf guns. It makes people smile. I want people to make the community they are in better by bringing a smile to someone's face.
Do you want to make a difference in your community like Ben? Visit All For Good for local volunteer opportunities.
This Post was written by Alicia Lee.
Share this post