Family Creates School in Tanzania to Provide Educational Opportunities to Children with Disabilities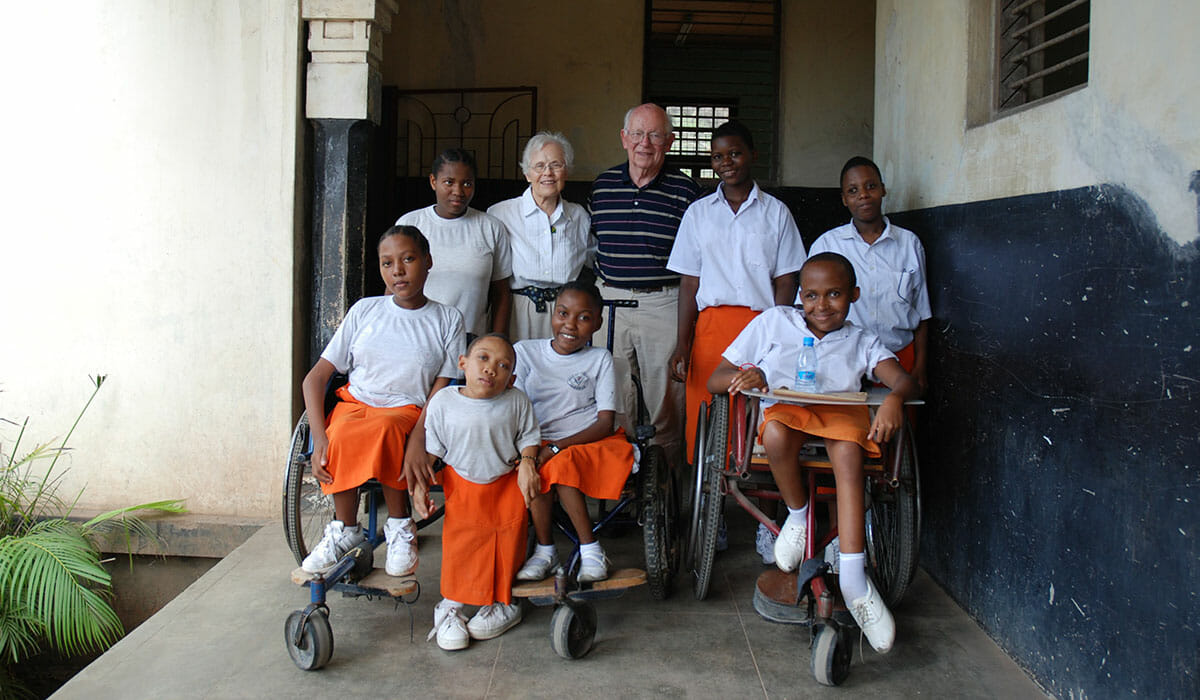 Joann and Don Tolmie first visited Tanzania in 1999 as guests of the Evangelical Lutheran Church. They soon realized there was a vast educational inequality for children with disabilities – who are often believed to be a bad omen or a hardship, and for whom educational opportunities are few. . After discovering the need for disabled children to have a proper place to learn and grow, the husband and wife duo teamed up with the Northern Diocese of the Evangelical Lutheran Church in Tanzania to create the Faraja Primary School. There's no denying that this first trip ignited a spark in their hearts that was so big, it would grow to help create a culture shift in understanding disability.
The Faraja School's mission is to help disabled children unlock a lifetime of opportunity through education, medical care and meaningful employment, empowering them to return to their communities and live a productive life. Faraja, which means "comfort" in Swahili, is located near Sanya Juu, in the Kilimanjaro region of northern Tanzania. The school has graduated 125 children from its program, and is successfully teaching its students that their lives possess immense purpose and opportunity – despite common beliefs in their villages. The school was dedicated to Joann's mother, Mabel Swanson, whose legacy remains an integral part of the heartbeat that keeps Faraja running. She taught physically disabled children in Illinois, and passed on her love of education and service to Joann.
The success of the Faraja School shows how serious the need for such a resource was in the community. Schools in Tanzania are often multiple stories and lack accommodations for accessibility, and physically disabled children can't operate or work in such environments. Outside of the Faraja School classrooms, disabled children are often cast away because of a persistent stigma of being a financial burden to the country and local communities. But Joann and Don didn't see these children as burdens; they chose to jump on the opportunity to show how intelligent and special students could be with loving support. Today, the Faraja School remains one of the top schools in their region and has performed tremendously well on country examinations.
The couple, now 90 and 88 years old, have made more than 30 trips to Tanzania. They have turned Faraja into be a place where any child can be equipped to conquer the mountains in their lives. The culture of the school is made up of immense compassion and a deep sense of community.
"There is a beautiful family and community that these students create at such a young age," said Don. "Every day at Faraja the students stop at 10 a.m. for a snack break. There is one kid, who has a worse leg than I do, who stops what he's doing at snack time, drops his crutches, gets behind his friend in her wheelchair and drags his left leg as he pushes. Students begin to develop so much purpose, and support for one another is at the heart of it all."
For the Tolmie family, the relationships they have built over time at the Faraja School have inspired them to remain active in this endeavor well into their retirement years. Their three sons and their families have also become a part of Faraja's story. For Don's 90th birthday, his family had 18 trees planted along each side of a path that connects Faraja to the school chapel. In time, the trees will bear fruit, and Joann and Don are excited to see children nourished from the trees. A deep sense of compassion follows Joann and Don wherever they go; their environment does not dictate the amount of love given and they possess the ability to help people see that they are valued and understood.
With help from Joann and Don, the Faraja School continues to give comfort, education and medical attention to children with disabilities. They continuously look for innovative ways to keep the school running through donations, and even offer opportunities for student sponsorship. Through the success of their school, Joann and Don are building a culture of self-worth for disabled children in Tanzania, and demonstrating to the community the powerful truth that disability does not mean inability.
Do you want to make a difference in your community like Don and Joann? Visit All For Good to find local volunteer opportunities.
Share this post