Georgia Teen Offers Comfort through "Blankies 4 My Buddies" Service
Meet Daily Point of Light Award honoree C.J. Matthews. Read his story and nominate an outstanding volunteer or family as a Daily Point of Light. 
C.J. Matthews was just 5 years old when he was first introduced to charitable giving. Fast forward to today and the McDonough, Georgia 14-year-old is hosting blanket drives through Blankies 4 My Buddies and helps plan his annual event, The Giving Bowl, a charitable event centered around flag football. 
Connecting with at least 100,000 people across the United States as far away as California and closer to home in Georgia, C.J.'s steadfast dedication to his community has helped provide comfort to children and families, unhoused individuals, those with mental health issues and survivors of gun violence.  
What inspires you to volunteer?
I'm inspired to volunteer because I know a lot of kids don't understand the importance of giving back. For my newest project, the Blanket Box Project, I am distributing boxes filled with materials for other youth volunteers to make two blankets. The volunteers can keep one blanket for themselves and donate one. We're trying to figure out a way to encourage kids to show empathy for others. 
Describe your volunteerism with Blankies 4 My Buddies.
As founder of Blankies 4 My Buddies, I offer comfort to others. My family experienced a pregnancy loss when I was 5 –years old, and I told my mom I never wanted another kid to feel sad and lonely.  I organize The Giving Bowl, which takes place around Thanksgiving, and we collect food and blankets to distribute to families during the holiday season.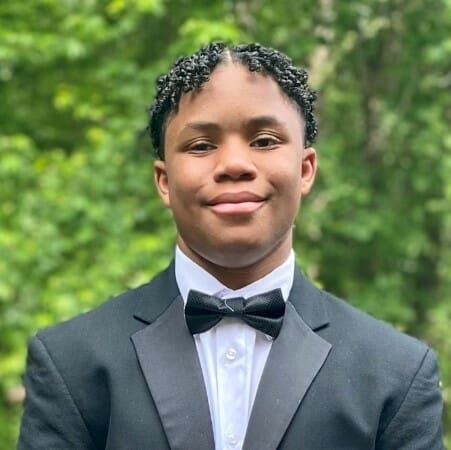 Share one personal story with me from your volunteerism. 
A 5th grade student at my school was fatally shot. We recently held an event for those impacted by  gun violence in South Carolina and I got to meet the kids I was donating to. All the kids had experienced a deep loss like I did. I felt a connection to them in a way. It's natural to give back, volunteering is just something my parents taught me to do. 
Why do you think it's important for others to give back?
Some people go through things that are not always the best. It can bring a person down. By volunteering, giving them a blanket, you can not only heal their physical but also mental pain. 
What do you want people to learn from your story?
Any act of kindness counts. 
In one word, what does volunteering mean to you?
Loving. 
When you're not busy volunteering or in school, what do you do for fun?
I play video games, watch TV and play with my little brother. My family and I have family nights where we watch movies and play games. 
How can readers help?
Please visit the Blankies 4 My Buddies website to learn more about my volunteerism and how you can help. 
Do you want to make a difference in your community like C.J. Matthews? Find local volunteer opportunities. 
Share this post