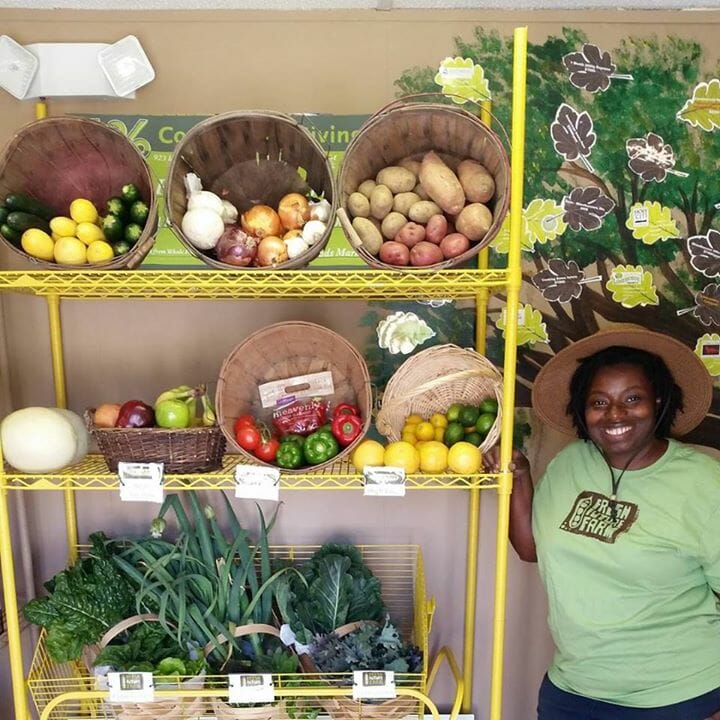 "We wanted to grow healthy food where it's needed most," says Germaine Jenkins, founder of Fresh Future Farm, a .81-acre oasis of vegetables and fruit trees in the heart of one of North Charleston's poorest urban neighborhoods. The shelves of their onsite farm store are stocked with products we grow, extra produce that we don't grow and basic grocery items, she adds, "People will make the connection that even though they don't necessarily have traditional wealth, they have buying power. Plus, they'll be helping to employ their neighbors."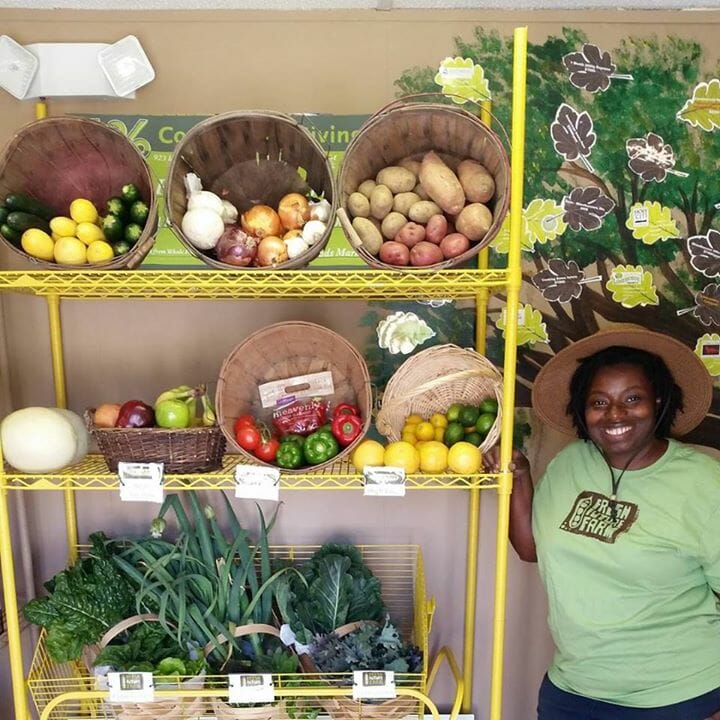 Germaine Jenkins
Fresh Future Farm is an outgrowth of Jenkins' gardening volunteer work within the Chicora-Cherokee neighborhood and her assistance with starting the nearly 5-year-old Chicora Place Community Garden project in North Charleston, SC since 2007. Buoyed at the enthusiasm for the garden's fresh okra, eggplant, peppers, and peaches, Jenkins says she "listened to the neighborhood" and created an urban farm a few blocks away. The farm is a much larger, serious food-growing enterprise with the goal of producing enough food for residents to purchase regularly. Before the store opened in early May, crops were harvested and sold at a stand; now they have brand new refrigeration and sell staples, such as bread, milk and eggs. Jenkins is completing the transition from farm stand to grocery store to accept EBT benefits (also known as SNAP or food stamp benefits), and hopes the store will become a "one-stop shop" for families.
The average per capita income in the Chicora-Cherokee neighborhood is less than $11,000 per year. Yet it's estimated that residents spent $3 million on groceries. Jenkins believes much of that goes toward unhealthy, overpriced junk food purchased at convenience stores, since the area has no traditional supermarkets stocked with fresh produce. Fresh Future Farm provides affordable healthy food for residents who would otherwise have to travel to other communities. Although shoppers from more affluent neighborhoods can – and do – stop by to purchase the tempting produce, Jenkins says, "We see our primary customer as our own residents first, and then Title 1 (disadvantaged) schools in the neighborhood. We want to have the most impact for our neighbors in the middle of a food desert."
Using raised beds, Jenkins has planted more than 40 fruit trees, 70 blueberry and blackberry bushes, and crops that include cherry and plum tomatoes, basil, eggplant, sweet potatoes, cucumbers and cantaloupe. Jenkins has a bee observation hive and also plans to raise chickens at the farm.
Clover Hughie-Scott, a Jamaican-born resident who moved to North Charleston to be near family, is ecstatic at the chance to obtain fresh vegetables and fruit close by. "Elderly people in the area don't drive – I don't drive anymore," says Hughie-Scott, who first spotted the Chicora Place Community Garden as she was getting off the bus. "This makes it so much easier." Hughie-Scott says neighborhood families, including hers, "is thankful that the Fresh Future Farm store to be fully operational now." Her family members are interested in pursuing a vegetarian diet because of their religion, Seventh-day Adventist, which promotes abstention from meat, alcohol and tobacco.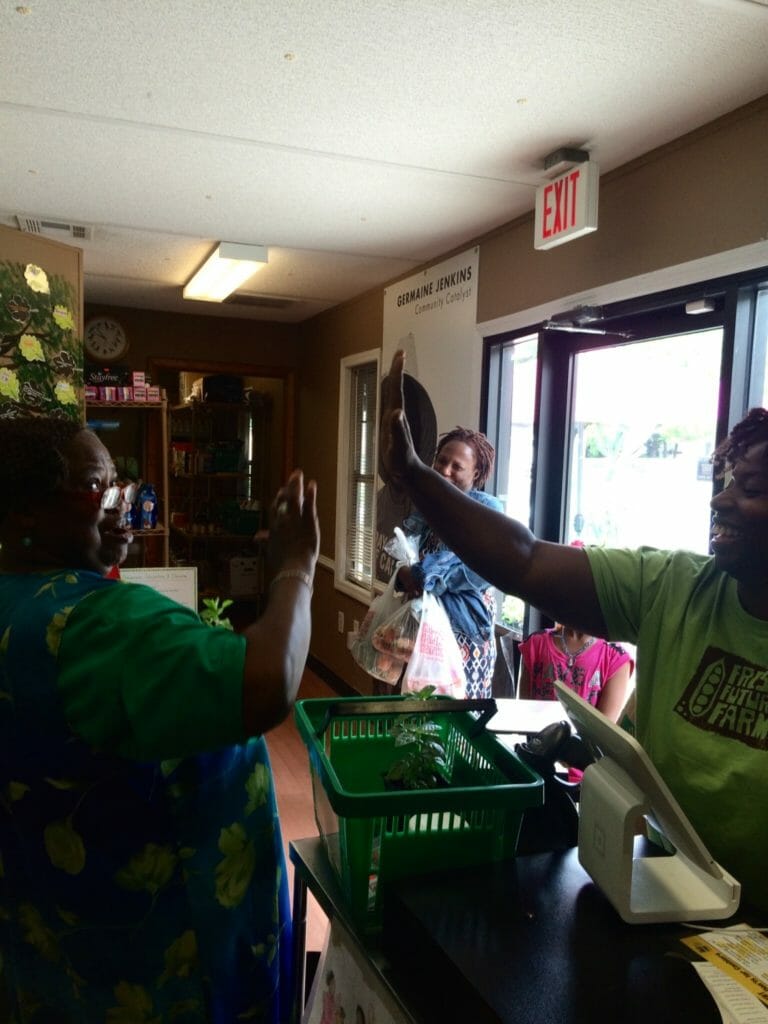 Hughie-Scott, left, and Jenkins at the store on its opening day in May 2016.
Jenkins, who once lived in public housing with her family, knows that urban agriculture benefits a community in many ways. Passers-by and riders getting on and off nearby buses can't help but be impressed by the industrious labor that workers are putting into the project day after day. As the farm expands, Jenkins hopes to create job positions.
In addition, both the community garden and urban farm create a place for residents to socialize. Volunteer workdays with potluck lunches and outdoor movie nights have proven popular. Barbecue grills and picnic tables offer respite from hot kitchens during the summer while encouraging healthier meals. The organized monthly work parties offer camaraderie while teaching folks how to garden.
Jenkins has made the effort to become knowledgeable so she can effectively make her dream a reality. She's been interested in gardening since childhood, but says, "Getting my own hands in the dirt to grow didn't happen until I was in my 30s." Jenkins took college classes in baking and pastry arts, then completed master gardener training. She soon discovered that the modern-day techniques in books don't always work for space-limited and money-strapped urban agriculture, but undaunted, Jenkins said she hit up "Google university" to study how indigenous populations grew food. She's taken business planning classes to better manage the nonprofit venture.
Hughie-Scott marvels that Jenkins has even managed to cultivate banana trees. "I didn't know banana trees could grow here in America," says Hughie-Scott. "In winter, she wraps them like babies in swaddling clothes and in spring, the bananas shoot up like crazy. I tell all my friends how this lady grows bananas here and protects them in winter."
Jenkins is proud of her green thumb, but is already hoping others in North Charleston will match or outdo her success. "I want to teach others to do this," she says. "I want competition. That way, we can form a co-op."
Share this post
---