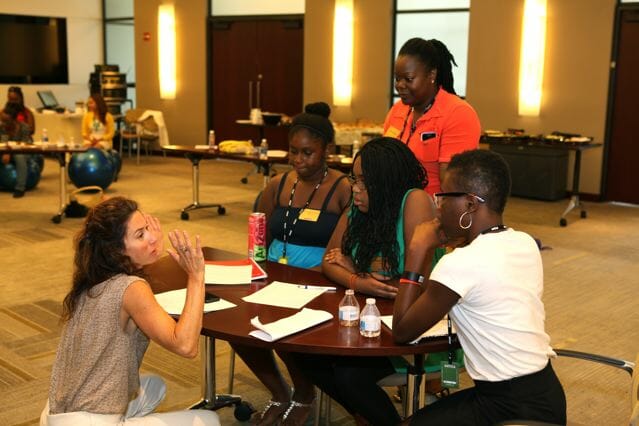 Company holiday parties and picnics are generally times of professional relaxation, but for Lisa Chirichella, those events have morphed into chances to improve others' lives.
"I've had a lot of opportunities in my life and people who helped me be successful," she said. "I got to the point where I wanted to be the person who could help other people change their lives."
The healthcare company Aetna, where Chirichella works, changed its party and picnic days five years ago to ones devoted to helping young girls connected to the nearby Young Women's Christian Association (YWCA). The result is the Young Women's Leadership Institute.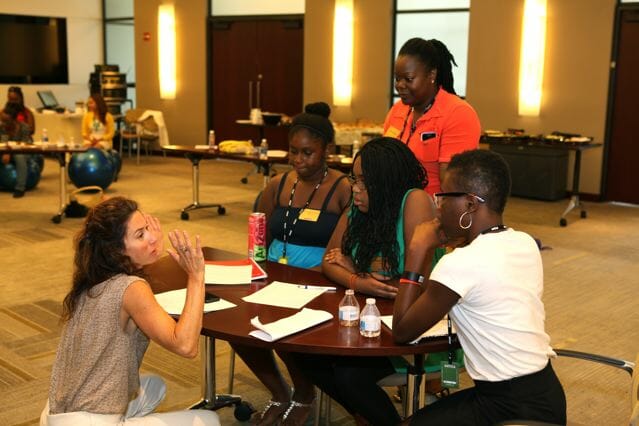 Chirichella, left, prepping young members of YWCA for a debate.
As an Institute volunteer, she mentors 25 to 30 young girls ages 12 to 18. She and other Aetna volunteers offer guidance on nutrition and physical fitness, as well as a variety of fitness classes – walking, dance, yoga, and stretching. Additionally, they focus on providing the skills necessary for successful careers, such as public speaking and resume writing, and including programs on science, technology, engineering, architecture, and mathematics (STEAM).
"The idea is for us to get them thinking about what their strengths are and the different things they can do with them," she said.
Last year, the program expanded to include company-provided, paid internships for high school students. Selected girls, over age 16, have real job responsibilities – they're required to scan and upload quarterly and annual reports that are used to serve Aetna's wide customer base securely and privately. Some interns also contribute to the company's 50,000-viewer blog, writing on topics intended to prompt conversations within the healthcare community.
Ultimately, she said, she chose – and recommends other select – a volunteer opportunity that allows both parties to learn from each other.
"They taught us to think about things differently and to be more open to understanding that not everyone looks at things alike, Chirichella said. "It's been very emotional for all of us – we are just as fulfilled by these young women as they are by us."
If you're interested in finding opportunities to engage in your community through service, please check out All for Good for projects near you!
Share this post