Globetrotter Helps Under-Resourced Students See the World
Meet Daily Point of Light Award honoree Brandon Miller. Read his story and nominate an outstanding volunteer or family as a Daily Point of Light.  
Brandon Miller grew up with the opportunity to see the world and experience other cultures. It opened his eyes to the beauty of traveling and exploring countries outside of his comfort zone. Years later, Brandon is helping underserved youth experience the same adventure he did through the Too Fly Foundation.  
As a co-founder of the Too Fly Foundation, Brandon equips students with passport support, travel grants and travel toolkits so they too can see the world. Whether Brandon is helping fund passports, lead flight academies in schools or developing virtual reality travel, his mission remains the same: pave the way for Black, brown and under-resourced students to see the world, and help the world see them as well. 
Describe your volunteer role with
the Too Fly Foundation. 
So, rewind back to 2015 —  I've always had a passion for travel. I was privileged enough as a kid when my family took us abroad. I remember having my passport as a kid and really broadening my cultural curiosity and global perspective. In college, I was able to study abroad, so I studied in Metz, France. While studying abroad, I got to travel all over Europe and hit all of these different countries, which as a young adult was a whole different experience. It was something that I wanted to make sure any kid who wanted to study abroad or volunteer abroad could have the same opportunity to do. I was privileged enough to be able to, but I know a lot of Black and brown students and students in under-resourced communities don't have that privilege. That's what prompted the idea of wanting to start fundraising to be able to provide passports to kids. 
It started with Happy Hour fundraisers to raise money for students and just provide passports and passport fees. And over time we gained a lot of traction and following. We were able to raise roughly 100 passports for students. After that we decided to make it a foundation so that we can continue to grow and build. The Too Fly Foundation was created in 2016, and over the past few years we've scaled, we've grown, but we also still do our grassroots fundraisers. We also have an in-person activity, which we call our Flight Academy. This is when we go into local schools and we do this pep rally type of event to educate students on international travel and study abroad opportunities. We try to help them also travel through the five senses, so we have a DJ who will have cultural songs and dances, we'll have international snacks, do some trivia and try to get them curious and excited about traveling abroad.  
During the pandemic, we started what we called "travel at home." So, the world stops and nobody's traveling; there's no study abroad or there's no volunteering abroad. But we wanted to keep our mission going. We created a virtual reality curriculum where we can send VR headsets to students, they can travel the world, from their couch with their family. We wanted to help bridge educational gaps and technology gaps all from the comfort of the students' own homes.  
What do the funds that you raise go towards?
They cover a lot of the cost barriers. During the grant cycle, a student can apply for however much funding they need to support their travel. It might cover a passport or it might help purchase a plane ticket. We might give them $500 to $1,500 for a plane ticket. It's financial-need-based. We also give students one of our travel kits. So all of our students get a carry-on bag, swag, shirts, notebooks and water bottles because we want to make it an experience; we don't want to just hand them a check, we want this to be a moment for them since it's going to be the first time traveling abroad.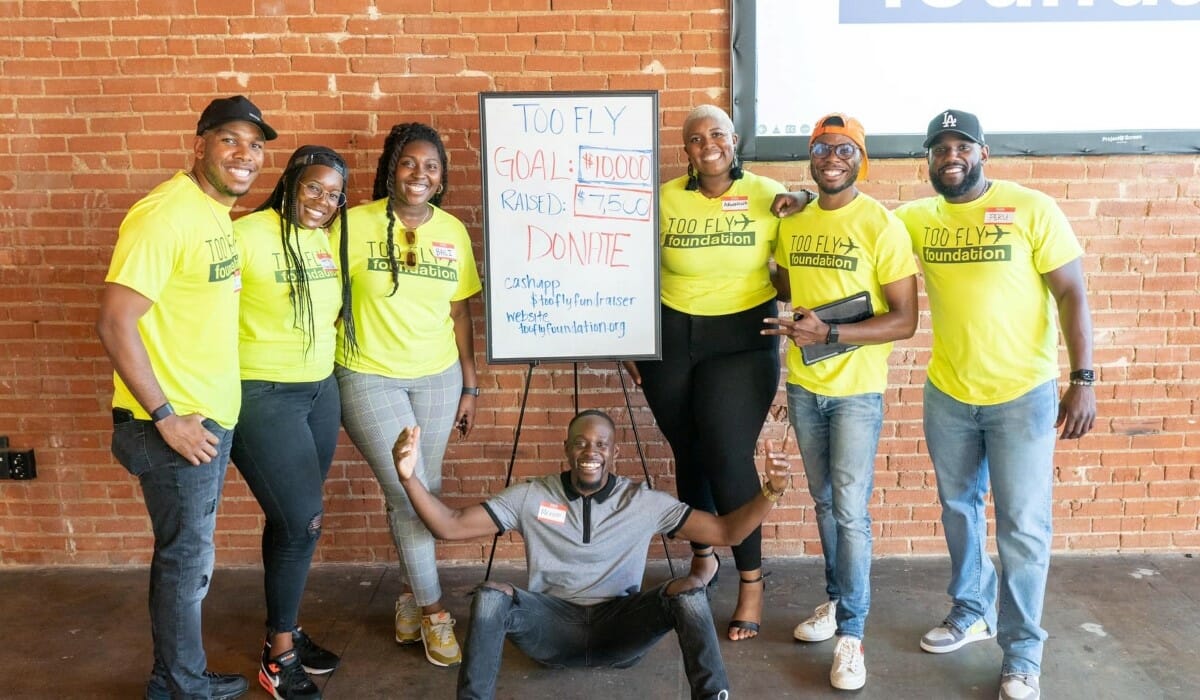 Do you have a favorite memory from mentoring with the Too Fly Foundation? 
I have so many memories. Recently, we were on the Kelly Clarkson show to share our story. Tyler Perry joined us on that episode. So it was a really cool moment for us as an organization. But I think what was most meaningful was that they created this montage of the students that we've impacted, and the students were talking about how they're a better leader and how they're more curious and how they're traveling more now after the impact of the Too Fly Foundation.  
What inspires you to volunteer?
Seeing the impact and seeing how it's truly changed student's lives definitely keeps us all going. And it's not just me and my co-founder, it's a team of eight of us. It's also knowing the importance of not only ensuring that our students can see the world and travel the world, but that the world sees the students as well. I think it's important to see young Black and brown kids traveling, exploring and learning on a global scale. That definitely keeps me going. 
Why is it important for others to get involved?  
I think so many of us are privileged in different ways and different facets. I've been blessed and I want to be a blessing to others. I want to leave a legacy of help that creates a path for others to follow behind. That's a mindset that I firmly believe in. That's a reason that I think it's important for folks to get involved.  
Is there anything coming up with the Too Fly Foundation that you're excited about?
We just had our fundraiser, which was a lot of fun. We had a great turnout. We'll start to kind of pivot gears until Giving Tuesday and the end of the year. One partnership that I can say is that we're working with TravelPro, the luggage company, on Giving Tuesday and they're donating 5% of all of their sales on that day to the Too Fly Foundation. So that's pretty exciting. This year, 23 of our grantees are going on study abroad trips so we're working on getting them their checks and travel kits. We'll also have 100 students traveling next year.  
Do you want to make a difference in your community like Brandon? Find local volunteer opportunities. 
Share this post