Saving Lives One Paw At a Time 
Meet Daily Point of Light Award honoree Hannah Yu. Read her story and nominate an outstanding volunteer or family as a Daily Point of Light. 
Since middle school, Hannah Yu has been volunteering with Life of Hope Foundation, an international dog rescue nonprofit with rescue teams in Taiwan and a foster network in the United States. She serves as the Bay Area Director and helps to screen applicants, organize meet-and-greets, and organize adoption events in local city centers showcasing the rescue's adoptable dogs. She also helps out by fostering dogs until they go to their forever homes. 
Most of Hannah's volunteer work has been through Pawse, an animal rescue nonprofit that she founded in summer of 2020 to encourage more people in her community – especially the youth – to get involved in animal rescue. 
What inspires you to volunteer?
My journey with animal rescue began over eight years ago when my family adopted a dog, Professor. Adopting my first pet opened my eyes to the entire animal rescue community and introduced me to the importance of rescuing animals by giving them a second chance they deserve.  
I convinced my parents to let us foster dogs for Love and Second Chances, a dog rescue in the Bay Area. My first foster dog, Ryan, was a Formosan Mountain Dog rescued from Taiwan. I took care of him for about six months before he got adopted. Saying goodbye to Ryan was extremely difficult for 10-year-old me. It's still a bittersweet memory, even eight years later, but I knew that Ryan would thrive in his new home. Ever since then, I have continued to foster dogs for several local and international dog rescues. My longest foster so far lasted one and a half years! 
Some people have told me that I can't change the world by saving a few dogs. But I beg to differ. All of my experiences have shown me that saving dogs one at a time – just focusing on what is in front of me, rather than reaching for an abstract goal – is how I can help change the world. I believe we have an innate responsibility to use our privileges not just to help other humans in need, but all living beings. I am inspired by this thought as I continue to use empathy and compassion as a driving force for action.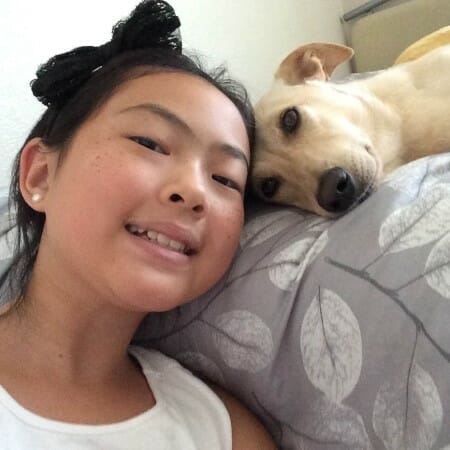 Describe your volunteer role with Pawse.
I founded Pawse in the summer of 2020 with a mission to advocate animal rescue and create opportunities for my community to help rescue animals find their forever homes. Since then, I have established multiple branches of Pawse across California and now lead a team of over 100 members! 
Through all of the initiatives that I start, I strive to engage with my community as much as possible. Collaborating with our network of partners, including animal shelters and local businesses, I lead our Pawse team in organizing adoption events and hosting community fundraisers. 
My animal rescue work is also an outlet for my creativity, because publicity is so important not only to showcase adoptable animals, but also to combat harmful misconceptions that people might have about rescue animals. Using my graphic design and marketing skills, I create flyers, educational videos and newsletters to emphasize the importance of animal rescue and pet adoption. 
For the past eight years, I have also remained an active foster home for local and international dog rescues. Since my first foster dog Ryan, I have fostered over 60 more dogs with unique backgrounds and stories. From puppies to senior dogs, to blind dogs and even three-legged dogs, I have dedicated countless hours to caring for these animals and ensuring that they can thrive in their forever families.  
What's been the most rewarding part of your work?
The most rewarding part of work is seeing rescue animals thrive in their forever homes and in turn seeing the happiness that these pets bring to their new families. As a foster, I often receive photo and video updates of former foster dogs and they always bring a smile to my face. These updates remind me that no matter how difficult and tearful the goodbyes are, they are always worth it.  
What have you learned through your experiences as a volunteer?
Through my animal rescue journey, I have met so many incredible, driven and passionate people dedicated to helping rescue animals find their forever homes. My volunteer experiences have truly shown me the value of collaboration and teamwork. The more that I engage with the animal rescue community, the more inspired I become to continue my work! 
Are there any future partnerships, programs or events that you are excited about?
Pawse is currently working on a documentary about the importance of animal rescue and pet adoption. We've partnered with a local animal shelter to film some behind-the-scenes action and promote our shared mission: to save lives, one paw at a time.  
Why do you think it's important for others to get involved?  
Volunteering allows us to connect with people (and animals!) from all walks of life, not only strengthening our sense of community, but also reminding us to be empathetic and compassionate to others.  
What do you want people to learn from your story? 
If there was one message that I wish everyone could take away from my story, it would be that all animals deserve a second chance at life, love and happiness.  
Even if you are unable to adopt or foster an animal at the moment, don't feel discouraged!  
There are endless ways to get involved in the animal rescue community. Donations of all kinds are always appreciated at animal shelters and rescues. Being an advocate for pet adoption to friends and family, and helping to destigmatize adopting shelter animals is incredibly helpful in changing negative perceptions people may have about animal rescue. Together we can save lives, one paw at a time! 
Do you want to make a difference in your community like Hannah? Find local volunteer opportunities. 
Share this post