AARP Safe Driver instructor Harold Sterling has a question for you.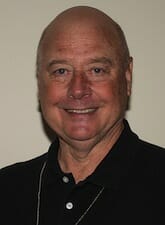 Harold Sterling
"When I speak in public, I always tell audiences that if they can answer one question correctly, they don't need to take my course," says Sterling, a volunteer who this year celebrated teaching his 100th driver safety course. "The question is: 'What's the difference between yellow lines and white lines on a highway?'"
Sterling says after a few moments someone usually says, "A solid yellow line means you can't pass other cars."
Wrong.
"The correct answer, which we all learned when we studied for our first driver's license, is that yellow lines always separate lanes of cars moving in opposite directions, and white lines always separate lanes of cars moving in the same direction," says Sterling.
According to Sterling, a former state patrolman and retired media distribution executive, this is a prime example of information drivers of any age forget after a relatively short time. While the AARP Smart Driver course is generally targeted toward drivers over 50, Sterling says most adults can benefit.
"There are older people with full safe driving skills and capacities, as well as 18-year-olds who shouldn't be driving because of a lack of skills," says Sterling. "But it's nevertheless true that as we age, our cognitive and physical capacities tend to slow down, and we need to compensate for that by practicing more attentive driving skills to build a greater safety cushion around ourselves."
Also, Sterling says, we all pick up bad driving habits. The AARP course, taught by hundreds of volunteers across the country, focuses on erasing those habits and teaching older drivers about changes in laws, automobile technology and traffic patterns, such as increased congestion.
Sterling, of Schaumburg, Ill., began as a safe driving volunteer instructor for AARP in 2007. Since then, he has increased his involvement and is now a regional coordinator, overseeing the program and 1,300 volunteers in 10 states from the Midwest to the East Coast. He estimates that he devotes 30 to 50 hours a week to the program.
He also participated actively in research-based changes to the course that were implemented this year. While he is in charge of hiring and training state coordinators, among countless other duties requiring regular travel, Sterling still finds time to teach the course locally.
Sterling also worked to build AARP Safe Driver partnerships with several Illinois state government departments and led an effort in 2012 that resulted in the Illinois governor declaring the final two weeks of March as Senior Driver Safety Awareness Weeks.
Last year, the city of Schaumburg honored Sterling with its Volunteer of the Year Award. He has also been nominated twice for AARP's highest volunteer recognition, the Andrus Award.
"It's very satisfying to know that you've had an impact on your community, and I still enjoy teaching the course," says Sterling, who just turned 72 on May 3. "We want as many people as possible to get from point A to point B safely."
Share this post