Having Lost His Mother to Leukemia, Army Veteran Volunteers to Fund Cancer Research
Meet Daily Point of Light Award honoree Chuck DeCitise. Read his story, and nominate an outstanding volunteer or family as a Daily Point of Light.
Chuck DeCitise, 51, remembers his mother as one of those people who was always willing to help others. With that same heart for service instilled in him, Chuck joined the Army after high school. For eight years, Chuck served his nation, deploying to multiple countries far away from home such as Kuwait and Thailand. Unfortunately, after a 10-year battle with a rare form of blood cancer called hairy cell leukemia, Chuck's mother passed away in 1997 and his military journey came to an end. However, his passion for service only became stronger.  
Soon after his mother's death, Chuck worked with the Red Cross to run a blood drive at a local church in his city of Troy, New York. Thanks to the generosity of Chuck's friends, family and other community members, the church was able to set a record for the largest amount of donations in its history of hosting blood drives. Today, 25 years later, Chuck is still donating blood every eight to 10 weeks.  
On top of donating blood, Chuck is a dedicated volunteer with the Leukemia and Lymphoma Society (LLS). Despite various difficulties the pandemic presented in 2020, Chuck was able to raise $25,000 for LLS through an engaging social media campaign, earning him the LLS's Man of the Year award for his region. By getting his 16-year-old daughter involved and mentoring new fundraising volunteers, Chuck is helping the LLS fund important cancer research to improve patients' lives and ultimately find a cure for blood cancer.  
Describe your volunteer role with the Leukemia and Lymphoma Society.
Two years ago, at the very beginning of the pandemic, a high school friend of mine, Holly, came up to me and asked if I was interested in being part of the Leukemia and Lymphoma Society's Man & Woman of the Year campaign. Within a month, we were in full pandemic mode and all the other candidates for the campaign were dropping out. Holly asked me if I still wanted to be involved, and I said, "Yes, absolutely. Let's do what we can." So during the campaign, I did as much virtual stuff as I could. I ran with the American flag every Sunday to raise awareness. I had a band come to my house and play outside, and I posted it on Facebook and had donations come in from that. All said and done, I raised upwards of $20,000 for the LLS when most other areas throughout the country didn't even have a candidate.  
My daughter saw what I had done and asked if she could help. We worked together so she could run for Student of the Year in 2021 and she raised upwards of $25,000. She has been a mentor and she actually mentored a candidate who raised about $40,000. I continue to be a part of the leadership committee for the Student of the Year campaign and a mentor to the Man and Woman of the Year campaign candidates.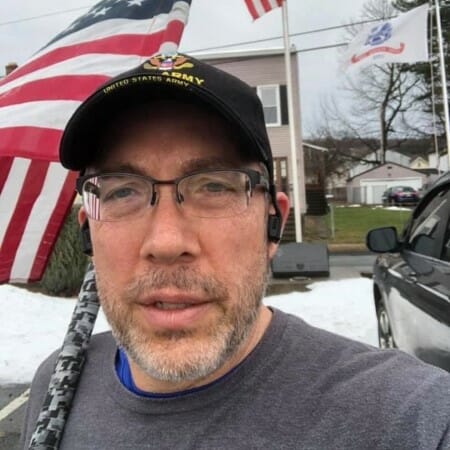 What inspires you to volunteer? 
This started because I lost my mother when I was 27 years old to a very rare form of leukemia. Being a military veteran and seeing what my mom went through for the 10 years she battled cancer, I understand a little bit more about the need for all of us to take an hour or two out of our week to help people in need. 
What's been the most rewarding part of your work? 
For Student of the Year, Olivia mentored Christian, who is a leukemia survivor himself. Seeing him running his Student of the Year campaign and then raising $40,000 was really emotional. This is a kid who went through all the treatments at a young age. To see that and then see him help others was one of those life-changing moments where I thought this is why we do what we do. I think Olivia, my daughter, really learned from that as well.  
What have you learned through your experiences as a volunteer? 
I've learned that I don't always have to be the volunteer, but I can be the one that's coordinating, mentoring and showing others the different volunteer opportunities out there. For example, at my job, I'm part of the veteran employee resource group. One of the biggest things that I do there is find opportunities for our group to volunteer at or donate money to.  
Are there any future partnerships, programs or events that you are excited about?
With Memorial Day coming up, the veteran group at my job is holding an event to honor our veterans. We're going to do a video presentation for our employees and their family members to talk about loved ones they've lost. Then we're going to do a fundraising event at a brewery to allow people to donate to the Veterans Miracle Center here. 
With LLS, I'm helping mentor the 2022 Man and Woman of the Year campaign.  
Why do you think it's important for others to give back?  
There is so much need out there in our community on a daily, weekly, monthly basis. The prime example is our veterans out there. These folks made the choice to sign up and put their lives at risk to make sure that we have the freedom that we have so we should treat them with respect, dignity and honor. There are so many programs and opportunities to help them. We need to raise awareness and let people know of the opportunities out there to help them or volunteer for others. It's why we are on this planet.  
What do you want people to learn from your story?
To take the opportunity when it's given to you to help others. We often put on blinders and focus only on our own little tunnel. But if there's an opportunity for you to get out to help others and raise awareness, take it.  
Do you want to make a difference in your community like Chuck? Find local volunteer opportunities. 
Share this post