Health Equity Advocate Founds Nonprofit to Combat Disparities
Meet Daily Point of Light Award honoree Fatimah Amer. Read her story, and nominate an outstanding volunteer or family as a Daily Point of Light.
Fatimah Amer of Scottsdale, Ariz., is on a mission to address health disparities in her area and beyond. Three years ago, she founded SPARKHope, a nonprofit organization dedicated to leading public health initiatives and inciting greater civic engagement.
One such cause Fatimah has taken on is food insecurity. SPARKHope's Food For Families initiative tackles the food insecurity issue, aiming for political commitment as a long-term solution. The organization hosted a food drive last year, where more than volunteers raised 10,740 pounds of food, donating it to various food banks. The UNITE initiative – targeted toward engendering civic engagement in the youth – donated packages that included civic engagement comic books, handwritten notes and more.
As founder of SPARKHope, Fatimah spearheaded each initiative. The organization continues to grow, now addressing impending adversaries such as mental health, education, civic engagement, housing and healthcare access. Read on to find out what sparks hope for Fatimah and keeps her passion for the cause alive.
Describe your volunteer role.
I'm founder and CEO of SPARKHope. This is a youth organization I founded three years ago. Although I'm president of the organization and have an administrative role, I really do like to work with all of our volunteers, personally talk to our volunteers, and speak at engagements to share SPARKHope's message. I recently got to present at a health equity conference here in Arizona. I truly believe that having sustainable community partnerships is essential. So, I work on the administrative side, I work with volunteers and I connect with other community partners.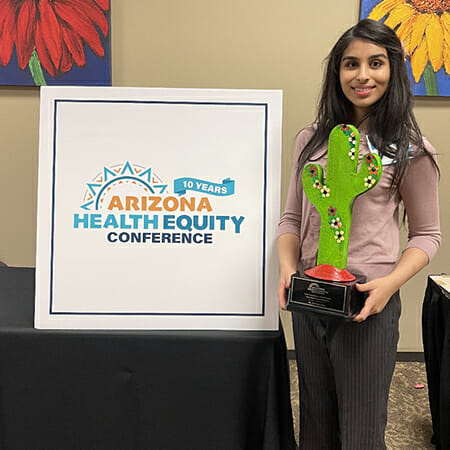 What inspired you to start SPARKHope?
This was a very personal mission. A few years ago, the pandemic hit and of course we're still seeing the ripple effects of that. I was very lucky because I grew up in an environment where the values of civic engagement and community service were really instilled in me. And so, it was really when I would go with my mom and donate small food items to food banks, where these values were really instilled in me.
When the pandemic hit, we had to stop that volunteer work. I had attended several conferences and had been a part of UNICEF, so I was already familiar with food insecurity. And so, initially, when I started the nonprofit, it was to address food insecurity and provide a sustainable support system to have these resources. That's really when I started learning more about the social determinants of health, which exacerbate health disparities.
Then, SPARKHope started expanding. And since then, I've been so interested in public health and learning more about these health disparities, not just in Arizona but across our nation as well.
Why is addressing these issues so important in today's world?
Our youth, Gen Z, are the hardest hit by these social determinants of health and by health disparities. And unfortunately, most people in office, as well as people on the committees and collaboration groups addressing these issues, are in older generations. They do a good job talking about the issues and raising awareness, but it's critical to have the Gen Z voice and a youth perspective to help tackle these issues. It's essential that our generation, who is being hit the most, has a say. We have personal experiences we can bring. Personal voice and personal experience are essential in order to make static change. Having that lens is crucial.
Share a rewarding story from your volunteer work.
Actually, earlier this week, I got to present at the annual Arizona Health Equity Conference. I got to present my poster on SPARKHope. Later in that conference, I was absolutely honored to receive the Stella Kiarie Innovation in Health Equity Award.
But it was a conversation I had afterward with a public official that was so rewarding. She came up to me, in tears. She said it was so inspiring and that she'd just been having a conversation with her steering committee members about how they needed to have a younger perspective on public health issues. She said it was inspiring to see someone young receive the award. This conversation touched my heart.
Just knowing that I'm inspiring people – and not just the youth, but also people in office who can help us sustain those long-term partnerships – is so gratifying. Together, we can keep moving forward to bring advocacy and awareness to the next level.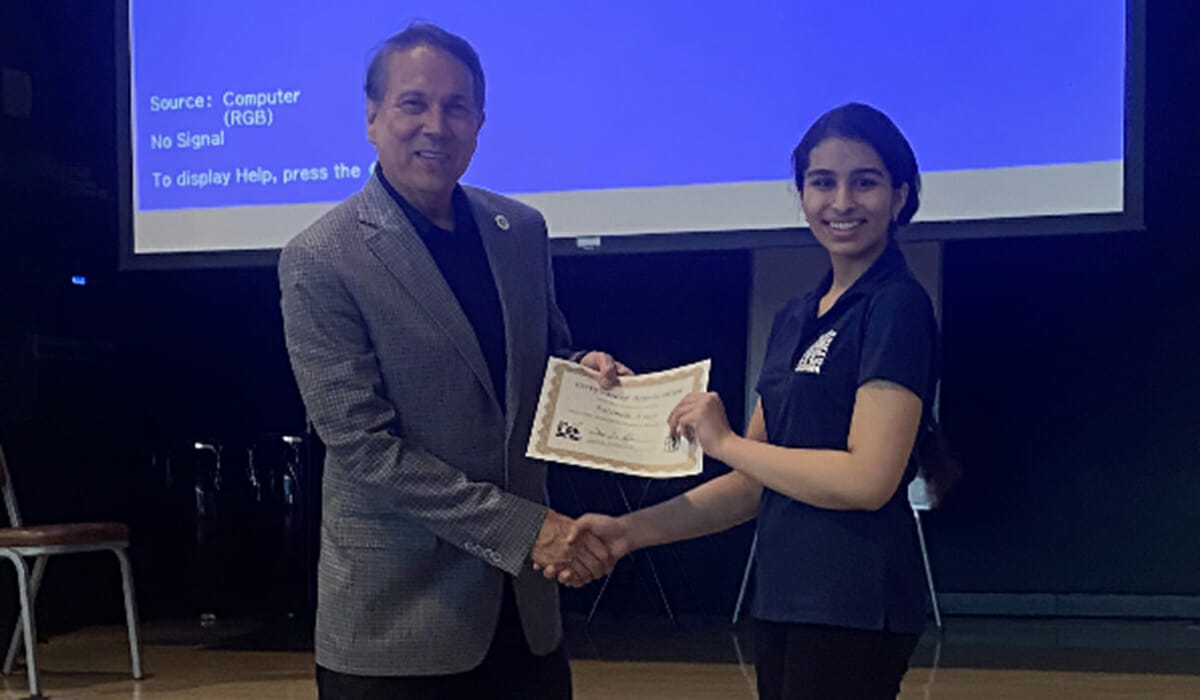 Why is it important for people to get involved with the causes they care about?
I think it's really important to explore your inner talents and passions. Personal aptitude is the engine to societal success. In order to learn what you're passionate about, it's essential to go out and volunteer. Really explore these issues and organizations you're interested in. This may further finesse your interests, or it could make you aware of another topic you might want to explore.
At the same time, you'll be getting involved in your community while also growing. One of my key takeaway messages from SPARKHope is that you're never too young. There will always be challenges, but it's essential to overcome those and work with others to overcome them. You'll learn more about yourself while helping your community.
What's one thing you want people to learn from your story?
Health disparity, or any other issue, can't be solved by just one organization. This is why I encourage people to volunteer with others, and work with other organizations. Whatever you do, do it in community partnerships and do it long term. It's vital that we work with a long-term mindset and develop and sustain these community partnerships. So I encourage everyone, regardless of your age, to keep volunteering.
How can people get involved?
You can go to the SPARKHope website and our social media pages to see our current needs and get involved.
Do you want to make a difference in your community like Fatimah? Find local volunteer opportunities.
Share this post