Helping Kids Escape Pain and Fear, Teen's Service in Playroom Brings Joy to Hospitalized Children
Meet Daily Point of Light Award honoree Nicole Garcia. Read her story and nominate an outstanding volunteer or family as a Daily Point of Light.
Nicole Garcia remembers the smells, the constant beeping from machines, the fear she felt as a 4-year-old, hospitalized for severe dehydration. But the memory that remains most prominent in the Anaheim, California resident's mind is when a nurse walked into her room, not with a tray of medicine, but instead, carrying a gift – a white stuffed bunny decorated with a pretty pink bow.
Hospitalization for any child can be a scary experience, which is why Nicole, now an 18-year-old, volunteers as a Child Life Volunteer in the surgical floor's playroom at Children's Hospital of Orange County (CHOC). Inspired by her own experiences, Nicole has volunteered hundreds of hours of her time at CHOC to distract children from pain or fear they may be experiencing while hospitalized, and instead allow them time to play and laugh.
What inspires you to volunteer?
Service leadership has always been a priority in my life. It's very important to me to serve others, and to put others before myself, especially because children in general are a very vulnerable population.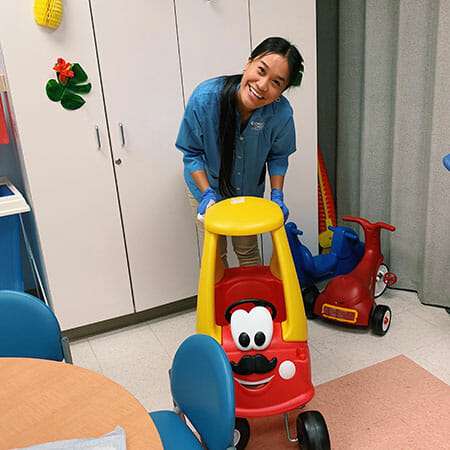 Describe your role at Children's Hospital of Orange County (CHOC).
I am a Child Life Volunteer in the surgical floor's playroom, which means that I assist the hospital's Child Life Specialists, maintain a clean playroom environment, and create a fun and inclusive space for the patients, their family and friends. Equally as important, my unofficial duties include, but are not limited to, saving princesses and Mr. Potato Heads alongside superheroes, molding Play-Doh as a seasoned sculptor's apprentice, roaring as loud as possible with my fellow dinosaurs, and driving Little Tikes Cozy Coupes as one's personal chauffeur.
What's been the most rewarding part of your service?
Being able to put a smile on a child's face. Making them roar with laughter, or burst into tears because they don't want to leave you. Or just receiving a bear hug.
What have you learned through your experiences as a volunteer?
Expect and embrace the unexpected, because every patient is different. In the playroom, I might be asked by a child to play a superhero one day, and a sous-chef or dinosaur the next day. I serve to distract these kiddos from their pain and transport them to a place where their imaginations can run wild. My volunteerism means I can adapt to different situations and I always face the children with a compassionate heart, bright smile and positive attitude, ready for any challenge.
What's your favorite game in the playroom?
My favorite is when little kids want to play with the Cozy Coupe. Our surgical floor playroom is the tiniest playroom in the hospital, and so when one of the kids steps into the Coupe, we can explore beyond, out in the hallways. It's so fun just dragging them through the hallways in the car, laughing and yelling. They have a sense of freedom in that car that they don't have otherwise in the hospital.
Share one personal story with me from your volunteerism.
A little girl was dropped off in the playroom with me, and she was really shy. She gravitated to the play kitchen area, and she eventually started grabbing the play food out of my hands and placing it into the little stove. Our interaction slowly grew more and more, and by the end of my volunteer shift she was talking and laughing with me. It was really rewarding to be able to help that little girl break out of her shell in the small amount of time we were together.
What do you want people to learn from your story?
I get to touch the hearts of these kids, and I get to make their experience unique. It's personal for me, because I know I'm making a difference. And there are other people just like me, serving others.
How can readers help?
Please visit CHOC's website for more information about how you can give back.
Do you want to make a difference in your community like Nicole Garcia? Find local volunteer opportunities.
Share this post